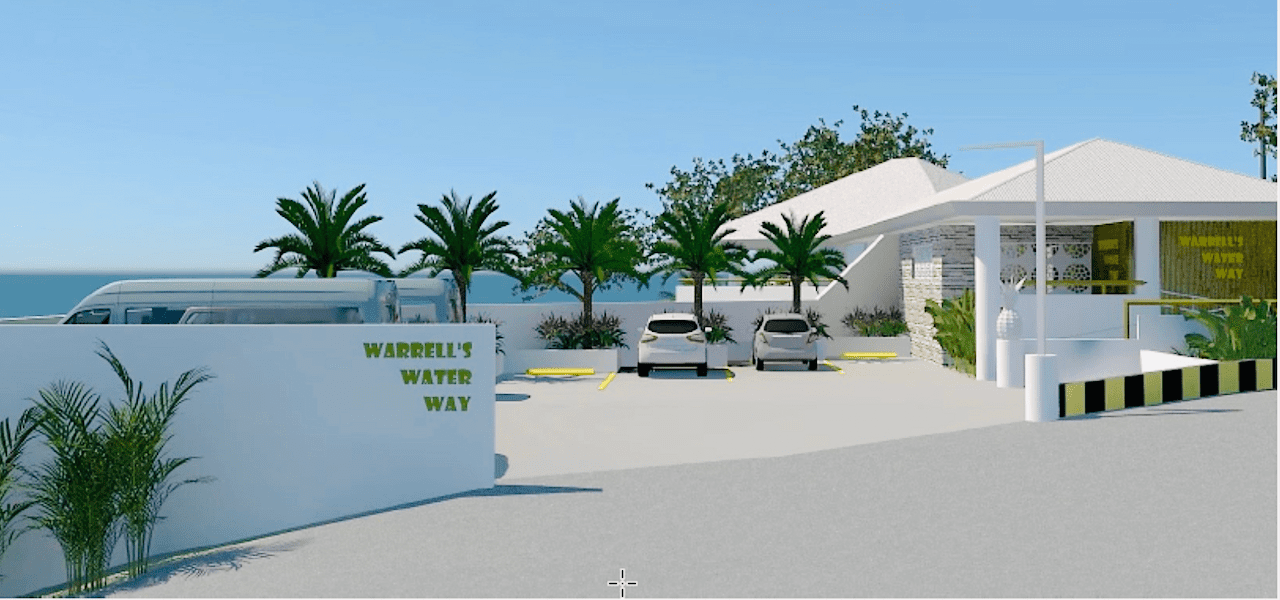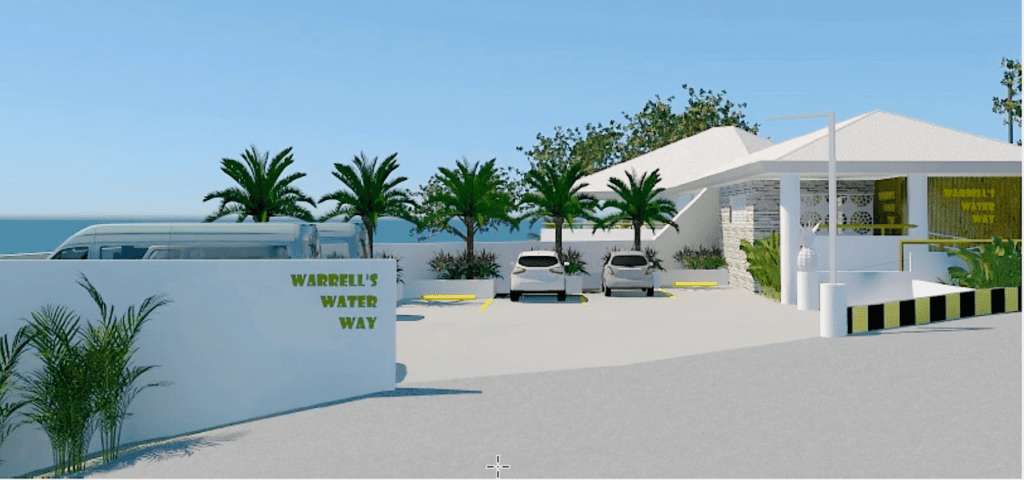 The long-stymied would-be developer of a St. Thomas tourist attraction tried again Wednesday to gain a zoning variance for the commercial enterprise. He's proposed building the scenic lookout, bar, and gift shop on a bridge over the gut in the middle of his residential-zoned land.
Lionel Warrell had been hoping to open a business in the Mafolie area for a long time. The former firefighter purchased the 1.25-acre hillside lot between Sib's On The Mountain and Mafolie Hotel in 2008. The southern view — overlooking Charlotte Amalie and, on a clear day, Buck Island and St. Croix — was ideal for a tourist attraction he's called Warrell's Water Way.
"I thought it was a good fit because it was between a historic commercial bar and grill and a historic commercial hotel. You couldn't have a better choice of neighbors when you talk about a new commercial property," Warrell said.
Warrell set up business temporarily on the plot, selling drinks and T-shirts from a converted cargo container. When his business license was pulled in 2012, he set out to change the zoning. His decade of persistence has yet to pay off. Warrell's been turned down by the Senate at least three times.
His neighbors, some of them in the area for generations, were having none of it.
At a Comprehensive and Coastal Zone Planning meeting Wednesday, a parade of area residents spoke out against Warrell's plan and rezoning. Their reasons were the same as in years past: added noise pollution, increased traffic congestion, and the sentiment that a new commercial enterprise isn't needed in the area so close to two similar, mature venues. Some also complained Warrell had moved land on the site without proper permits.
They reiterated a concern cited when the zoning change was denied in 2015. The property is bisected by an active drainage gut. Neighbors downhill said damage to the gut could put their property at risk, and even send stormwater and debris surging all the way into town.
Warrell had hoped to assuage these concerns with plans presented Wednesday. Although his concession stand had grown to include 25 seats, a bar, and a small restaurant, it was almost all located on a bridge over the gut, situated in such a way that water flow would not be obstructed. The plans called for 18 parking spaces to accommodate Safari trucks, taxis, and private cars.
Presenting the plans, Jon Euwema, of L4 Developments, said he had several friends in the neighborhood and knew the area well. Having grown up nearby, he said he used to play in the gut as a child. Euwema said the profile of the building and parking areas was designed to be unobtrusive, both visibly and sonically.
He and Wystan Benjamin, of Grant Engineering & Construction Group, said unlike other haphazard scenic lookouts and strip mall-style gift shops, Warrell's Water Way would be purpose-built, contoured to the landscape and neighborhood, and be compliant with the Americans with Disabilities Act.
The purpose-built site and parking spaces would actually decrease traffic congestion, the developers said, by replacing the ad hoc roadside sightseeing currently in the area. Rather than clogging up the side of the roads, the tourists and their taxi drivers would have an organized place to go.
They also said the plan was for the venue to only operate during daylight hours and not feature amplified music.
Neighbors commenting Wednesday said such pledges didn't hold water. If the land were zoned commercial, a dance club could be built there, a gas station, a casino, anything, they argued. They worried about water and sewer lines, fuel storage, turnaround space for safari trucks and taxi vans, and the impact on nearby schools.
They also called the long-abandoned container on the property an eyesore that could topple downhill at any moment.
Three letters written in support of Warrell came from people who did not live in the area, neighbors said. Many more letters were submitted urging the zoning change be rejected. One said Warrell was free to build rental units within the current zoning if he so wished to have income from the property.
Warrell said his plan was in line with the U.S. Virgin Islands' economic needs. He pointed to infrastructure projects to aid commercial enterprise around the USVI, from reclaiming land on the waterfront and beautifying downtown, to adding organized concessions at Vendor's Plaza and at beaches on St. John.
"That's part of the conundrum because we want more activity in the Virgin Islands. They're building bigger ships and bigger ports," he said. "We want to be part of that improvement, nothing detrimental."
Warrell also wondered if things would be different if he had a more illustrious family name or had big money to back it up.
"I ain't a wealthy family. I'm trying my best," he said. "We bought the property. We tried to go around it by the code. I just didn't come from a big name and a lot of money."
DPNR's Division of Comprehensive and Coastal Zone Planning must issue recommendations within 30 days. They can approve, deny, or modify the request.