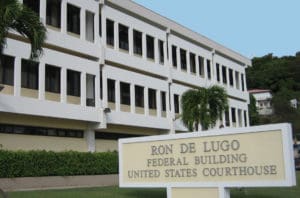 The drug smuggling conspiracy trial of a man arrested on St. John resumed Tuesday in District Court. Prosecutors with the U.S. Attorney's Office continued presenting testimony from witnesses about a September 2019 incident where a federal interdiction agent was shot.
One of the suspected drug smugglers was also wounded in an exchange of gunfire near Centerline Road on the island's East End. According to testimony from two federal Drug Enforcement Administration operatives on Tuesday, they sought details about the incident from a confidential informant they had worked with in the past.
In his testimony, DEA Special Agent Brett Ashley said he met and questioned the defendant shortly after the Sept. 25, 2019 incident. Samuel Elias Pena Columna is accused of being part of a group that conspired to rendezvous with unknown persons near Haulover Bay to trade cocaine for satchels of cash. He is also charged with distributing a controlled substance, assaulting or resisting arrest by law enforcement, and weapons possession.
In earlier testimony, jurors heard that a federal interdiction team positioned themselves in the area, acting on information they had received. Virgin Islands Police Department Task Force Officer Richard Dominguez said the exchange was interrupted and some suspects fled the area in a car driven by Columna. 
Under questioning by Assistant U.S. Attorney Meredith Edwards, drug enforcement supervisor Evan Martinez provided details about the discussions between himself, Ashley, and Columna held the day after the confrontation took place.
Also testifying Tuesday was another man who was arrested in connection to the case. Joan Morales Nolasco was apprehended in September 2021 and admitted to his role in the conspiracy by pleading guilty in March. But before Nolasco was allowed to answer questions on the witness stand, Chief District Court Judge Robert Molloy instructed the jury they could not use his statements to determine guilt or innocence.
And at the end of testimony for the agents, the judge excused them from the witness stand but told them they may be called back to testify again.
Defense attorney Michael Sheesley asked Ashley about reports filed after the incident and interviews that were conducted at the time. Sheesley asked if there were any statements indicating that his client handled a weapon or fired shots at anyone. 
Columna's trial began last week. Proceedings were suspended Friday and Monday as Tropical Storm Fiona impacted the territory. The judge greeted jurors Tuesday morning as they took their seats and reminded them not to discuss the case among themselves until they entered deliberations.
The trial is scheduled to continue on Wednesday.