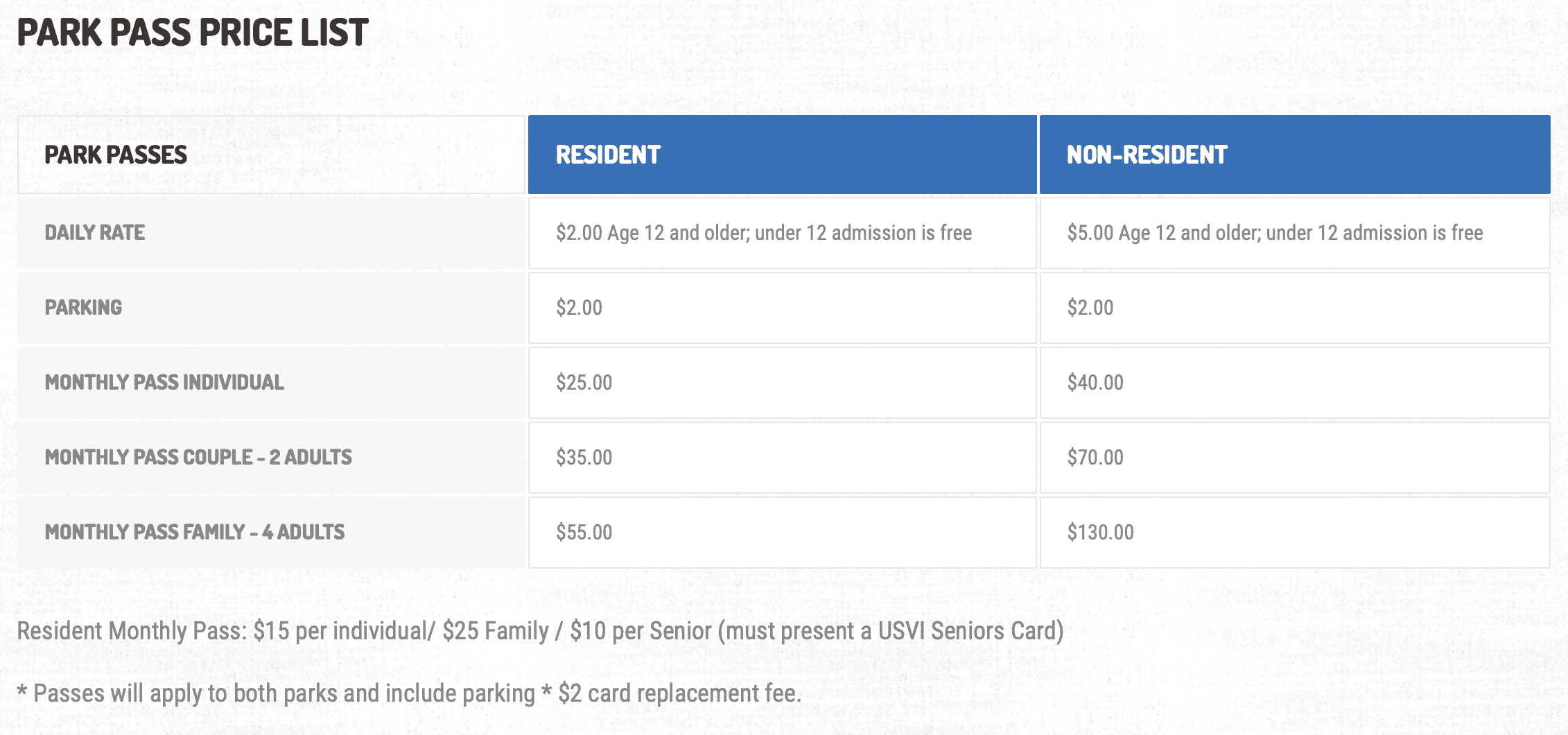 The Magens Bay Authority board clarified the admission requirements for locals at its meeting Friday after receiving complaints that gate attendants have been overly aggressive in seeking proof of residency from visitors to its parks.
Residents pay $2 to enter and $2 to park at the authority's two properties — Magens Bay on the north side of St. Thomas and Smith Bay on the east end of the island — compared to $5 and $2, respectively, for tourists. Monthly passes start at $25 for locals and $40 for visitors.
However, some residents have complained recently that they were hassled about their status, including seniors who tried to buy passes using expired territorial senior identification cards, board Chairperson Barbara Petersen said.
"It's gotten to the point where it's going to continue to affect the guest experience and the operations of the Magens Bay Authority," said Petersen, who said there have been fewer than 10 complaints. "It's something that's completely avoidable, and I want to make sure that we address this matter and get it put to rest as quickly as possible," she said.
"I'm not quite sure why entering people into the Magens Bay beach and Smith Bay Park has turned into a situation where we are now asking them to provide real close to a birth certificate to prove that they are a local," said Petersen.
"It's unacceptable, and it has to stop," she said.
Board Treasurer Cecile de Jong also cautioned against cashiers questioning visitors' relationships when they enter with a family pass. "When people come, don't ask them, 'I don't know that that's your daughter, I don't know that that's your sister,'" she said. "I think that's inappropriate."
"I want to add also that, once a senior, always a senior," said Petersen. "To have the cashier say to a senior citizen that their senior citizen card expired … They didn't go from being 61 back to 51 or 41. Those kinds of ridiculous things must stop. It makes no sense," and causes annoying backups at the gate, she said. "Where's the training in terms of who authorized them to go to that length?"
"It's ridiculous," General Manager Hubert Brumant agreed. "A senior is always a senior." He said a memo has already gone out to the cashiers "that they should cease and desist in asking patrons who come to Magens Bay for IDs to prove that they are residents or non-residents," and further training is planned. Those who don't comply will face disciplinary action, he said.
"I take complaints very seriously. Complaints are documented, discussed, and dealt with at staff meetings and briefings," he said.
"As you know, the aim is to collect as much money as possible at the gatehouse, but at the same time, we have to deliver top-class customer service, and this is what we are trying to achieve," he said.
Those purchasing monthly or yearly passes at the local rate must still provide identification such as a food worker card, driver's license, or veteran's card to prove they are local, but cashiers should take day-use patrons at their word, the board agreed.
"If they say they're local, they're local. If they aren't local, that $2 still isn't going to break Magens Bay Authority. It is not worth the effort to start getting into a back and forth with someone at the gate," said Petersen.
For those who say, "I'm local, and I ain't paying," cashiers can call security, said Petersen. "People have to pay, but we're not going to drill down into whether you're local, and who in the car, and who ain't local in the car. No, we're not doing that. And that's where I want the cashiers to get some discernment, that they understand that the key is customer experience. Improving the customer experience. Making people happy. … They came to the beach to enjoy themselves, and we don't need them upset because you're charging them extra," she said.
In other matters, the board will hold a working session on Saturday starting at 9:30 a.m. with a tour of the Magens Bay concessions ahead of preparing a request for proposals to operate the restaurant, bar, and shop at the beach.
The current concessions have been leased by the same family for more than 30 years, and in 2020 the authority came under pressure from the Senate to create new food and drink offerings that better reflect Caribbean culture.
Plans for a new and expanded concessions building were approved in 2020 by the St. Thomas Coastal Zone Management Committee but have been delayed as the authority first focuses on replacing Bathhouse No. 1, that was destroyed by Hurricane Irma in 2017. After extensive negotiations, the Federal Emergency Management Agency approved $3.4 million to replace the structure in April. Board Vice Chair Robert Moron said Friday that the approval came with substantial changes to the scope of work that will require changes by the architect on the project.
The board also heard Friday from Casey Payton, a member of the board of directors of the Virgin Islands Justice Initiative, which is proposing to hold a Harvest Festival and Pumpkin Patch event at Magens Bay on Oct. 15 from 2 p.m. to 7 p.m.
The organization, which is newly formed in the territory and supported by the local legal community, aims to offer free legal representation and legal education to the community, without competing with Legal Services of the Virgin Islands, according to a letter submitted with the event proposal.
The harvest festival, which will include a kids' zone, farmers market, food vendors, entertainment, and prizes, was originally to be held on the Reichhold Center grounds, but that facility, destroyed in the 2017 hurricanes, will be undergoing construction starting in October, said Payton, leaving the group without a venue.
The board took information but did not render a decision on the request at its meeting on Friday. It discussed the proposal in executive session as well as the approval of a travel report document, other travel-related matters, personnel issues, staff meetings, staff emails, and a meeting with the governor, according to Petersen.
The board's next meeting is Sept. 16.