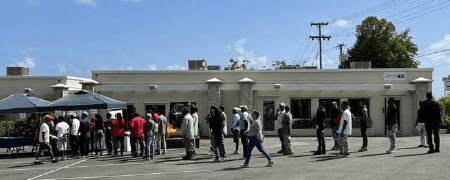 The Virgin Islands Department of Labor (Labor) reports that the job fair held on Friday, Aug. 12, was a very good day on St. Croix. It was a great example of Gov. Bryan's Workforce Development Initiatives in full swing.
Labor's Workforce Development Division, in conjunction with partners Equus (One Stop Operator) and the Skills for Today program, held a job fair with J. Benton Construction, which was a huge success. Within the first hour, over 100 jobseekers were onsite registering with Labor's Business Services and Talent Acquisition team. Labor's partners were Equus and the Skills for Today program.
Most importantly, they were applying for jobs with J. Benton Construction and the subcontractors that are hiring for the project at the Walter I.M. Hodge housing community in Frederiksted. By the end of the job fair, which lasted from 10 a.m. to 2 p.m., over 200 applicants were assisted.
A special thank you and congratulations to J. Benton Construction, for partnering with the Department of Labor, and to its partners to host such a well-organized, successful event.