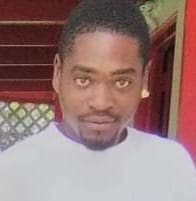 Jah-Marley Christopher Alfred, also known as "Lee," died on July 6.
He is survived by his mother, Shakima T. Alicea; father, Christopher Alfred; stepfather, Wendell Cox Sr.; significant other, Janel Poleon; stepsons:  J'Quan Pennyfeather, Jamal nd Jahmil Allick; grandparents: Iotha Charlery and Marcellina Toussaint; adopted grandmother, Clydella Stapleton; and brothers: Wendell Cox Jr., Raymoi Meyers, Amani, Jahcino, Jamani, Bo'Mani and Ke'Mani Alfred.
He is also survived by sisters: T'Niqua and Le'Niqua (Bebe) Alfred; stepsister, Tishelle Cox; aunts: Urika Fraser, Felicita Alicea, Lissette Alicea, Wendy Alfred, Linda Williams, Krystal, Celina and Nia Toussaint; uncles: Kimo Samuel, Joshua Landers, Antwon Fraser, Michael Anthony, Dion, Francis Alfred, Jason Williams and Nestor Toussaint Jr.; and nieces: Tia'Rah Charlery and Lalia Cabret.
Other survivors include cousins: Anthony (Tony), Hakeem Alfred (Pando), Shaquan, Linisha (Nish), George, Ruby, Jahmoy, Cordelia Roach, Rasheed Milligan, Lydia, Hanora, Dawn, Kenny Rey, Yvette Jude, Kenny Gittens, Audrey Kozok, Beverly Robinson, Angela Roberts and family, and Magzie and family; special friends: Quana Hassell, Thomas Charlery, Racliff Polydore, Dawn "Sunshine" Brodhurst and family, Wayne and Shawna Moving, Merkey Auguste, Benjamin Cabret, Mrs. Hazel (Toto) and family, DeeDee Richards and family, Victor Harry Jr. and family; and other relatives and friends too numerous to mention.
The viewing will be held at 10 a.m. followed by a funeral service at 11 a.m., Tuesday, Aug. 9, at New Testament Church of God, No. 32C Whim, Frederiksted. Interment will be at Kingshill Cemetery