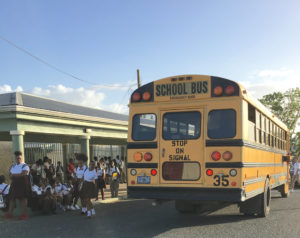 For the first time in the V.I. Education Department's history, the territory's four public high schools and St. Croix Career & Technical Education Center have established a standardized start time of 7:40 a.m. and an identical daily schedule, as part of the department's efforts to better address students' academic and social emotional needs, supplement teacher shortages, and expand program offerings to students. 
The changes will take effect at high schools territory-wide with the start of the new school year on Monday, the department announced Tuesday. 
Last spring, school principals, along with state and district Curriculum and Instruction leaders, began re-evaluating teaching and learning practices at the high-school level, the department said. This involved five months of intensive planning and cross-district visits to assess needs and find solutions to common problems being experienced at the schools, it said.  
According to district leaders, Stefan Jurgen, St. Thomas-St. John insular superintendent, and Ericilda X. Ottley-Herman, St. Croix acting insular superintendent, a primary benefit of the new schedule establishes a 45-minute flex block that will create time for programs and experiences that cater to students' academic and social-emotional needs, such as:  
Intervention/enhancement by subject

Live tutorials

Program implementation information (AVID, JAG, SAT Prep, Achieve3000, Exact Path,

iReady, Advisory Council, etc.)

Hands-on application (Science Lab, CTE Lab, AP Lab, Research Lab, Writing Lab, etc.) 

Classroom extension activities/performance tasks
"We have taken a deep dive into our data, and it became clear that we needed to do some things differently in order to have different and better outcomes for our students," said Acting Commissioner Victor Somme III. "The change in scheduling allows us to build into the school day many more supports to ensure students' overall success."  
Another significant benefit of aligning the high school schedules is to provide students with access to classes offered at schools other than their own, according to the press release. District leaders explained that the opportunity will now exist for students at Charlotte Amalie High School and Ivanna Eudora Kean High School to enroll in classes at St. Croix Career and Technical Education Center, Central High School, and St. Croix Educational Complex High School, and vice versa.
In August, the initial rollout will see high school students in the St. Thomas-St. John District enrolling in the Aviation Academy at the St. Croix Career and Technical Education Center, the release stated. 
"We find this to be a creative way to address our critical teacher shortages by providing cross-district and inter-district access to classes, which is now possible through the department's technology infrastructure that has been built out over the last two years," said Somme. "We can have students from one district in the same virtual classroom with their peers in the other district if there isn't a teacher available to teach a particular class in the student's home school."  
A third part of the high school transformation, which will roll out in January, will establish six territorial career pathways that are aligned to the V.I. Board of Education's new graduation requirements for students in grades 9-12:  
College Prep

Military Sciences 

Career & Technical Education 

Fine Arts 

STEM/STEAM 

Early Admissions/Dual Enrollment 
This means that if students were to transfer between any of the territory's public high schools, they would have the opportunity to enroll in either of the pathways, the release stated.  
The high school transformation plan has been presented to all instructional staff at the affected schools, the Virgin Islands Board of Education, teacher unions, the Senate Committee on Education and Workforce Development, and the Office of the Governor, according to the release. Similar overhauls to the schedules of elementary, junior high, and K-8 schools are in the planning phase, it said. 
Following is the daily schedule for Charlotte Amalie High School, Ivanna Eudora Kean High School, St. Croix Central High School, St. Croix Educational Complex High School, and St. Croix Career and Technical Education Center.
St. Croix District Start & End Times
Grade
School
Start time
 End Time
9-12
St. Croix Central High School, St. Croix Educational Complex, St. Croix Career & Technical Education Center
 7:40 am
2:30 pm
7-8
John H. Woodson Jr. High School
 8:00 am
3:00 pm
PK-8
 Eulalie Rivera, Juanita Gardine, Pearl B. Larsen
8:15 am
3:15 pm
PK-6
Ricardo Richards, Lew Muckle, Alfredo Andrews,
Claude O. Markoe
8:30 am
3:30 pm
St. Thomas-St. John District Start & End Times 
| | | | |
| --- | --- | --- | --- |
| Grade | School | Start Time | End Time |
| K-4 | Jane E. Tuitt Elementary School | 8:15 am | 3:00 pm |
| K-5 | Joseph A. Gomez Elementary School | 8:15 am | 3:00 pm |
| PK-6 | Joseph Sibilly Elementary School | 8:15 am | 3:00 pm |
| PK-8 | Julius E. Sprauve Elementary School | 8:15 am | 3:00 pm |
| K-3 | Lockhart Elementary School | 8:15 am | 3:00 pm |
| K-6 | Ulla F. Muller Elementary School | 8:15 am | 3:00 pm |
| PK-5 | Yvonne Milliner Bowsky Elementary School | 8:15 am | 3:00 pm |
| 6-8 | Bertha C. Boshulte Middle School | 7:25 am | 2:25 pm |
| 4-8 | Addelita Cancryn Intermediate & Junior High School | 7:45 am | 2:45 pm |
| 9-12 | Charlotte Amalie High School | 7:40 am | 2:30 pm |
| 9-12 | Ivanna Eudora Kean High School | 7:40 am | 2:30 pm |
| | | | |
| | | | |