During the weekly media briefing Monday, Government House announced a new fitness program and health fair, and the V.I. Health Department discussed COVID-19, including a new schedule for vaccines.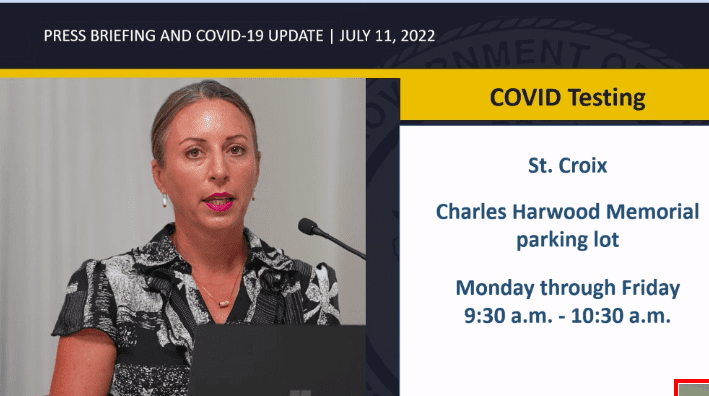 Dr. Esther Ellis, the territory's epidemiologist, said there are 178 cases of the virus in the Virgin Islands. There are 98 on St. Croix, 68 on St. Thomas, and St. John has 12 for a positivity rate of 10.5 percent. Six people are hospitalized, with one on a ventilator. Juan F. Luis Hospital has four inpatients, and there are two at the Schneider Regional Medical Center.
Ellis announced that the VITEMA services have been discontinued and outlined the new vaccine schedule and locations.
"The Department of Health has incorporated all COVID-19 vaccines into the regular public health clinic operations," she said.
On St. Croix, the Charles Harwood Hospital modular 1 will host vaccines on Mondays and Wednesdays from 9 a.m. to 4 p.m. Children's shots will be found under the tent at Charles Harwood on Fridays from 8 a.m. to 4 p.m.
COVID testing will be available in the Harwood parking lot Monday through Friday from 9:30-10:30 a.m. Ellis added that motorists must park in the new parking lot across the street from the modular. The curbside is for drop-offs only.
Vaccinations will be given at SRMC Monday through Thursday from 9 a.m. – noon and 1:30 – 3:30 p.m. COVID tests are to be administered at the SRMC loading dock Monday, Tuesday, Thursday, and Friday from 9:30 – 10:30 a.m.
On St. John, vaccinations will be given by appointment only at the DeCastro Clinic by calling 340-776-6400.
After the COVID information, Ellis announced a new, additional suicide hotline that can be accessed by dialing 988. She also invited the public to a 50-year celebration at Charles Harwood July 30 from 2 – 4 p.m.
Richard Motta, Government House communications director, announced two sponsored events for the public. The Governor's Our Best Life Health and Wellness initiative will launch a territory-wide Walk Out Wednesday, July 20. People on all three islands can participate in the once-a-week walk at 5:30 p.m. for six weeks.
Walkers on St. Croix will walk from Midre Cummings Park to the Frederiksted Pool and back – about four miles.
St. Thomas participants will traverse from Griffith Park to Yacht Haven Grande and back, which is about 3 miles.
The V.I. National Park ballpark on St. John is the starting point on St. John and ends at Caneel Bay Hotel and back – about three miles.
Other activities and services will be added to the program by the V.I. Department of Sports, Parks, and Recreation to improve the physical, mental and emotional well-being of residents, according to Motta.
The second event is a health fair hosted by the Diabetes Center for Excellence and will include screenings, medication management, fitness, and other topics on July 30. People can register at 340-208-0206.