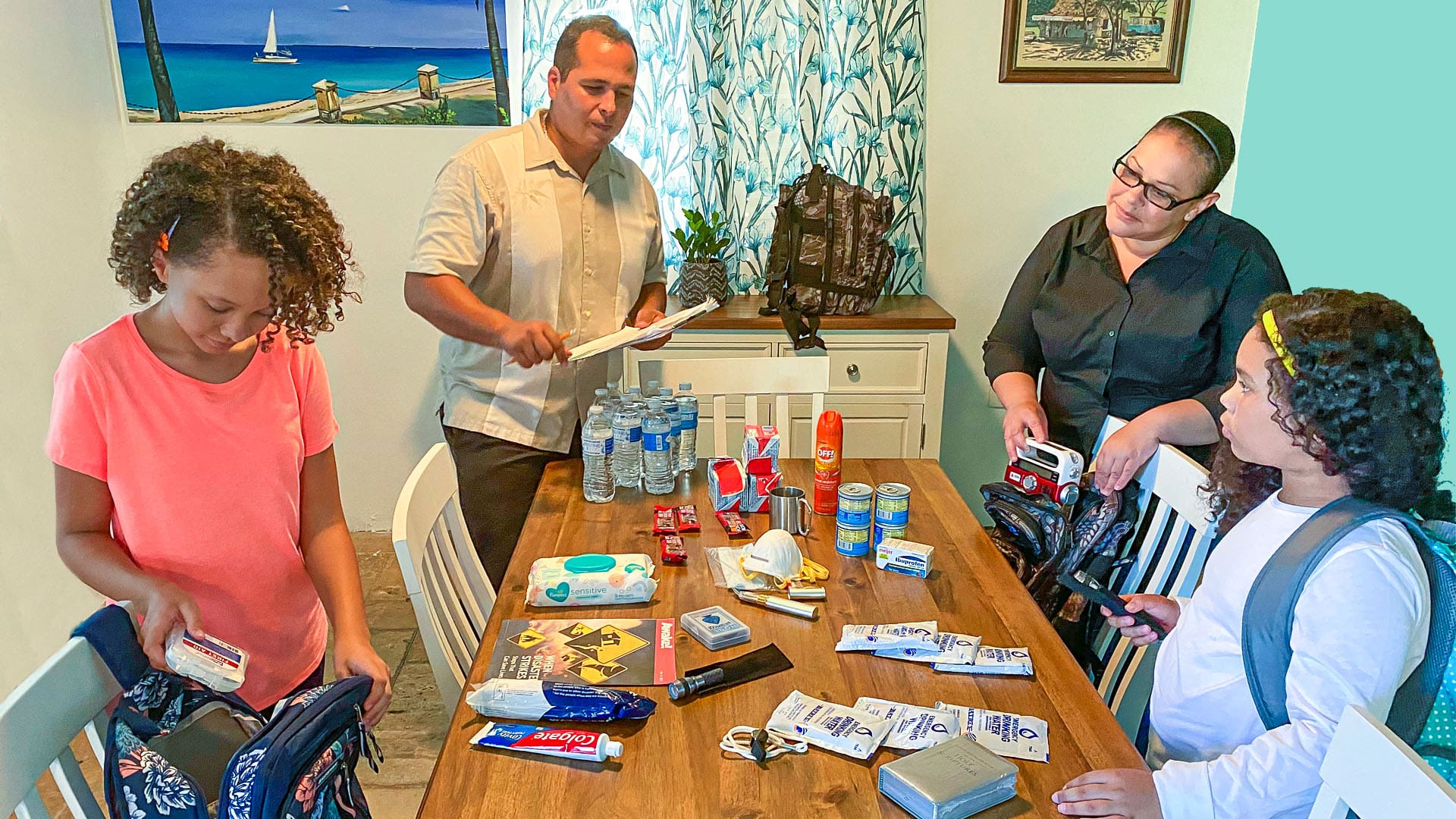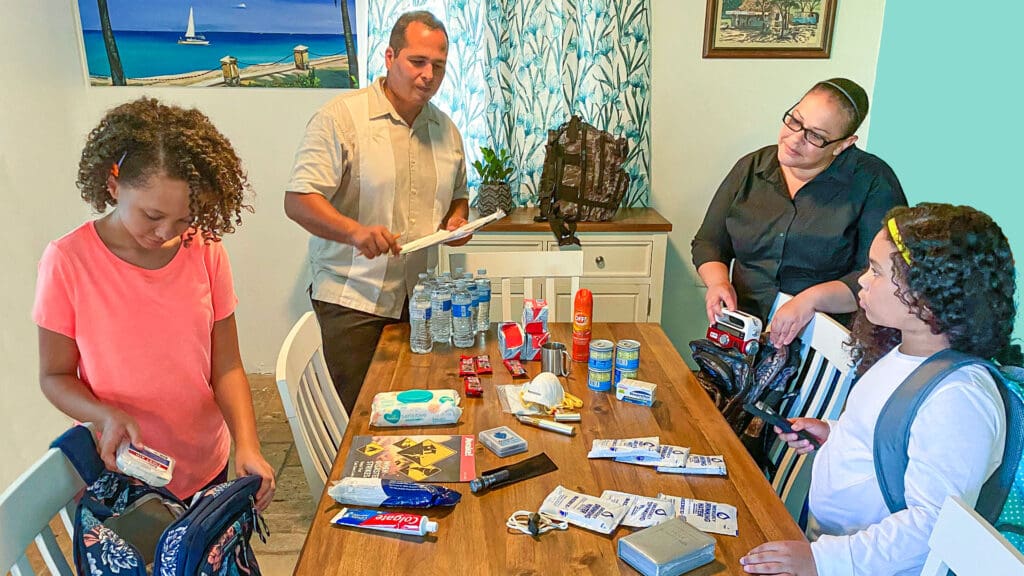 Bags filled with emergency supplies are positioned by the door of the Rivera family's sitting room, where they can quickly be "grabbed to go" in the event of a crisis.
As residents of St. Croix, Ulises Rivera says it is important to "have an answer when a disaster strikes." His wife, Rebeca, agrees that good planning is key.
With extreme weather events escalating in frequency and severity in recent years, experts urge families to plan ahead for natural disasters. Ready.gov, a FEMA website, recommends putting together a "collection of basic items" to last for several days, including food, water, a change of clothes, cash and a flashlight.
For the Riveras, preparation is a family project. "We involve them," says Ulises of his daughters Briana, age 10, and Gabriela, age 8. The family learned together what to do in the event of a disaster and came up with a plan of action. They found information on how to prepare their personal go bags in the Awake magazine #5 of 2017 entitled, "When Disaster Strikes–Steps That Can Save Lives."
"Jehovah knows exactly what we need," says Rebeca, who recalls that her family heeded the advice to prepare just before a major hurricane hit the island. Likewise, Ulises credits their state of constant readiness to the "timely and loving reminders" received through their congregation of Jehovah's Witnesses and on the Christian organization's official website, jw.org.
Cynthia Jones, a resident of Tortola, British Virgin Islands, helped her husband and four children prepare for hurricanes, which typically pass through the Caribbean Sea between June and November. The Jones children were taught how to prepare go bags that included their favorite items, helping to put them at ease. Additionally, a meeting place was agreed upon in the event the family became separated during a disaster.
Cynthia also expresses appreciation for the reminders from her local congregation about disaster preparedness. This gratitude was heightened during the COVID-19 lockdown when the family found itself under quarantine. Their well prepared and annually inspected go bags turned out to be a welcome source of much needed supplies.
"We never know when it's going to happen," Cynthia said, in reference to a disaster. "We all need to be prepared. Jehovah cares for us and wants us to be ready."
"Being ready to face a natural disaster may be the difference between life and death when it unexpectedly hits," said Robert Hendriks, spokesperson for the Christian organization. "We can't just say life is precious; we need to live it. That's why the Bible's advice to take practical steps to protect ourselves and our families from danger makes so much sense — even if threats seem far off."
The Laracuente family of Guánica, Puerto Rico, had their emergency plan put to the test when a 6.4 magnitude earthquake hit Jan. 7, 2020. While leaving their house in pitch darkness and surrounded by chaos, they noticed that one of their neighbors was injured.
"Thanks to what we had in the go bag, we were able to help him immediately," Yajaira Laracuente said of her family's ability to assist their neighbor. "Having those resources took a bit of the panic away during that moment."
"You have to be prepared beforehand, because you don't know when or where a natural disaster may hit," added her 14-year old son, Natanael. "You have to always be ready."