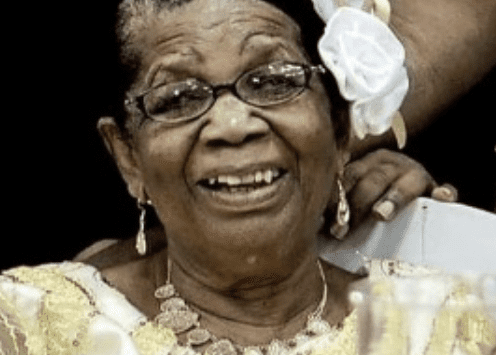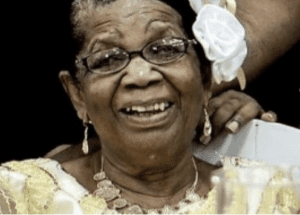 Claudette Evelyn Martin of Estate Work & Rest transitioned into eternal life on June 20, 2022. She was 83 years old.
She was preceded in death by her mother, Miriam Davis; brother Sylvan Watkins and sisters Leander Wynter and Emerille Lewis; and son-in-law Aaron Jeffers.
She is survived by her spouse, James T. Martin; daughters Marvelle Martin, Marvelyn Jeffers, Ann Marie Desouza and Colleen Martin-Silla; sons Ethelred Martin, Esmonde Martin,   Gladwyn Martin, James Martin, Gary Martin and Craig Martin; grandchildren Taj Martin, Cadell Martin, Lakeisha Bui, Latoya Jeffers, Mikhaila Jeffers, Jawanza Desouza, Janae DeSouza, Zakiya Martin, Jahquan Martin, Gary Martin Jr., Kai Martin, Akelah Lyons, Aliyah Martin, Joy Martin, and Kailee Sylla; great-grandchildren Isaiah Barnes, Imma Barnes, Iszack Bui, Idris Bui, Immanuel Bui, Aaron James Jeffers, and Michael Joseph; sisters Dorothy Tonge (NY), and Lorna Housen (NJ); nieces Pamela James-Stevens, Claudette Watkins, Mavis Watkins, Carolyn Joseph-Nathan, Lenore Brown, Shelene Roberts, Nadine Spencer-Elysee, Denise Lloyd, Dianne Regisford-Hamilton, and Fay Hoosen; nephews Nigel Brown, Bernel Petterson, Garfield Brown, and Kevin Housen; great-nieces Kessa Lake,  Terrez Proctor, Terry-Ann Stevens, Chyla Graham, Danyelle Elysee, Karrisa Matthew, Emielle Thibou, Shanuel Richards, Kevyncia Housen, Sherema Brown, Jahnai Joseph, and Leanza James; great-nephews Trevaughn Nathan, Travis Nathan, Trevor Nathan Jr., Conrad Drew, Cornell Drew, Kemo Hughes, Vivian Richards, and Jahir Walters; daughters-in-law Joycelyn Martin, Cheryl Martin, Albina Martin, and Lucia Mendoza-Martin; sons-in-law Derrick Desouza and Omaru Sylla; brother-in-law Joseph Housen; special friends Monica Jacobs (special daughter), Gertrude and Zephaniah Thomas, Patricia Richards and Family, John Dabrio, Jean Wade, Gloria Euzebe, Ruth Dublin, and Avril Frazer; cousins and other relatives to include David Bui, and many more too numerous to mention.
The funeral service will be held on Saturday, July 16, 2022 at St. Paul's Anglican Church in Frederiksted, St. Croix. Viewing will begin at 9 a.m., with the service at 10 a.m. Interment will follow at Kingshill Cemetery.
James Memorial Funeral Home is in charge of arrangements.