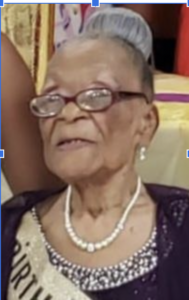 Ann Cecilia Liebert, a.k.a. "Lil Ann" of Estate Stoney Ground, Frederiksted, transitioned into eternal life on June 13, 2022. She was 100 years old.
She was preceded in death by her mother, Mary Prentice; father, Ernest Liebert; daughter Gail L. Simmonds; sons Edward Arnold Sr. and Joseph Simmonds Jr.; and special friend  Almira McIntosh.
She is survived by her daughter Janice A. Sackey; sons Carl Derricks Jr., Lionel Sackey Sr. and Leroy Liebert; grandchildren Laverne Arnold, Yvonne Arnold, Linda Casimir, Edward Arnold Jr., Wayne Arnold, Dale Arnold, Winston Arnold, Anthony Arnold, Loretta Arnold, Denise Niles, Annette Arnold, Pauline Arnold, Edwin Arnold, Kevin Arnold, Elroy Arnold, Alverne Arnold, Carl Derricks, Emmett Simmonds, Edwin Russell III, Rashida Russell, Khalid Richardson, Charissa Jones, Lionel Sackey Jr., Tiffany Sackey, Kameca Moorehead-Thomas, Kenesha Moorehead, Kent Moorehead Jr., Leshell Liebert, Shenel Liebert and Jenell Liebert; great-grandchildren Je'Nika Watts, K'Jahni Watts, K'Myah Watts, Alaya Artis, Malayah Liebert, Erika Iles, Ahmod Deterville, A'Niyah Deterville, Kijahzi Thomas, Takari Vandiver, Lionel Sackey III, Akeem Jones, Makayla Jones, Malaysia Jones, Kaheem Richardson, Quiahna Ambrose, Zikomo Hansen, Kamali Hansen, Zakiyah Jones, Ashara Russell, Nhaquifa Russell, Sekani Russell, Nikoi Russell, Malaki Russell, Jeanique Arnold, Jeanae Arnold, Jahleah Arnold, Alverne Arnold Jr. and Javerne Arnold, Elroy Arnold Jr., Saakim Arnold, Edwin Arnold Jr., Starleana Arnold, Ezeyah Arnold, Asett Arnold, Yamoyah Arnold, Shakima George, Aaron George, Anisha Thomas, Alastair Thomas, Qianni Arnold, Natalia Arnold, Neville Arnold, Angelica Arnold, Amika Arnold, Nicole Arnold, Egypt Arnold, Elizabeth Arnold, Cerease Casimir, Francine Pollard, Chelsea Casimir, Sosthenes Francis, Katisha Francis, Tamika Francis, Tynisha Francis, Kanequa Francis, Kelvin Charles, Latisha Charles and Kareem Charles; great-great-grandchildren Greyson Jones, Carter Jones, Xyla Ephraim, Nya Arnold, Jahmari Arnold, Kemal Blaze, Alyssa Thomas, Alexa Thomas, Amiya Hector, Essence Bruno, Yahnise Bruno, Trenton Arnold, Nikaya Ffrench, Adonis Ffrench, Aerielle Pollard, Lionel Pollard, Jayden Charles, Kaliyah Charles, Jalen Charles, Azariah Charles and Azreal Charles; daughter-in-law Nicole Sackey; godchildren Charles Farrell, Boyo Heywood and Adina Heywood; special friends and family, Delores English, Theresa Thomas, Asta Williams, Myrtle Farrelly, Dawn Rodgers, Denise Farrelly, Marilyn Christian, Florice Williams, Byron Family, Mildred Senthill, Smith Family, Ruby Ritter, Elizabeth Hartzog, Rodney McIntosh, O'Delia Nesbitt, Theodore Brow, Bradley Christian, Alvin Milligan, Veronica "Cutie" Jeffrey, Anna Gabino, Kent Moorehead Sr., Margarita Heywood, Esther Urgent, Claire Richards, Edwin Russell Jr., Dorothy McIntosh, Janet Rouse, Delores Charles, Karen Petersen, Eloise Hazel, Herman Petersen and Claude Frederick.
The funeral service will be held on Friday, July 15, 2022 at St. Paul's Anglican Church. Viewing will begin at 10 a.m. with service at 11 a.m. Interment will follow at Kingshill Cemetery.
James Memorial Funeral Home is in charge of arrangements.