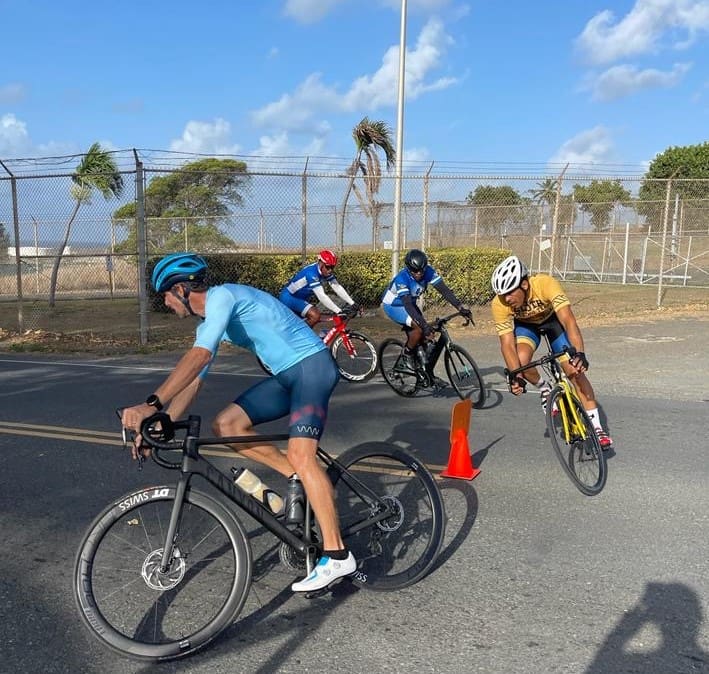 The wind on Sunday morning made a challenging bike course even harder during the Virgin Islands Cycling Federation's Lime Tree Bay Circuit Race, a race the VICF has not held since 2017.
The Elite cyclists set a fast pace for their 10-lap race, hitting a 7:19 on the first lap (each lap is 2.6 miles and goes from the crosswalk at Gate 4 to the top of the hill at Estate Blessing and back). The group settled into a consistent pace by lap three.  Several Elite cyclists mentioned that Stephen Swanton powered up the Blessing Hill in a high gear on every lap, so the group had to make a choice to dig deep to stay with him or fall off the back.  Only Alex Betancourt could match Swanton's strength, but then lost his hold on lap 8.  Swanton finished the 26-mile race in 1:17:03, with Betancourt over a minute behind in 1:18:21.  Glenn "Hula" Massiah was third in 1:20:01.
Several spectators were predicting the outcome of the Expert race just after they took off for their 21-mile race.  The 8-lap race played out just as many had thought: Robin Seila dropped the rest of the field on lap 5 and pushed through the wind and rain alone along Hope Road. She clocked in impressively consistent laps, with lap 5 being her fastest.  Seila crossed the finish line in 1:07:48, with second place, Ted Prosper, over three minutes behind.  Miguel Cruz outsprinted Jerry Remie for third place.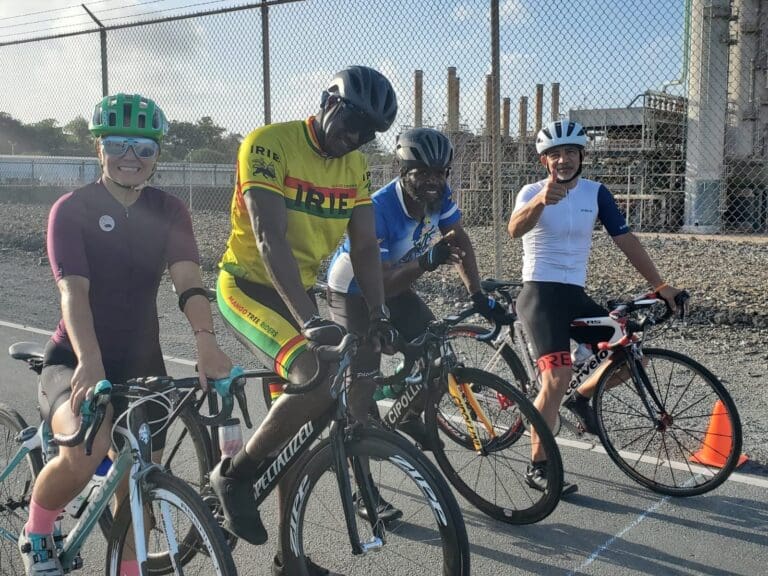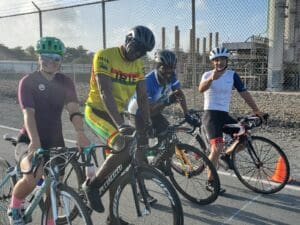 The small Sport field was led by Mario Butcher, a member of the Christiansted Mango Tree Riders.  He gave up a little bit of time to second place Joseph Thomas on laps 5 and 6 as he grew more tired on the 15.6-mile race.  Butcher maintained his position through the finish line, though, with a time of 54:34.  Thoms finished in 54:48 and Clive Parris was third in 59:41.
After taking off over a year from racing, Angel Ventura reminded us of his strength as a Masters rider.  He was the front rider throughout the 13-mile race.  Ventura finished the 5-lap race in 45:41; Brian Otis was second in 48:25, while Renwick Lynch was third.
Jody Goodrich was the lone female cyclist in her 4-lap race. She completed the 10.4-mile course in 43:34.
The VI Cycling Federation will hold another circuit race at 7 a.m., next Sunday, July 3, in Frederiksted.  The distances for the Emancipation Pride Road Race are 13.5 miles, 27 miles and 45 miles.
For more information, call 643-6420.
Sunday, June 26, 2022 — Virgin Islands Cycling Federation Lime Tree Bay Circuit Race (Conditions: very windy, showers)
Elite/ 26.0 miles/ TOTAL TIME/ 1 2 3 4 5 6 7 8 9 10 (# of laps)
1 Stephen Swanton 1:17:03 0:07:19 0:07:22 0:07:38 0:07:31 0:07:48 0:07:52 0:07:59 0:08:16 0:07:35 0:07:43
2 Alex Betancourt 1:18:21 0:07:19 0:07:22 0:07:38 0:07:31 0:07:48 0:07:52 0:07:59 0:08:16 0:07:56 0:08:40
3 Glenn Massiah 1:20:01 0:07:19 0:07:22 0:07:38 0:07:31 0:07:59 0:08:31 0:08:21 0:08:51 0:08:23 0:08:06
4 Joey Swanson 1:21:29 0:07:19 0:07:22 0:07:38 0:07:31 0:08:25 0:08:43 0:08:43 0:08:27 0:08:40 0:08:41
David Parris DNF 0:07:27 0:08:22 0:08:44 0:09:02 0:09:07 0:09:22 0:10:37
Expert/ 20.8 miles/ TOTAL TIME/ 1 2 3 4 5 6 7 8
1 Robin Seila 1:07:48 0:08:14 0:08:34 0:08:40 0:08:31 0:08:10 0:08:33 0:08:38 0:08:28
2 Ted Prosper 1:11:02 0:08:14 0:08:34 0:08:40 0:08:31 0:09:09 0:09:25 0:09:16 0:09:13
3 Miguel Cruz 1:11:36 0:08:14 0:08:34 0:08:40 0:08:31 0:09:23 0:09:23 0:09:32 0:09:19
4 Jerry Remie 1:11:37 0:08:14 0:08:34 0:08:40 0:08:31 0:09:23 0:09:23 0:09:32 0:09:20
Sport/ 15.6 miles/ TOTAL TIME/ 1 2 3 4 5 6
1 Mario Butcher 0:54:34 0:08:36 0:08:41 0:08:55 0:09:18 0:09:30 0:09:34
2 Joseph Thomas 0:54:48 0:08:36 0:08:48 0:09:13 0:09:20 0:09:21 0:09:30
3 Clive Parris 0:59:41 0:08:36 0:09:36 0:09:48 0:10:16 0:10:48 0:10:37
Justin Johnson DNF 0:08:53 0:11:00
Masters/ 13 miles/ TOTAL TIME/ 1 2 3 4 5
1 Angel Ventura 0:45:41 0:09:08 0:08:44 0:08:54 0:09:06 0:09:49
2 Brian Otis 0:48:25 0:09:16 0:08:38 0:09:31 0:10:46 0:10:14
3 Renwick Lynch 0:49:33 0:09:26 0:09:20 0:10:01 0:10:14 0:10:32
4 James Meyers 0:53:37 0:09:16 0:09:30 0:11:03 0:11:28 0:12:20
Wayne Gonzales DNF 0:10:25
Women/ 10.4 miles/ TOTAL TIME/ 1 2 3 4
1 Jody Goodrich 0:43:34 0:09:58 0:10:42 0:11:11 0:11:43