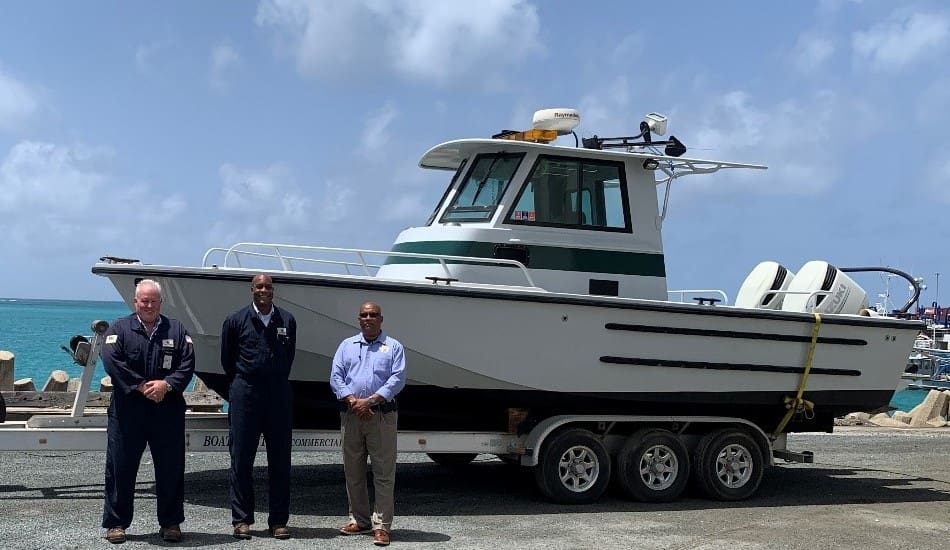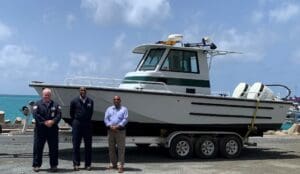 Limetree Bay Terminals LLC announced Wednesday that it has donated a Boston whaler to the V.I. Department of Planning and Natural Resources (DPNR) to support its marine patrols.
"Our mission at Limetree Bay Terminal is to provide safe and environmentally responsible terminal operations in our community while adhering to applicable federal and territorial laws and regulations," said Limetree Bay Marine Manager Capt. John Peacock. "DPNR has always maintained a strong partnership with Limetree Bay Terminals to achieve safe boating and environmental excellence, and this boat donation is a sign of respect to the service that DPNR provides in the protection of our boating community and waters," said Capt. Peacock.
The boat, named the HOVENSA Hunter, was a part of the facility's fleet and was primarily used as a security boat for the facility.
"It is with great appreciation that on behalf of the Government of the Virgin Islands and the Department of Planning and Natural Resources' Division of Environmental Enforcement, we express our thanks to Limetree Bay Terminals for this donation," said DPNR Director Howard Forbes. "This vessel will augment our existing fleet and increase the marine patrols in the waters of the territory of the U.S. Virgin Islands to ensure safe boating practices to our boating community.  In addition, we will be able to conduct search and rescue when needed," said Forbes.
The boat was originally acquired as part of a federal security grant program and used for law enforcement and military operations.  It is valued at $145,000, and it is equipped with a 2018 Twin Suzuki outboards 300 HP and a boat master commercial tri-axle aluminum boat trailer.  The donation and transfer took place on June 14.
About Limetree Bay Terminals
Limetree Bay Terminals LLC is a world-class energy logistics hub centrally located in the Caribbean facilitating the storage, segregation, blending and global movement of crude oils, fuel oils, bunker, gasoline, diesel, jet fuel and liquid petroleum gases.
Customers include integrated global oil majors, refiners and global trading houses. The facility consists of 167 tanks, with a capacity of approximately 34 million barrels, and deep-water access to 11 docks, including an offshore single point mooring (SPM) buoy capable of loading and discharging vessels up to VLCC size.