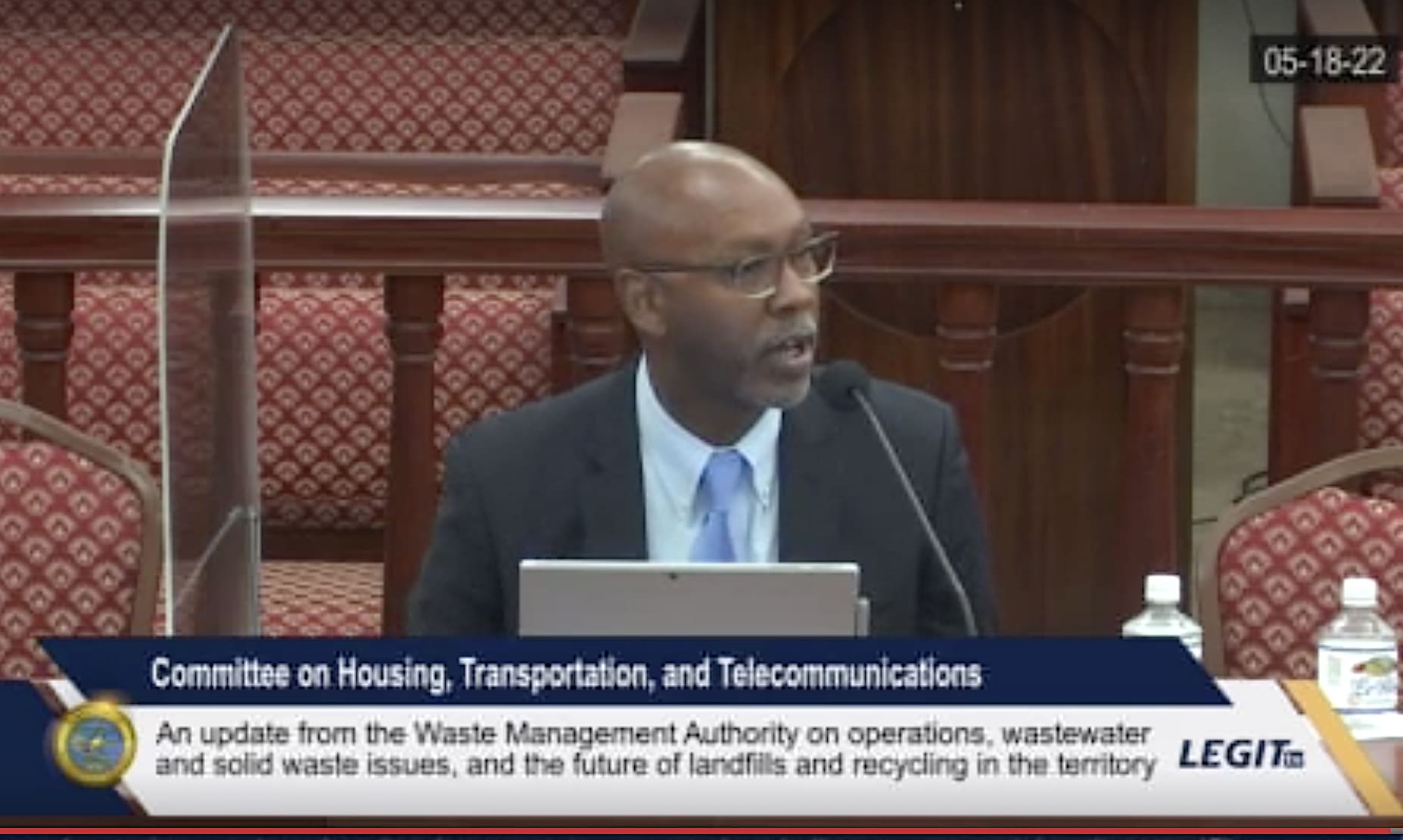 The greasy roadside turnouts where Virgin Islanders toss household trash will look – and smell – completely different in two years, waste management officials said Wednesday.
A plan to eliminate the largely-unmonitored bin sites and reroute garbage to central collection points will reduce illegal dumping, environmental damage, and general miasma, said Roger Merritt, Jr, executive director of the Virgin Islands Waste Management Authority.
"We want to transition from unmanned bin sites," Merritt told Senators of the Committee on Housing, Transportation, and Telecommunications, some of whom were concerned removing the bins will lead to increased litter. "There still may be a couple of bin sites that will have a person," Merritt said.
Waste Management has chosen seven sites for the collection points, called convenience centers, and is considering locations for another two. So far, Estate Concordia, Mon Bijou, and Cotton Valley in St. Croix are on the list. St. Thomas locations include Smith Bay near Margaritaville, Red Hook, and Bournefield. In St. John, the Susannaberg Transfer Station will be upgraded. The sites will be fenced-in to discourage illegal dumping, he said.
Merritt plans to have contractors chosen for convenience center construction by the end of May and designs finalized by October. Construction could be completed a year later and the new dumpsites open by April 2024.
In the meantime, the authority is more closely monitoring the current dump bins. Bolongo, Cancryn, and Nazareth bin sites now have booths where waste management officials can interact with people dropping off their refuse.
"The presence of VIWMA staff has been received very favorably with the community and there has been a noticeable improvement in cleanliness at the bin sites as well," Merritt said.
It's a big job. The Virgin Islands produces about 500 tons of trash per day, putting more than 180,000 tons of waste in the territory's landfills. The average Virgin Islander produces some nine pounds of trash daily, nearly 40 percent more than the U.S. average.
Security cameras able to record the license plates of illegal dumpers are in place but need adjusting, Merritt said. The authority would also like to expand its enforcement arm, expanding its current three enforcement officers to eight.
The authority has issued 11 citations for illegal dumping over the last month and 25 since the beginning of April. A St. Croix tire dealer was recently cited for illegal dumping, he said.
A culture change is needed, Merritt said, to steer Virgin Islanders away from illegal dumping and toward recycling. Each of the new convenience centers will have areas to sort and dispose of plastics, glass, and cooking oil.
Plans to expand house-to-house collection are murkier. Senator Marvin Blyden, the committee's chair, was concerned that people who did not drive or lived very far from the new convenience centers depend on the bins. Without them, they would need curbside pickup.