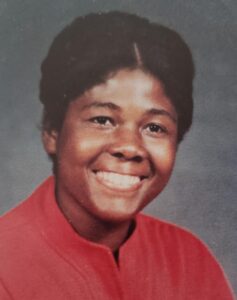 Heather Cobrall (nee Jeremiah), also known as "Coby" of Williams Delight and Mon Bijou passed away at 70 years of age in northern New Jersey on Resurrection Sunday, April 17, 2022. She was born to the late Hilton and Mary Jeremiah in Old Road Village, Antigua. At an early age, Heather then relocated to St. Croix, U.S. Virgin Islands where her great aunt, the late Ida Jacobs and her husband the late Eric Jacobs cared for her and treated her as their daughter.
Heather attended the Seventh-day Adventist School (SDA) and graduated from the St. Joseph Catholic High School. She also graduated from Atlantic Union College in Massachusetts. Heather returned to the St. Croix Seventh-day Adventist School as a fifth-grade teacher, taught business law in the high school, and eventually became the senior class-12th grade homeroom teacher. Heather greatly valued education and completed her Master's degree at Andrews University. She established the charter chapter of the Future Business Leaders of America at the SDA school. Heather was also instrumental in getting students to participate in the Moot Court competitions in the territory. During her tenure, those students placed highly in the Moot Court competitions.
Heather was predeceased by both parents, Hilton and Mary Jeremiah; her great-aunt Ida and uncle Eric Jacobs; her husband of 37 years Leonard Cobrall; her sisters, Rosalind Humphreys and Marie "Myra" Nicholas; her niece Judith Humphreys; and many other relatives and friends.
Heather will forever be loved by her children, Henri Cobrall and Lynna Cobrall; stepson, Dave Cobrall Bowers; son-in-law, Orville James; sisters, Jocelyn Williams, Romanita Jeremiah, Patsy Jeremiah, Margaret Jeremiah and Sarah Jeremiah; brothers, Michael Jeremiah, Mortley Jeremiah Sr. and Keith Jeremiah; sisters-in-law, Millicent Jeremiah, Aneta Jeremiah, Olovina Charles, Norma Claire Murray, Edith Rose Cabral, Bernice Cabral, Yvette Williams; brothers-in-law, Randolph Nicholas Sr., Leroy Humphreys Sr., Merrill Williams, Claudius Peters, Nehemiah Hunte, Olson Hunte, Ernest Cabral and Dr. James Sutton; nieces, Blondell Burin, Dr. Adrienne Humphreys, Alanna Joseph, Lorie Merrick, Desiree Jeremiah, Denise Jeremiah, Dawn Jeremiah, Josette Jeremiah, Jacqueline Jeremiah, Marcia Jeremiah, Marisa Jeremiah, Shanique Jeremiah, Josette Williams-Gumbs, Shantell Williams, Tiesha Nathaniel, Cheryl Jeremiah- Ambrose, Patricia Jeremiah-Pittman, and Kerry Davis-Peters; nephews, Russell Humphreys, Randolph Nicholas Jr., Leroy Humphreys Jr., Chester Humphreys, Shane Johnson, Chester Jeremiah, Daren Jeremiah, Mortley Jeremiah Jr., Dorian Jeremiah, Michael Jeremiah Jr., Shastri Williams, Owen and Julian Josiah, and Akeim Jeremiah, cousins, other relatives, special friends, Gloria Trotman, Olivia Jeffers and Alvira Brookes, others too numerous to mention, and thousands of students she taught throughout her years on this earth.
The viewing will be held this Sunday, May 22, 2022 at 10:00 a.m., followed by a funeral service at 11:00 a.m. at the Central Seventh-day Adventist Church in Estate Plessen. Interment will follow at Kingshill Cemetery.
Arrangements are entrusted to James Memorial Funeral Home Inc. In lieu of flowers and to support Christian education, please consider donating to a scholarship fund in Heather's honor at  www.andrews.edu/go/give/Cobrall.