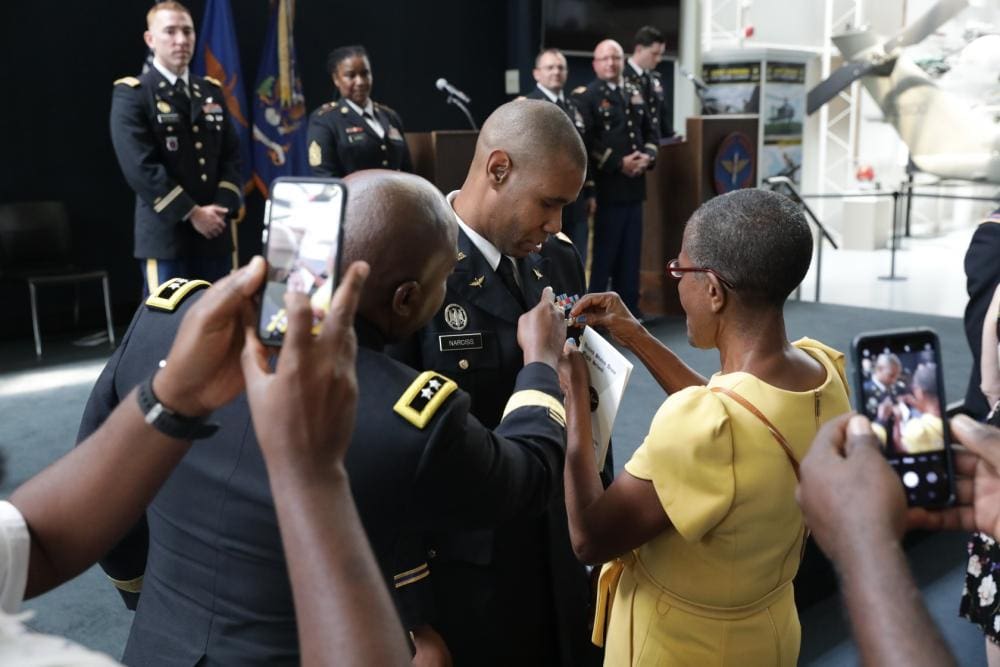 V.I. National Guard Capt. Elvor J. Narciss received his Army aviation wings after graduating from flight school at the U.S. Army Aviation Museum at Fort Rucker, Alabama, on May 5, 2022.
In attendance were Maj. Gen. Kodjo Knox-Limbacker, the adjutant general, Lt. Col. Derek Joseph, 104th troop commander, Maria Narciss (mother), and close loved ones.
"Captain Narciss becoming one of the Army's newest Aviator is not only a great achievement for him and his family but a significant milestone in the VING Aviation Strategy to re-establish helicopter flight operations in the territory in 2025," said Knox-Limbacker. "As a Master Aviator who graduated from the same course 27 years ago, I can attest his journey to earn his Basic Aviator qualifications was no easy task. Today, he too can proudly profess the Aviation Corps motto 'Above the Best.'"
Knox-Limbacker continued, "Captain Narciss will become the new commander of two UH-72 Lakota helicopters, which the unit is currently conducting flight readiness training under the expert leadership of the Michigan National Guard Aviation Training Program."
In 2018, the V.I. National Guard began a partnership program with the Michigan National Guard, which resulted in key personnel from the aviation unit being selected to move to Michigan on a one-time developmental tour to hone and sharpen their skills. According to the V.I. National Guard, the goal is to have subject matter experts capable of sustaining the VING's aviation program in the territory.
The unit provides daily flight operations, fueling, flying, and maintenance support at the Army Aviation Support Facility in Grand Ledge, Michigan.
"The VING has been instrumental in achieving many accolades, some such as many being awarded employee of the year and gaining high marks in mandatory inspections," said Staff Sgt. Max Frederick, helicopter maintenance noncommissioned officer.
Graduating from the flight school qualifies Narciss to command the aviation detachment. He will begin doing so in Michigan.
"My goal is to maintain an independent functional unit," said Narciss. "Our soldiers have proven to be very competent and knowledgeable in their skills."