When celebrities leave the stage, their exit can be part of the performance. There was James Brown, the King of Soul, whose horse-drawn glass coach arrived for a viewing at the Apollo Theater in Harlem back in 2006. When Salsa singing star Celia Cruz passed away in 2003, there were four costume changes with gowns, wigs, and fabulous fingernails for four appearances in New York and Miami.
Two of them were funerals.
After a fatal car crash in 1997, Diana, Princess of Wales, had a lavish send-off equal to her public wedding to Britain's Prince Charles fifteen years before. Earlier this week, Virgin Islanders showed they would do no less for their Calypso champion.
St. Clair deSilva, best known by his stage name Whadablee, was laid to rest with one of five crowns he won as Carnival Calypso monarch on his head and a microphone below his chin in his folded hands. Music fan and a former musician, Glenn Mason, dropped by the church where the funeral was held and described the scene that greeted those who stopped to remember.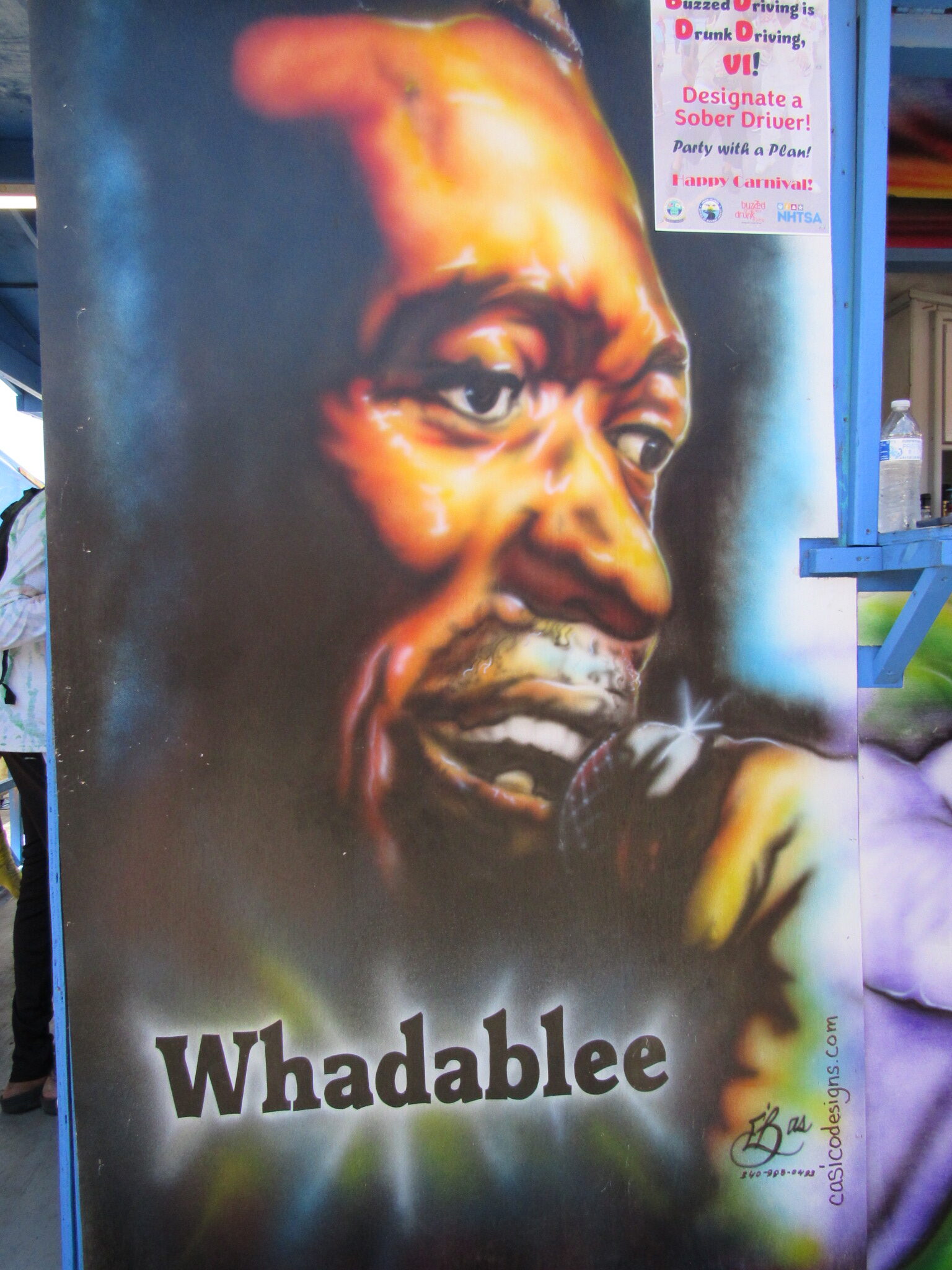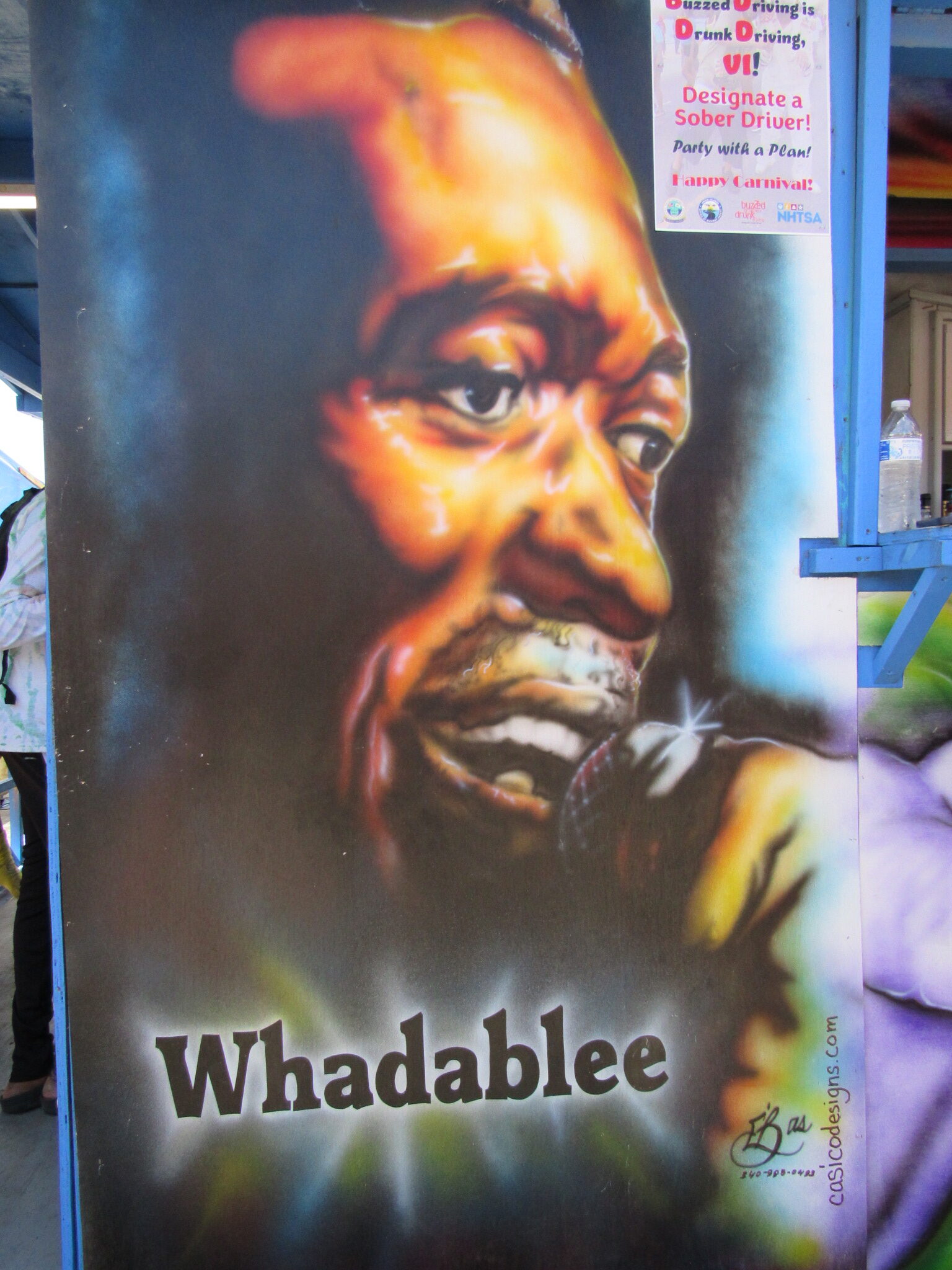 Whadablee had one crown on his head, with the other four crowns laid out in a row nearby, along with the ukulele he used to compose all of his songs. "Most people didn't know he wrote his songs on the ukulele, but I knew," Mason said.
DeSilva died April 9 at his home on St. Thomas from a sudden illness at the age of 63. Some of those who shared his life called him a powerhouse on stage and a quiet family man and chauffeur at the V.I. Legislature on an ordinary day.
But a musical thread ran through his entire life. After graduating from the Charlotte Amalie High School, he got a job playing steel pan aboard the Kon Tiki glass-bottom tour boat. But the work-life duties included car inspections at Motor Vehicles, greeting passengers at the gates of local airlines, and running documents and messages at the Superior Court.
"Whadablee was someone who would always be out front, singing all the songs," said former Lt. Governor Osbert Potter, recalling the early days when he was managing a soca band. "He started out with the Dread Ones … then he left and went with Mandingo (Brass)," Potter said.
That was the start of a 40-year musical career in the Virgin Islands, as well as singing with the Starlites Band and then solo performances on the calypso stage. Reggae radio personality Regg Martin told the story of another young soca band, Eddie and the Movements, where he and his brother, Otis Martin, both sang. Whenever the band traveled to Tortola, Whadablee would show up to listen.
"He used to follow us around when we were playing in Eddie and the Movements. He used to sing a few songs with the group. A part of that, we never lost a friendship in spite of band rivalry," Martin said.
It was a friendship that endured through the days when both entertainers turned into coworkers at the Legislature, with deSilva in the motor pool and Martin working in Media Services. Martin said his greatest memory came after the days of Hurricane Marilyn in 1995.
"My grandmother's house got mashed up. He had an apartment, and he told us to bring our grandmother up to his place, and he went over to his girlfriend's house. He had a good spirit, a good heart," Martin said.
A passion for pan music also found its place between work and a growing musical career. Part of the strategy to popularize tunes came from the days of Mandingo Brass, where former band manager Willis Pinney said circulating tunes among local steel bands served as a form of marketing.
Steel bands playing the tunes, going up the route at the Carnival parade, helped determine which would turn out to be the road march, Pinney said. Providing pan lessons became Whadablee's side hustle.
And perhaps one of his greatest protegees was his son, Khamoi. The youngest of five sons (along with Khaleed, Khamal, Khamary, and Khadeem), Khamoi began singing from an early age and found recognition on the Carnival stage at Junior Calypso competitions as Singerboy Khamoi.
St. Clair Alphonso deSilva — also known as Whadablee — is survived by his wife, Sharon, children and grandchildren Malik, Malaya, and Mekai, other relatives and friends, and thousands of fans of music and culture.