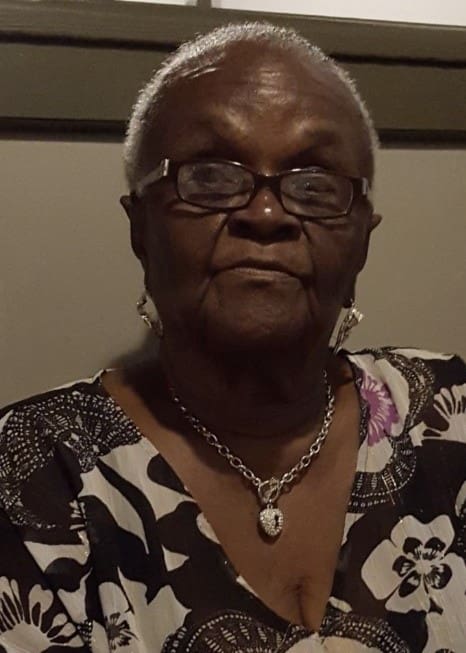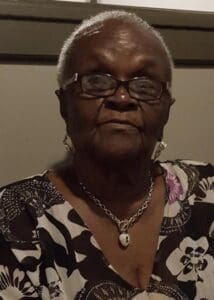 Thelma Leona Petersen Springer, also known as "Mama," "Ms. Thelma" or "Ms. Springer," of Estate Whim died on April 24. She was 86 years old.
She was preceded in death by her mother, Alvira Lowe Petersen; father, Reuben Petersen Sr.; daughter, Dari-Lee Barnes; sons: Keith and Kenneth Springer; grandchildren: Shamarley and Shamara Daniel; great-grandchild, Yahfari Brodhurst; sisters: Corlina Collins, Muriel Stevens, Marion Maranda and Gwendolyn Boyea; and brothers: Alexander Petersen Sr. and Reuben Petersen Jr.
She is survived by her daughters: Louise and Janice Springer, Lorette Barnes and Laverne Springer-Manifold; sons: Irvin Springer Jr. and Anthony Springer, Ricky Hernandez and Coy Superville; and grandchildren: Shana Liddie, Shinelle, Novelle Watts, Sherisha, Shermaine, Sheldon, Shoy, Sheriann, Shervin, Sherika, Sherwayne Springer, Shonte E. Hernandez-Libert, Shandel, Shanoy, Shiella-Marie, Shandenisha, Shoya, Shandilise, Shareem, D'Shaun Hernandez, Shariq, Shianne Brown, Marsha Allen-Edwards, Sheren Springer-Romain, Shermel, Shakeel, Sherial, Shereal Springer, Shamica Abbott, Sherette, Wendell Jr. Manifold, Shanoi, Shane Superville and Shawheem Dowdy.
She is also survived by great-grandchildren: Syriah Libert, Ranks, Rashaun Thomas, Shaquan Glasglow, Shaqouy, Quanisha, J-Quan Ferrol, Kaylin, Krista Edwards, Shenisha Gonsalves, Jnyah, Justin Charles Jr., Jahmani, Bomani and Kemani (twins), Alfred Lennox, Shaddai, Shaliyah, Shamandi, Shalani, Shajahni, Shiloh, Sarabi Springer, Deshala and Deshyla (twin), Bryanna, Briniqua Joseph, Masude Williams Jr., Shanyla, Racquel, Desirey Sicheron, Juniel, Jayda Manifold, Shamir Garraway, Sylviana, Shamyiah, Sereniti Blake, Kyra LaRonde, K'Nori, Kijani McIntosh, Kenzie, Sydnee Superville, Ricoy Donelly, Alyanna, Ayva, Kaylan Felix, Shalaysia, Analeyah, Jisael, Jaydani Melendez, Maleek-Fahie, Kiara-Narinesingh, Shanilsa, Shaquan, Shuandre, Nia-Javois, Shanarie, Shaquanda, Shamarie, Shandelyah, Shanilah, Misael-Belardo, Shamira, Sha'Laya, Lemari, Avalyse, Dominic, Hernandez, Nasir, Brooklyne Dowdy, Aiden Springer, Jamore Felton, Jamar, Lamar Brown, and Denell and Dakari Williams.
Other survivors include great-great-grandchildren: Sha'Nylah Lewis, Shawn, Yah'Zenique Brodhurst, Donald Laurent, Avanii, U'Nique and Shaquoy Ferrol Jr.; nieces: Reanel, Corlen, Dianne, Corine, Karla, Rondelle, Letha Petersen, Yvette Maranda-Venzen and Monica St. Remy; nephews: Sheldon, Joel, Alexander Jr., Paul, Wayne, Karl, Carlos, Robert, Dean Petersen, Neal, Carlvin, Sylvin, Kevin Stevens, Marlon O'Bryan and Adrian Maranda Jr.; daughters-in-law: Portia Springer, Maria Hernadez and Nayavi Superville; son-in-law, Louis Brown; godchildren: Ray Harris Sr., Germaine Rodgers, Latanya Warner and Shareen Wilson-Duncan; special friends: Apostle Eleanor Estrada, Margaret Corridon, Wanda Morris and Germaine Milligan; as well as other relatives and friends too numerous to mention.
The family is requesting that attendees wear festive colors.
The viewing will be held at 10 a.m. followed by a funeral service at 11 a.m., Wednesday, May 11, at Holy Trinity Lutheran Church. Interment will be at Frederiksted Cemetery.