A group of about 100 teachers and nurses crowded Government House on St. Croix to protest unsafe and unhealthy school conditions. The protest took place from 4 p.m. to 6 p.m. on both St. Croix and St. Thomas, where protesters marched from Emancipation Garden to the V.I. Legislature.
Wednesday, protestors blew conch shells and whistles, held signs, and cheered as vehicles passed by and honked in support of the teachers.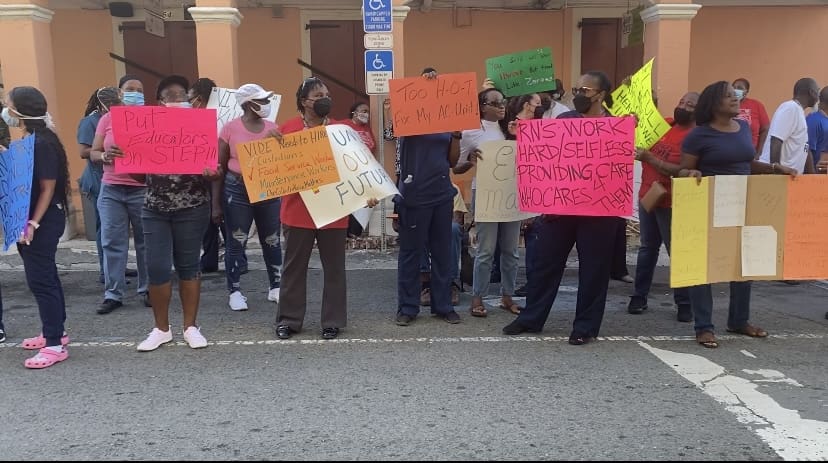 Rosa Soto-Thomas, president of the St. Croix Federation of Teachers, Local 1826 of the American Federation of Teachers, led the protest at Government House and said, "We are here because our educators are frustrated because action is not moving, the projects are not moving in our schools and activity centers."
Some of the conditions the teachers said they are protesting are multiple cafeteria closures due to broken freezers, refrigerators and dishwashers, mold, plumbing, and leaky and damaged roofs that have not been repaired since hurricanes Irma and Maria, just to name a few.
Otis Gibbs, a music teacher at the St. Croix Central High School said that on Wednesday there was no running water at the high school. "In your regular house you would not wait two months or three months just to fix a problem, but this is just how the government is."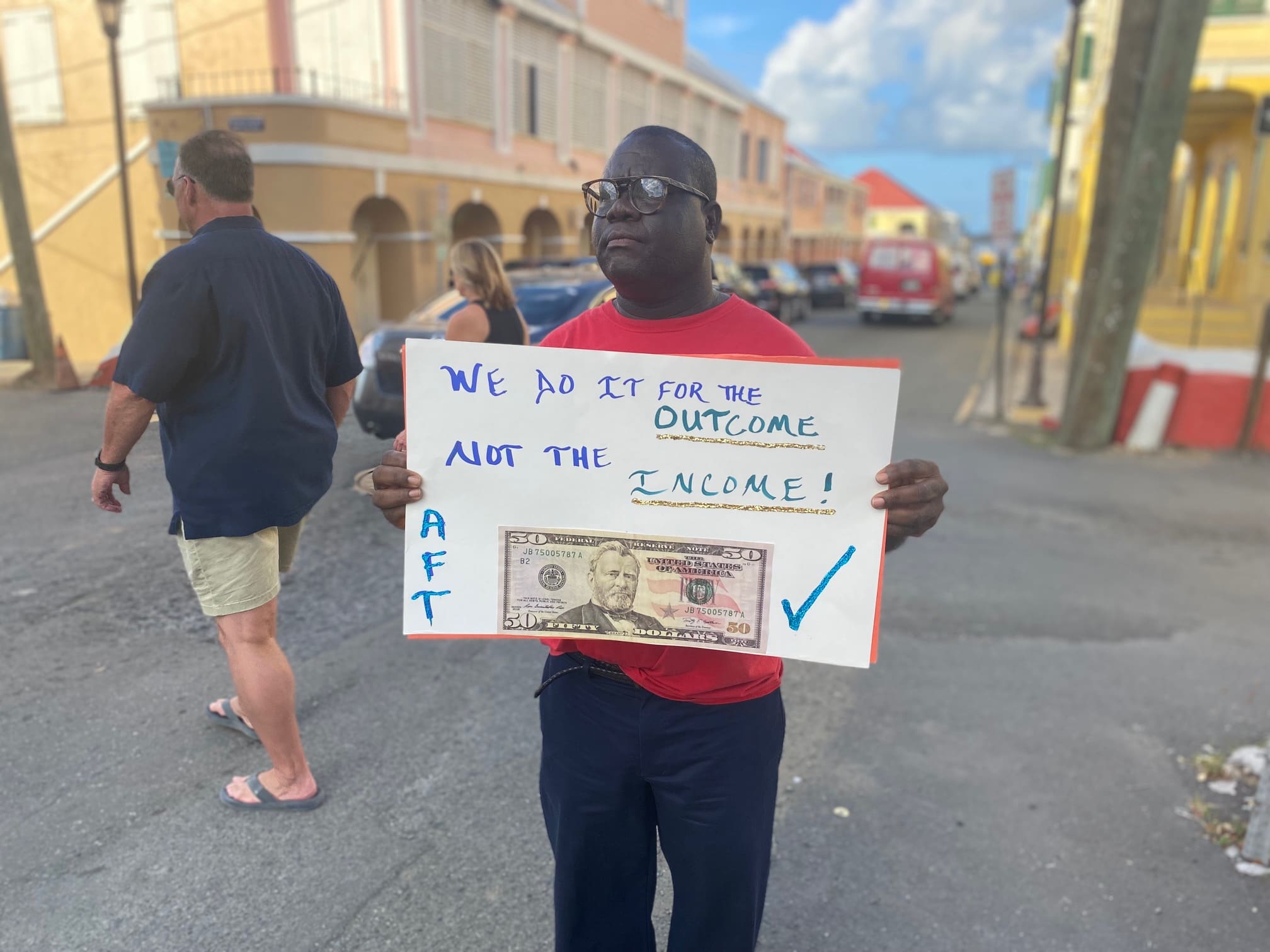 "The government is a bit slow in doing the things that are needed for the schools. We've had this time off, just over two years where no one was in school, and things needed to be fixed," said Gibbs.
The teachers are requesting allocated funds to have the problems fixed immediately. President of St. Thomas and St. John Federation of Teachers Leona Jones said, "These miserable conditions have been lingering for years, making our schools and facilities unimaginably unsafe and unhealthy for students, school employees, and visitors."
According to a press release by Jones on April 11, she took Gov. Albert Bryan Jr. on a tour of Jane Tuitt Elementary School and Ivanna Eudora Kean High School.
"There's nothing like witnessing the problems to fully understand why these buildings need urgent attention and repair," Jones said.
Bryan issued a statement in response to Wednesday's protest, writing, "As a former Labor commissioner and lifelong advocate for the advancement of workers' rights, and now as Governor, I stand in support of the workers and their right to demonstrate on Wednesday."
The statement continued, "It is out of this commitment to the labor force that the Bryan-Roach Administration has made it a priority to bring current outstanding labor agreements to repay the $41 million in 8 percent pay cuts as the result of the 2011 VIESA and has made certain to bring solvent the Government Employees' Retirement System."
Bryan said that while he understands that there are still many longstanding issues that require attention, it is his administration's focus and ultimate goal to continue to address those issues.
"I look forward to our continued efforts and discussions with labor leaders to help address all of these issues for the betterment of all workers," said Bryan.