The artists came out to shine at Crucian Heritage And Nature Tourism Saturday, Mar. 19, and shared a wide variety of art at Youth Art Month 2022. Paintings, drawings, woodwork, shoe design, mobiles, costume design, dance, music, the written word, the spoken word of poetry and the song of rap, sculptures, and digital art all came together as this year's theme, "Art Connects Us." Ceiling to floor, wall to wall, and all around the main room, the creativity of the youth made the connection through the colors, the sounds, the media, the textures, and the movements. YAM announced its presence for all to experience.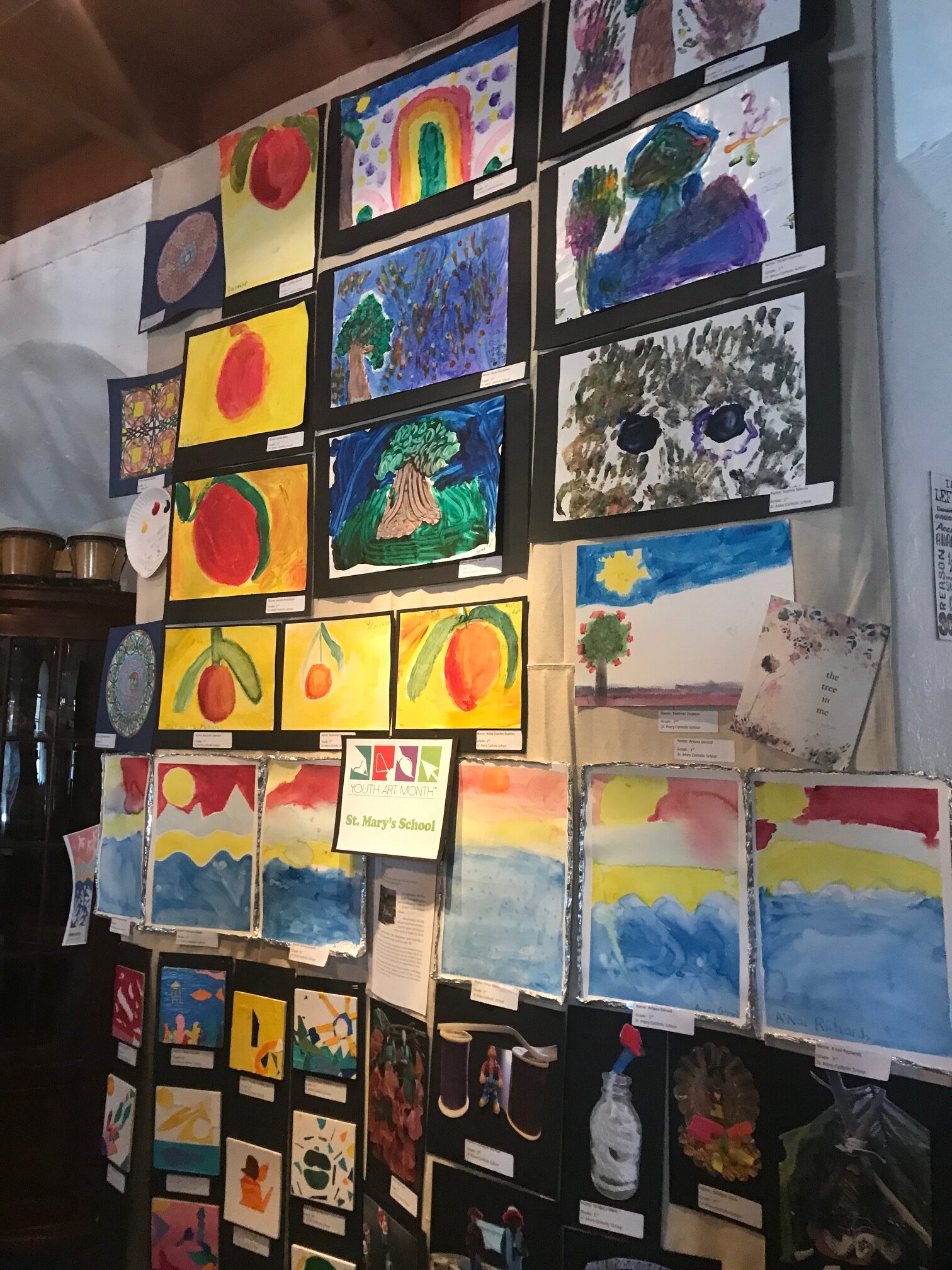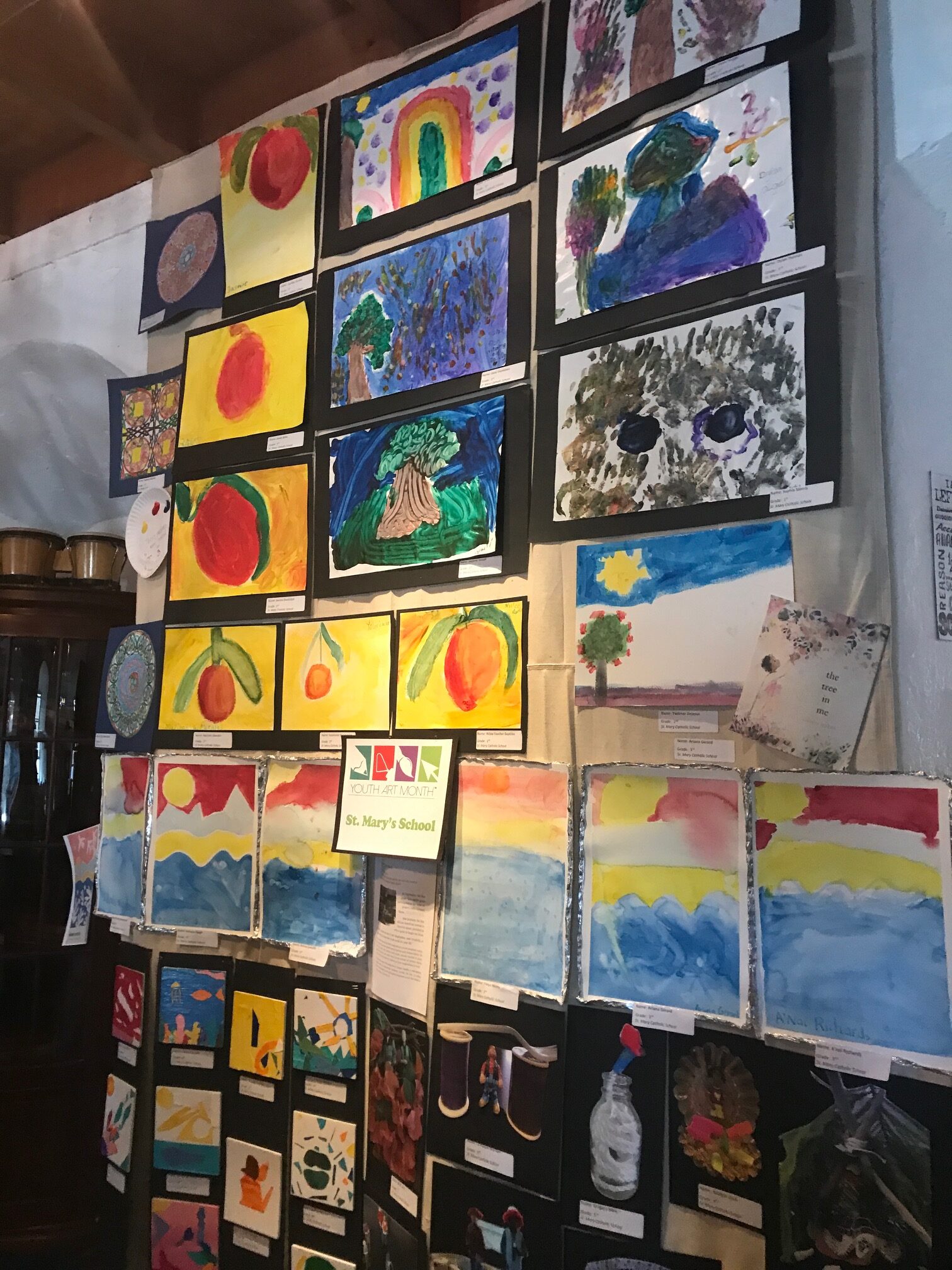 The Kwabena Trio opened the event featuring Khadijo Kwabena on keyboard, Alric Francis on bass, and Roland Wells on drums. The musicians performed throughout the evening, entertaining the art enthusiasts who filled the venue.  
Kwabena, a music educator at the St. Croix Central High School, teaches music appreciation and jazz-featured music. The musicians were his former students and are now seniors at Central HS. Francis and Wells are his "two best students, and they were selected to play with him because he's had them since ninth grade, and he's been able to groom them to be musicians and to know that they can make a living playing those instruments." Kwabena studied classical and jazz music in graduate and undergraduate schools.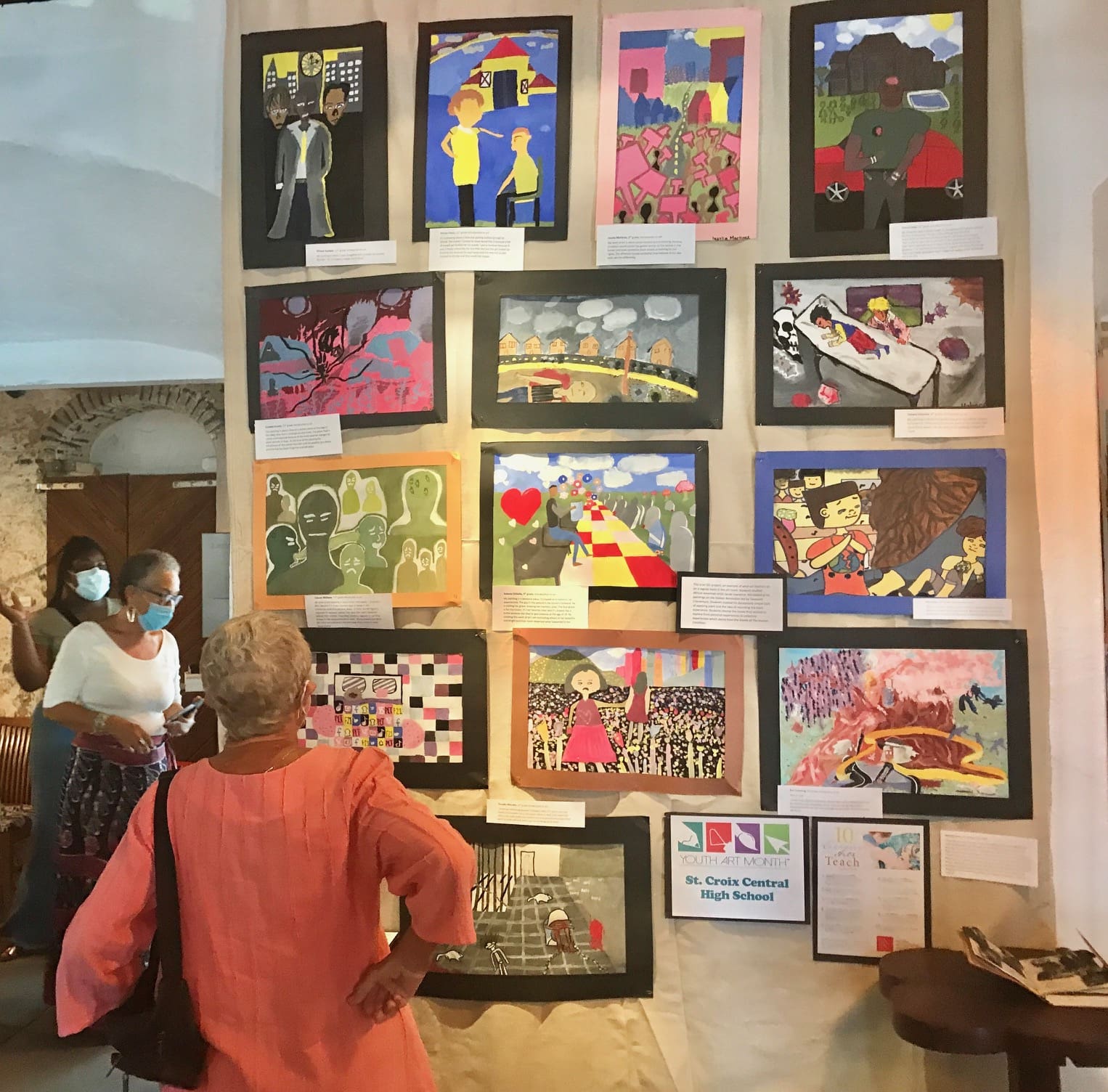 CHANT executive director Frandelle Gerard greeted and welcomed all who returned to CHANT and to all who are new to CHANT. "We are a non-profit organization. This is a community cultural space. We open up for community organizations and individuals who need a space. We are not an event space. We do cultural, educational, and arts uses for this space. We partner with the amazing Caribbean Museum Center for The Arts," she said.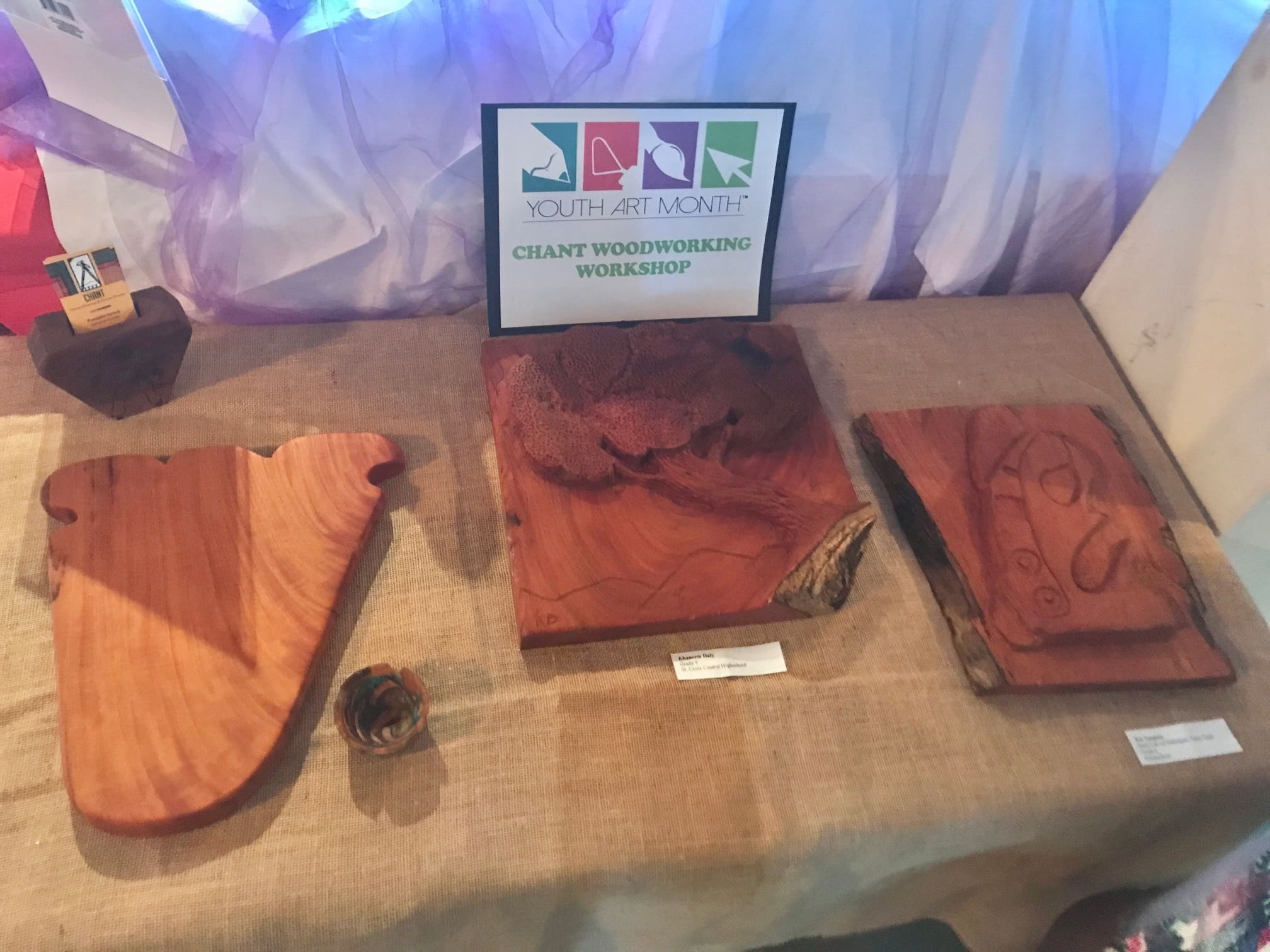 Gerard commended Niarus Walker and Maria "Irieah" Stiles, co-founders of the VI YAM, for their vision and gave kudos to all the public, private and home-school teachers and the students who participated. "We honor the work that you do."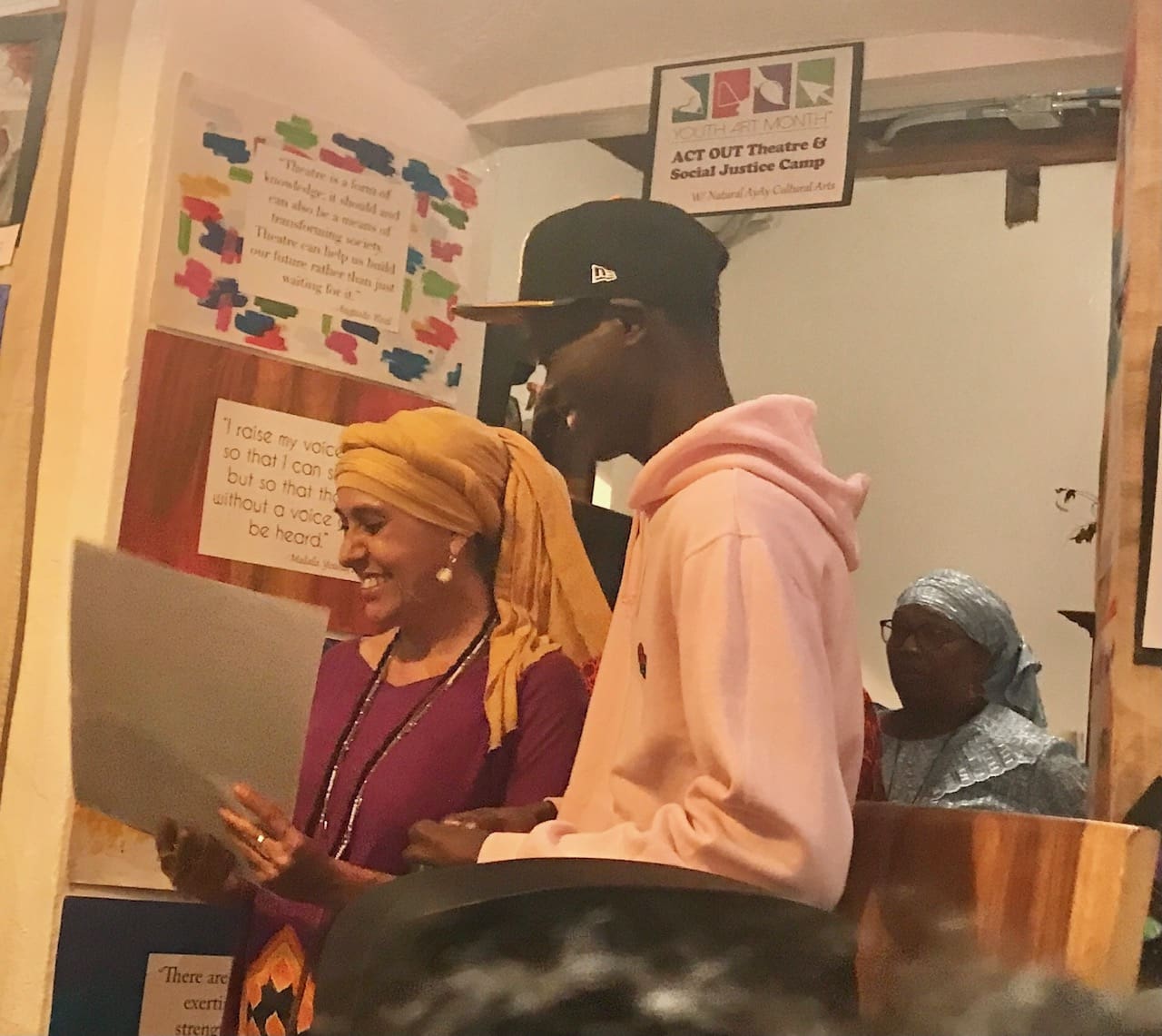 What we see is amazing, she said, and she emphasized that so few resources are allocated to the arts, and so much expression and freedom and direction for our youth is coming through the arts. "If you all look real closely, you see what is on our children's minds. You also see what they're capable of. We're so fortunate to be able to do this," she said. Gerard put out the invitation for all to come back to see the art and invite others while it's up until April 16.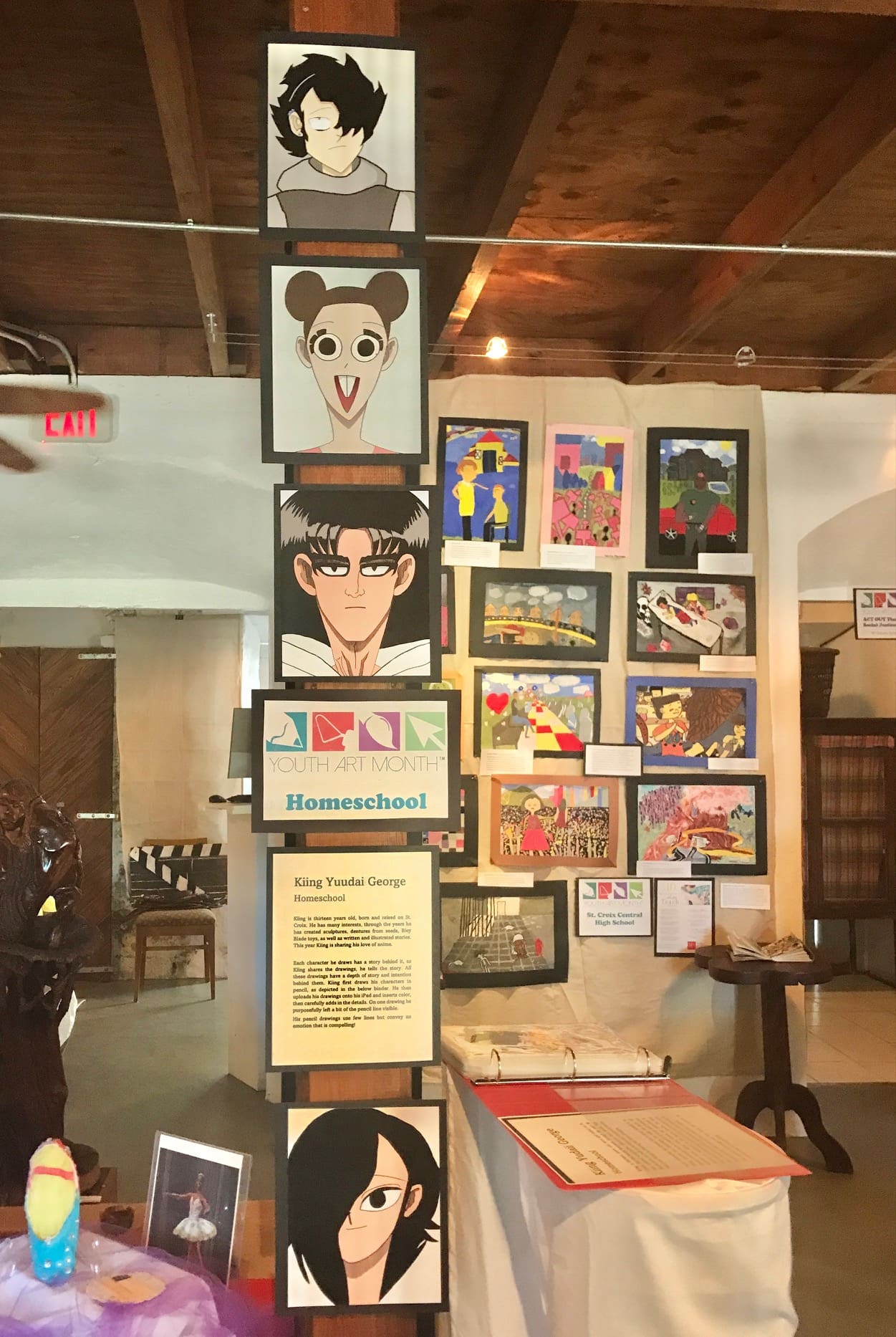 St. Croix This Week Cover Artist Tyeis Chung, a 15-year-old 10th grader at the St. Croix Educational Complex High School, displayed her original artwork, "St. Croix Bounty," picked for the cover through her school's participation in YAM. Chung wanted to highlight Virgin Islands agriculture and our beautiful fruit, she said. She has enjoyed painting since the fifth grade and credits her former teacher Shakir Smith with introducing her to the many facets of art and to her mother for her support throughout the years.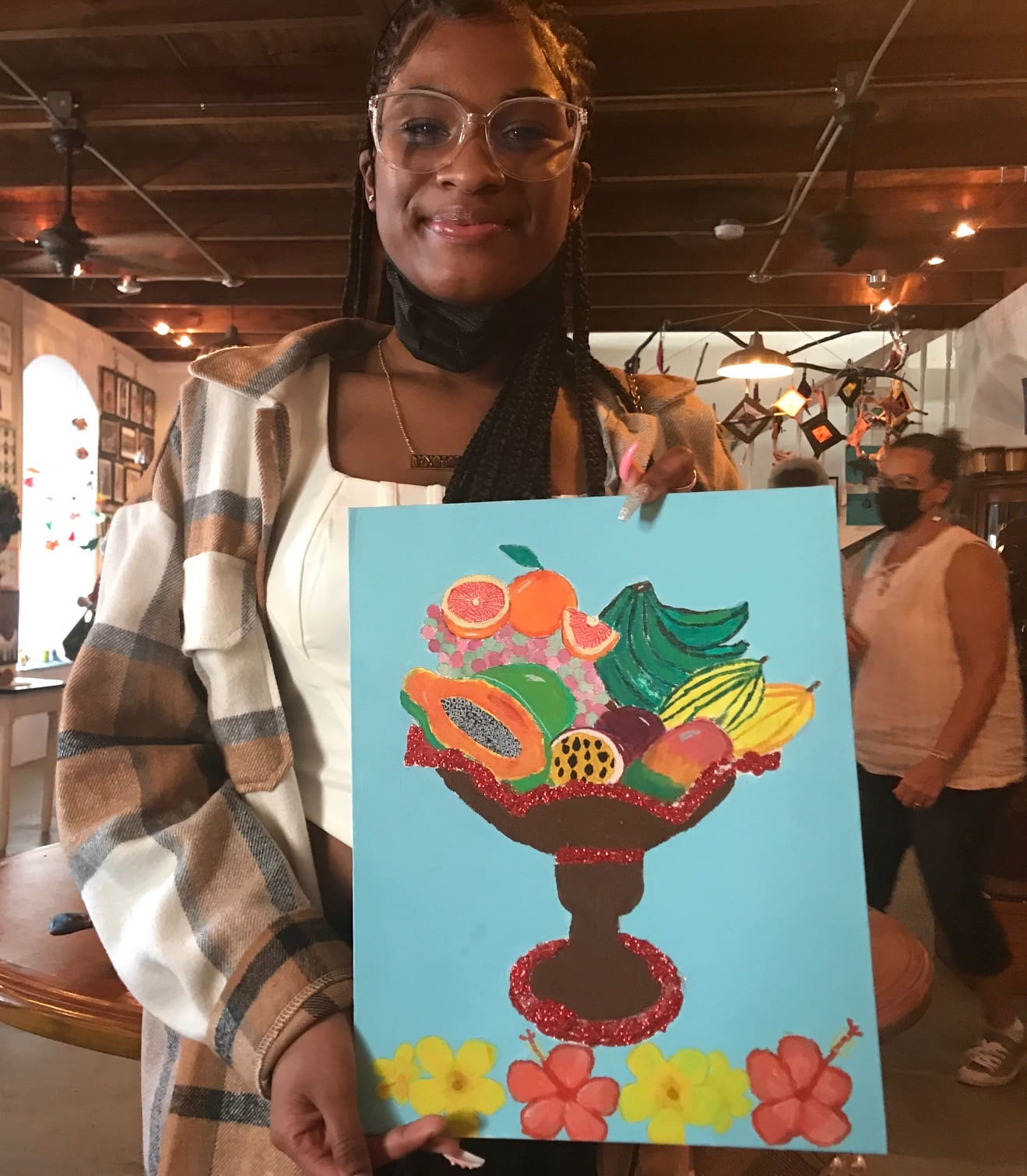 Caribbean Museum Center for the Arts education coordinator Jessica Parker White spoke briefly about the recent and upcoming events at the museum directed toward the youth and the adults in the community. She re-introduced the poets who shared their spoken words created through their participation in the CMCArts poetry workshop led by poet-in-residence Sharonda "Eccentrich" Richardson:
A'Nyra Richards, Keemer Croskey – John H. Woodson Jr. High School
Bry'Nice Berley – St. Croix Central High School
Che Amor Vasquez, Denzil Huggins, Rashawn Philip – SCEC HS
Zuma Nisbett – Pearl B. Larsen K-8 School  
Philip also performed his rap song, "Colorism," created in the Art for Activism "I Am David Hamilton Jackson" workshop — a collaboration of the Department of Planning and Natural Resources' Libraries, Archives and Museums and the Department of Education's Division of Cultural Education.  
Youth Culture Bearer Marley Cassius performed a contemporary ballet choreographed by Music in Motion School of Higher Dance Education founder/artistic director Charlita Schuster. Cassius will be auditioning for the Alvin Ailey American Dance Theater Intensive Program in New York City. Schuster encouraged the audience to participate with donations or pledges to assist 12-year-old Cassius with funding for her upcoming audition. According to Schuster, the University of the Virgin Islands has a dance degree program for students completing 12th-grade high school.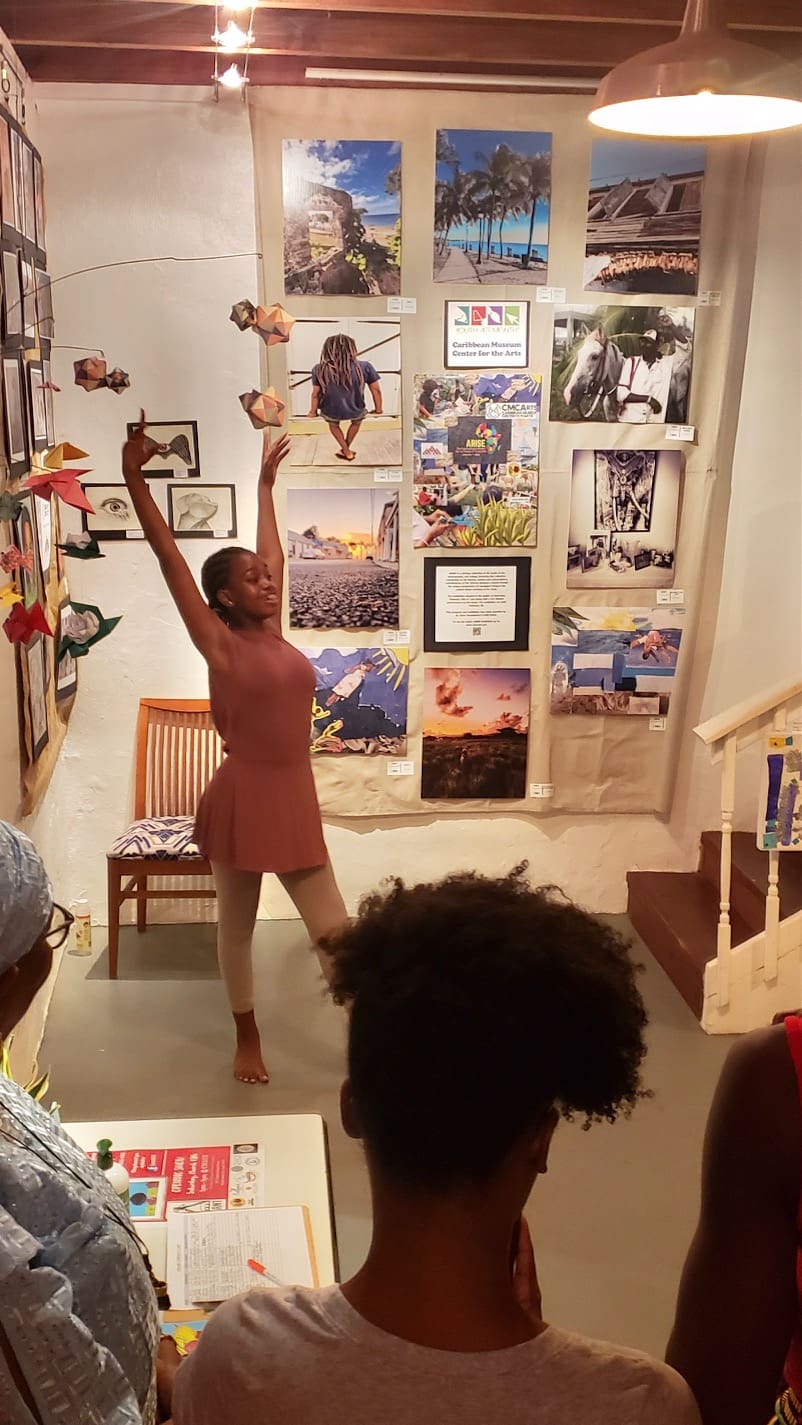 The Virgin Islands Children's Museum executive director Chantel Hoheb, program director and curator Amber McCammon, and YAM tour guide Majestic Freedom spoke about the museum and its connection to YAM for the past four years. 
SCEC speech and drama teacher Sayeeda Carter took the microphone during the evening introducing the performers with her spirited and inspiring flair. She encouraged the parents in the audience to "grab a sketch pad and give it to your kids. Grab a rhyming dictionary — anything. Let's really push the arts."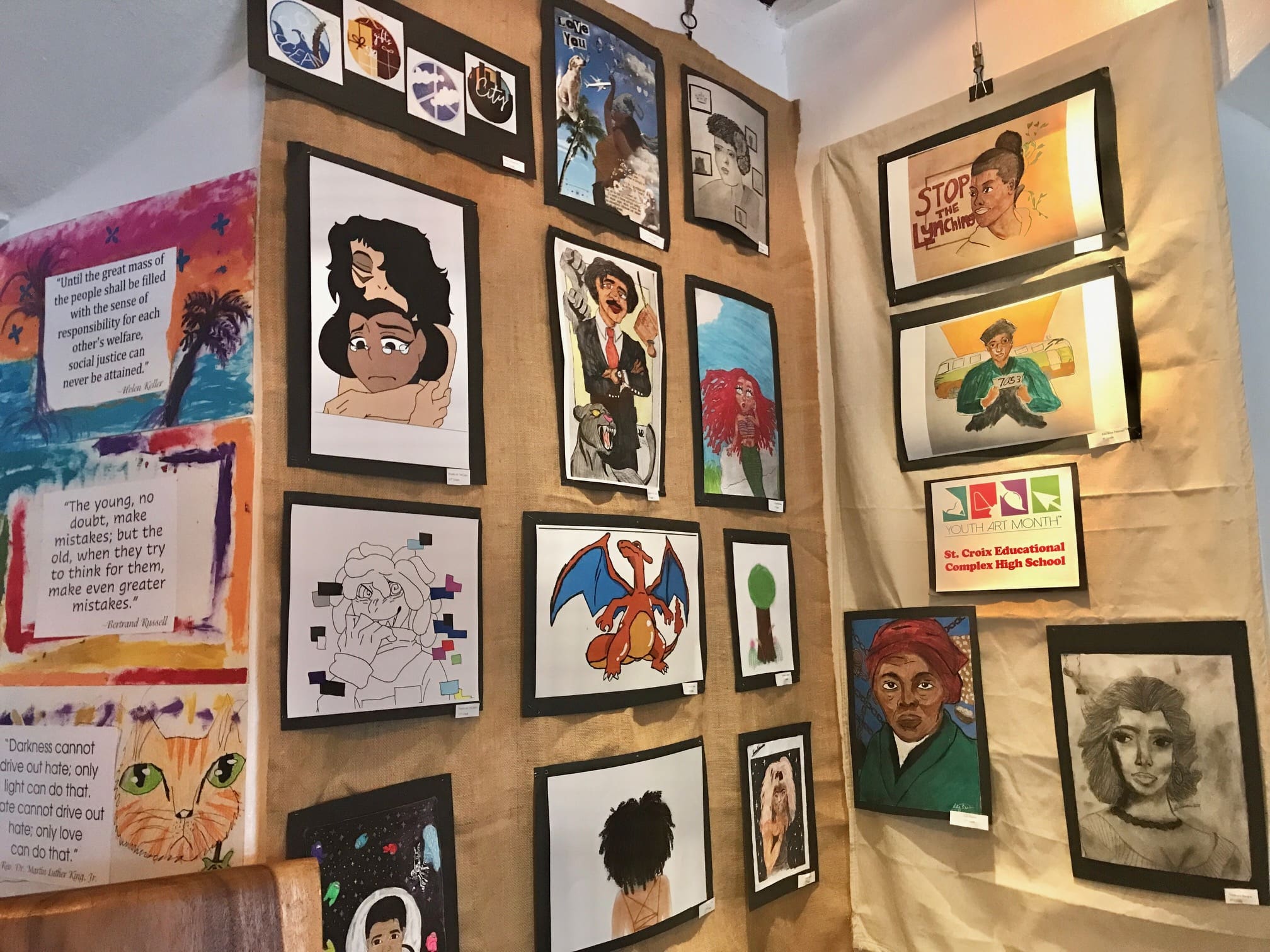 Stiles closed out the event giving thanks to all involved, which included teachers, students, parents, performers, musicians, and supporters. 
The National Art Association Honor Society, the VI Lottery, Cultured Natural, Juju and Cece's Drinks, The Art Exchange, Act Out, VI Dept. of Cultural Education, DPNR Dept. of Libraries, Archives and Museums, Per Ankh, and Act Speaks were sponsors for this event. 
For more information:
VI YAM STX – 340-643-6183, Facebook – yamUSVI
VI YAM STT – vichildrensmuseum.org
Music in Motion School of Higher Dance Education – 340-277-4977