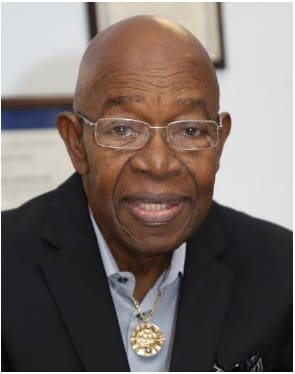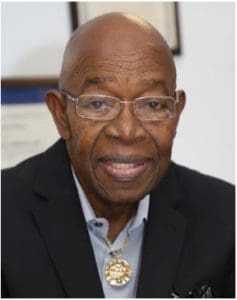 Athniel C. "Addie" Ottley, Doctor of Humane Letters, has died. He was the president and chief executive officer of WSTA 1340-AM, also known as "The Peoples' Station."
Addie, as he was affectionately known, was an influential individual who was well-loved by the community. His love of broadcasting came naturally to his warm and approachable demeanor evidenced in his popular "Addie Ottley Morning Show," the No. 1 radio program in the Virgin Islands. His program featured music of yesteryear as well as live phone and in-studio interviews with government officials, community leaders and others. Everyone who knew Addie, knew he loved a good on-air discussion with the public concerning political and social issues. His solution-oriented attitude resulted in callers calling into the radio station to get his assistance in navigating a variety of island challenges. Addie always knew how to get an answer and always had the most important news of the day. When he talked, everyone listened!
Athniel "Addie" Callistus Ottley was born to Iris Scatliffe of Tortola and Aubrey Ottley of St. Thomas on Nov. 19, 1941. He was one of 17 children. He came from humble beginnings growing up in Savan with his brothers and sisters. His personality took after his mother's. He was community-minded, giving, selfless and always ready to serve.
At an early age, Addie showed great interest in the communications field. Addie's love for radio first developed at Tony's record shop near Market Square. His devotion to radio continued to grow in the busyness of his family's one-bedroom house, where he carved out a small space for himself in the kitchen corner to study his ham radio.
As a teenager, the young Addie Ottley spent a great deal of his free time learning the ropes at WVWI Radio Station, which was operating on St. Thomas via an FM link. It was there that veteran radio personality Lee Carle found the young Addie Ottley. Lee Carle saw Addie's dedication and passion for the radio, and he soon launched Addie into becoming an active participant in the broadcast business. This led Carle to put Addie on-air doing his own show, "Addie at Night."
While learning the ins and outs of the radio business, he had his first exposure to the world of politics when he covered the Virgin Islands first wide elections in 1958. The young Addie was showing great interest in what was going on around him in the world and wanted to be able to make a difference. In his senior year at Sts. Peter and Paul Catholic School, at the age of 17, he was elected president of the Class of 1959. This helped the young man to build on his skills of communicating and putting actions to work!
Addie also had a passion for tinkering with electronics. He built and operated his own ham radio station. He made history by becoming the first teenager to be granted a ham radio license, KV4BW, in the Virgin Islands. At this point, he was a young person who was going to do great things. Addie held the highest FCC Amateur Radio License, the Extra Class License and the highest Commercial Radio Telephone Operators License along with First Class General Radiotelephone Certification with Radar Endorsement.
He attended the RCA Institute of Technology in New York majoring in electronics and subsequently attended Indiana Institute of Technology in Fort Wayne, Indiana, majoring in electronics and engineering. This is where he met his first wife, Alice Louise Johnson, and their union brought about five children: Alan, Andre, Alicia, Angela and Alfreda.
When Addie returned to St. Thomas in 1965, he worked at WSTA as an assistant manager for three years, and then he was promoted to manager. It was at this time he began his widely respected and much listened-to radio program, "The Morning Show."
His love for his community did not stop there; he started producing a weekly television series on Channel 10 for young Virgin Islanders called "Youthquake." Inspired by the popularity gained from the exposure of radio and television in the Virgin Islands, Addie launched his political career. But his love for the radio was never far behind.
Addie has a long and distinguished record of public service in the Virgin Islands. He was elected to the Legislature in 1970 and 1972. In 1973, he was appointed lieutenant governor in the administration of the late Governor Melvin H. Evans.
Addie served as public relations representative for the Department of Commerce, functioning as the ambassador of goodwill for the expanding Virgin Islands tourism industry. In 1975, he married Mary Emma Simmons and became a loving stepfather to Karen Brown-Scarbriel and Robert A Brown III. During their 46-year union, they enjoyed traveling and raising their blended family. Over the years, Addie inspired many to develop a passion for radio broadcasting including his stepson, Robert. After exploring political life, Addie later resumed his morning show on WSTA in 1977.
In 1978, he was re-elected to a third term in the Legislature and in 1981 was appointed executive assistant to the commissioner of commerce. In 1984, he became president of Ottley Communications and realized his boyhood dream of owning a radio station. Along with a group of local investors, Addie purchased WSTA, making it the first radio station owned by local stakeholders.
Addie's love for informing, communicating and educating his community continued to grow! What better way to do all that he loved? In 1982, he became the host of a weekly TV show produced by the Public Broadcasting Station WTJX Channel 12. It was called "Face to Face." The show was a platform that allowed a wide gamut of opinions and concerns about politics, education, health, community activities, entertainment and disaster recovery in the Virgin Islands. Addie's devoted audience ranged in age and ethnic background. While he was broadcasting on both the radio station and "Face to Face," he still found the time to be an active participant in community events.
In 1984, Addie, the president of Ottley Communications Corporation, along with a small group of local investors purchased WSTA. A year later the station increased its power; it boosted from 250 watts to 1000 watts of stereo power. This increased power allowed the station to withstand the forces of nature and expand to satellite communication. Along with the added power and the voice of Addie Ottley, the station was a force to be reckoned with. It was Addie's calming and informative voice that got so many Virgin Islanders through hurricanes Hugo, Marilyn and Lenny.
During those hurricanes, WSTA was the only station that broadcasted 24/7, and, of course, Addie was right there every minute of the day. His relentless dedication and devotion to WSTA Radio and to these Virgin Islands continued in 2017 when the territory got hit by two Category 5 Hurricanes Irma and Maria within two weeks of each other.
Of all of Addie's contributions, the magnitude of how he has used his talent and radio station platform to be a beacon of hope and a voice of reason for the Virgin Islands is the one that is most valued in the hearts and souls of Virgin Islanders.
Addie and WSTA are no strangers to being on the air during and in the aftermath of storms like Hurricane Hugo (1989) and Hurricane Marilyn (1995). However, the devastation of hurricanes in September 2017 silenced all radio and television stations and most communication, and Addie was the only one on the communication waves. People everywhere tuned in to hear important updates about aid, restoration and recovery, to find and help loved ones and neighbors, to seek medical attention or just a comforting voice and reassurance from him that "today is a better day than yesterday."
Addie's courage and strength were also tested after the storms when he played on air a glimpse of what he and his family were dealing with right before the loss of his son. For all that he has done, the people of the territory are forever indebted to his life of service.
Addie's additional Civil Service contributions include:
Former Chairman of the Advisory Committee of Reichhold Center for Performing Arts.
Member – Board of Directors of the Advisory Committee for the United Negro College Fund to benefit UVI.
Member – Advisory Committee and Master of Ceremonies of the Muscular Dystrophy Association's annual telethon.
Civilian Liaison Officer for the Virgin Islands National Guard.
Member – St Thomas/St. John Chamber of Commerce and twice president of the Chamber.
Member – Rotary Club of St. Thomas of which he was a Paul Harris Fellow.
Member – Phil Kappa Theta Fraternity and the Mental Health Commission.
Board Member – Arts Alive
Chairman Emeritus – Virgin Islands Chapter of Employers Support for the Guard and Reserve.
Addie had an array of awards which he had received:
1990 – The Freddy Award for his dedication to the youth.
1992 – Business Advocate of the Year Award.
2007 – Tribute to Mr. Athniel C. "Addie" Ottley Read into 153 Congressional Record E2058 by Hon, Donna Christensen, Virgin Island Delegate to Congress.
2013 – "Executive of the Year Award" awarded by The African American Ethnic Sports Hall of Fame.
2013 – Addie led successful efforts in restoring the Saints Peter and Paul Cathedral, a historic landmark originally commissioned by King Christian VII of Denmark in 1773.
2014 – Received the special distinction of having been knighted by Pope Francis of the Order of St. Gregory.
2019 – Received an Honorary Doctorate Degree from the University of the Virgin Islands in Humane Letters.
If you have ever heard the old saying "If you love what you do, you will never work a day in your life," it describes every day of Addie's life. In 2020, when Addie was at the St. Croix Festival, he fell and injured himself. He was flown to Florida for surgery and then to Indiana for recovery. While in Indiana, staying with his daughter Angela, WSTA North was born to allow Addie to be connected to his beloved Virgin Islands and continue broadcasting on air while in Indiana. This showed Addie's commitment and love for his community.
Our Heavenly Father called Addie home to be with him on Feb. 10, as his journey here was complete. We are sure the Lord said, "Well done my good and faithful servant; you are leaving behind quite the legacy." A living embodiment of the maxim "Service Above Self," Addie is an irreplaceable consummate local treasure and icon who will be deeply missed by all.
He is survived by his wife, Mary Emma Ottley; sons: Andre Ottley and Robert Brown III; sons-in-law: Lorene Cobb and Lubin Scarbriel Jr.; daughters: Alicia Ottley Cobb, Alfreda Bradford, Angela Ottley Lewis, Karen Brown-Scarbriel; daughter-in-law, Jeannine Francis-Brown; brothers: Paul Ottley and Peter Ottley; brothers-in-law: Henry Hoseford and Lenny Harrell; sisters: Alda Ottley, Clarice Ottley Horsford, Janine Ottley, Joyce Ottley Blyden, Lenore Ottley, Margaret Ottley, Sonia Ottley Waters and Velma Ottley; sisters-in-law: Pat Ottley and Velven Milliner; adopted sisters: Juel Molloy and Lydia Brown; and uncles: Leano Zephir, Mario Zephir and Vandell Zephir.
He is also survived by aunts: Estelle Parrott and Magda Bonelli; nephews: Aaron Ottley, Alaric Emanuel, Amir Ottley, Amoi Ottley, Anthony Emanuel, Anthony Ottley, Aubrey Ottley, Bernard Ottley Jr., Daniel Ottley, Dwayne Ottley, Flavius Ottley III, Gian Ottley, Hosea Ottley, Jerome Ottley, Kylon Ottley, Oba Ottley, Ohn Cancel, Paul Jermaine Ottley, Rhori Cameron and Rodney Jones; and nieces: Abrianna Johnson, Alarise Connor, Alda Ottley, Alisa Horsford M.D., Andrea Johnson, AnJalique Ottley, Aun'yae Johnson, Daphne Wallace, Dionne Blyden M.D., Jervon Ottley, Keisha Ottley, Kiyani Ottley, Michelle Ottley, Stacie Ottley, Tamisha Ottley and Ubaldina Ottley.
Other survivors include cousins: Ahmad Zephir, Gov. Albert Bryan Jr., Alrick Bryan, Andre Bryan, Basil Ottley, Beverly Bonelli, Botija Zephir, Karon Zephir, Kenesha Zephir, Laverne Zephir, Dr. Lorraine Christian, Matthew Zephir, Melanie Bonelli-Roebuck Michelle Bonelli, Robert Bryan and Tarik Zephir; grandchildren: Alana Scarbriel, Danielle Greenidge, Demetria Ottley, Denzel Cobb, Deshawn Ottley, Jhari Graham, Krystle Brown, Lauryn Cobb, Mary Olivia Lewis, Noelani Lewis and TyJ Cobb; great-grandchildren: Daelen Cobb, Denzel Cobb Jr., Giselle Cobb, Jaxon Greenidge, Jhaire Graham, Kaliah Dario and TyJ Cobb Jr.;
Relatives and friends are respectfully invited to attend a Public Memorial Service from 11:30 a.m. to 2:30 p.m., at UVI Sports and Fitness Center on Tuesday, March 1.
From 8-10 a.m., Wednesday, March 2, he will lie in repose at the Earle B. Ottley Legislative Hall, St. Thomas. From 10:30 a.m. to 1 p.m., he will lie in repose at Government House, St. Thomas, USVI.
Interment: Eastern Cemetery Smith Bay
Arrangements are under the care of Dan Hurley Home for Funerals and Cremation Center of St. Thomas, St. John and St. Croix.
For online directions and condolences or to share a special tribute, please visit the website at www.hurleydavisfuneralhome.com.