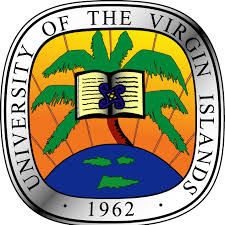 The University of the Virgin Islands' Communications Unit was represented at the 2022 Kennedy Center American College Theater Festival (KCACTF) and Institute of Theatre Journalism Advocacy (ITJA) project for two consecutive years.
The Institute of Theatre Journalism Advocacy coordinator, Andre Minkins of Winston-Salem State University, was gracious with his praise and commented that "UVI students were the real stars," at this year's conference.
The Kennedy Center American College Theater Festival is a national theater program involving 18,000 students annually from colleges and universities across the country. As members of Region IV, UVI students collaborated with schools throughout the southwest who showcased their best theatrical productions in virtual or filmed formats.
Institute of Theatre Journalism Advocacy veers from the classroom model of just writing reviews and critiquing them in round table format and asks the advocates /critics to connect with those involved in directing, playwriting, acting, dramaturgy and other areas in the festival, possibly even sharing a workshop or an assignment. The aim is to have advocates /critics interview, observe and respond to the invited productions as well as actively interact with the rest of the festival, rather than working apart from it.
Students were encouraged to attend different sessions throughout the week that provided a glimpse of how communication and media may play significant roles in acting, theatre and the fine arts. Sessions included pragmatic topics such as scriptwriting, leadership and management, production and design technology.
Michael Bell, the University of the Virgin Islands Association of Black Journalists (UVIABJ) vice president said, "I had the opportunity to understand what it means to be in a managerial position, in directing and working in theater or movie settings." Student reporter George Francis, a senior communication major, exhibited extraordinary interview skills in his debut of the ITJA podcast, which was titled "A creative conversation with Abigail Coats."
Experts also led workshops to encourage discussions about ways that under-represented groups are portrayed onstage, cultural appropriation and character depictions that deepen existing societal divides. Communication seniors, Shari Lewis ("This is Not a Date" by Tanaka Maria) and Shugga Rosenbloom ("The Moon Play or Luna Under Alabama Wood," by Daulton Causey) auditioned for and were cast in two student productions. Both plays received National Playwriting Program Awards and recognition as KFACTF Region IV Honors for Excellence.
Minkins and The Institute of Theatre Journalism Deputy Coordinator Starr Garrett of Campbellsville University hosted daily briefings that promoted journalism advocacy and tasked students to review and critique productions that ranged from 10 to 120 minutes long. Select writings were critiqued by student reporters Carlos Eton ("A Sudden Spontaneous Event"), Hilary Gordon ("Wiley and the Hairy Man") and Indeyah Todman ("Sweet Mama Stringbean"), which are available at https://www.kcactf4.org/ and https://uvivoice.org/
Sharon Albert Honore, Ph.D., associate professor of the Communications Unit in the department of Communication and Performing Arts, expressed pride that UVI students were, again, invited to participate in this event. "This innovative aspect of including journalists of color into a mainstream component of the arts is encouraging and allows our students to take advantage of an art form that was previously unavailable," Honore said.
The Kennedy Center American College Theater Festival affirms its commitment to policies and practices of promoting inclusion and diversity in its leadership, both regional and national, as well as in its programming.
For more information, contact the UVI Public Relations Office at pr@uvi.edu.