The U.S. Virgin Islands' future is much brighter with a container port rather than an oil refinery on St. Croix's south shore, a maritime school president said Wednesday.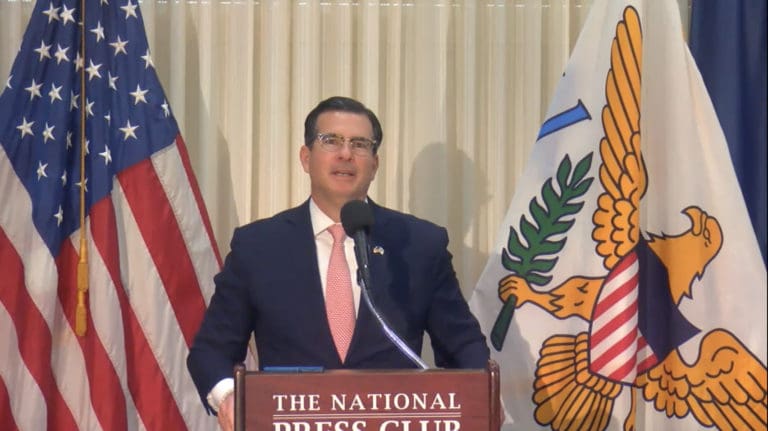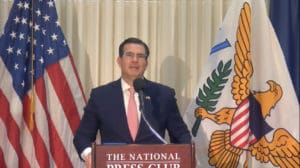 Eric Dawicki, president and CEO of the Northeast Maritime Institute, a Massachusetts-based nautical college, said the USVI is vital to a plan to revitalize the U.S. shipping industry, and a seaport where the refinery sits would provide steady, high-tech employment in environmentally friendly jobs.
Although the refinery is not mentioned by name, the memorandum of understanding Gov. Albert Bryan Jr. and Dawicki signed Tuesday does call for "decarbonizing" wherever possible. The plan – called A Revitalization Plan for U.S. Maritime Trade, Commerce and Strategic Competition – envisions the USVI as a central hub for Caribbean/United States shipping dominated by non-petroleum fuels.
"The refinery needs to be torn down," Dawicki said. "It is an absolute crime, and the federal government needs to step up and take care of the local people once and for all. And this project might actually resolve that problem."
The Limetree Bay Refinery, co-founded by the Hess Corporation and Petróleos de Venezuela, S.A., the Venezuela state oil company, has opened and closed several times, yo-yoing employment in St. Croix. The petroleum plant, which has been cited for violating federal pollution laws, was recently sold at a bankruptcy auction to Jamaica-based West Indies Petroleum and partners for $62 million. Officials at West Indies Petroleum did not immediately respond to requests for comment.
"It needs to be designated as a superfund site. We need to clean that up and then we need to create this port in that area — if not on that area. It does the world no good. I don't think the EPA is going to let that refinery function in the future anyway," Dawicki said, adding the boom-and-bust refinery cycles are no good for Crucians.
He said the maritime recovery plan could bring $2.3 billion in private investment to the territory with the help of Congress, as well as state-of-the-art educational opportunities for young mariners and port employees.
"Trickle-down economics, we've got to be done with it. You know, give a man a fish and feed him for a day or teach a man to fish and feed him for a lifetime; I'm a big believer in that," he said. "We need to make sure there is a sustainable economical driver that's not going to harm the water, not going to harm the air. Enough is enough."
Dawicki, who comes from generations of commercial seafarers, said he witnessed trouble at the oil plant firsthand decades ago.
"I actually worked on a tanker as a kid going to the Hess facility and loading tankers full of oil, and going out there and delivering it to the East Coast one summer. And it was a shoddy operation back then. So that thing needs to be torn down. We need to do something that is economically sustainable for St. Croix specifically because those people have taken a beating. Where other islands have been OK with tourism, you know, St. Croix is the working man's island," he said from Washington, D.C., where he met with other maritime industry experts and Bryan.
The revitalization plan depends on the USVI creating an open registry that allows foreign-owned and operated commercial ships to sail under the territory's flag. Rather than offer the lax labor, safety, and environmental standards that define other so-called flag-of-convenience states, the USVI flag would be something of a gold standard in shipping. With the approval of the U.S. Congress, this USVI standard could be applied to all sea commerce to and from the United States.
Such a move would improve inspection and tracking of shipped goods to ensure they are legal, improve labor conditions for mariners, and keep dirty or unsafe ships out of U.S. ports. By raising the standards shippers are held to, the cut-expenses-at-any-cost race to the bottom ends and a new era of transparent, socially- and environmentally responsible shipping begins, he said.