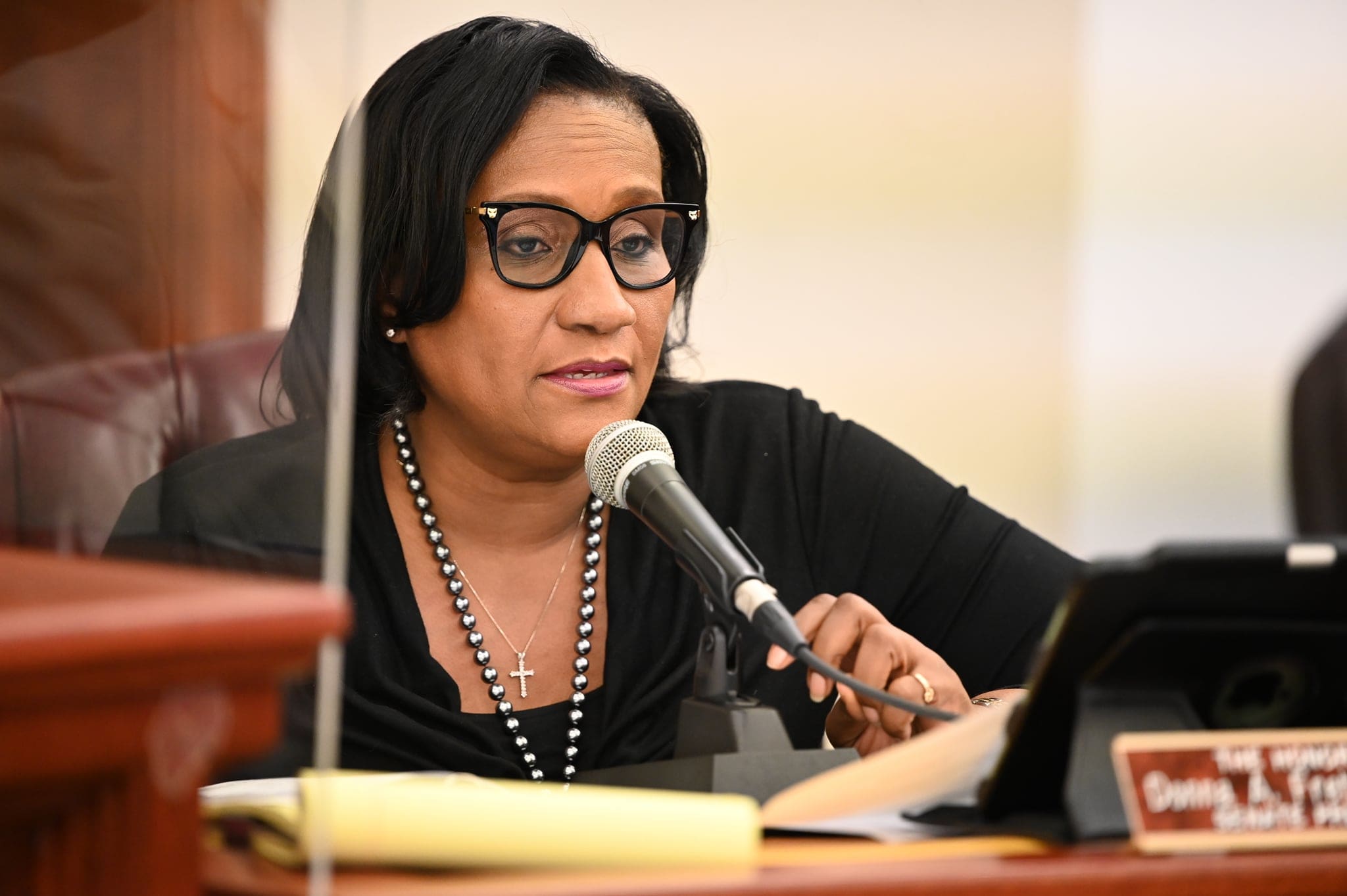 Hailed as a bill that can save lives, the Homeland Security, Justice, and Public Safety Committee advanced legislation during Friday's hearing in hopes to solve a stark reality faced by the victims of violent crimes in the U.S. Virgin Islands – being confronted by their alleged perpetrators in public.
The legislation would expand on legislation currently in place that provides victims of domestic violence notification when their alleged perpetrator has been released by requiring similar notification be given to victims of assault, battery, kidnapping, and rape.
"This whole law and this whole discussion comes out of Marsy's Law, after Marsy Nicholas … who was stalked and murdered in 1983. One week after her death, her family ran into her accused murderer at the grocery store and had no idea he had been released on bail," said Sen. Donna Frett-Gregory, who proposed the measure.
Family Resource Center Director Anya Stuart said what occurred to the family of Marsy Nicholas, a California college student who was killed by an ex-boyfriend, is not isolated but a perpetuating occurrence for victims residing in the territory.
"Too many times clients are perpetrated against, and their abusers are released from jail only to victimize them again because our victims of crime are not aware of the release of the perpetrator," Stuart said. "This bill is vital because it will allow our victims sufficient notice to prepare themselves mentally, emotionally, psychologically, and physically, as well as put certain protective measures in place in order to ensure their safety."
If armed with the knowledge that a victim's alleged perpetrator is released, Stuart said it will allow victims to plan "instead of being in a state of shock and surprise in finding out after the fact that their abuser is out of prison."
Women's Coalition of St. Croix Director Clema Lewis said though the law currently requires victims of domestic violence to be notified – "It's not happening."
"Most of the time, the court don't even know where to find the victims, and even if they did, the victim is not getting the information. Again, they are walking up on perpetrators in the street. It's not safe," Lewis said.
To better notify a victim, the bill lists four methods: a Victim Information and Notification Everyday System (VINE), phone call, email, and by a person authorized to serve summons and complaints.
But Department of Justice Attorney General Denise George said, "Of all the methods, the only one that could fully and effectively achieve the objectives of this measure in notifying victims is the VINE."
The system is available nationwide, and George said victims are given updates "via text, email, or phone the status of offenders incarcerated or recently released. The system allows any individual to access this information which proves useful to victim advocacy groups or watchdog groups, as well as any other concerned citizen."
Assistant Attorney General Amie Simpson said the initial start-up cost of the system would be $22,000 and $65,000 annually to continue it, but "because it is outsourced, it would not require very much manpower at all from any of our departments."
The quote received by the department for the system would be for the collection of the Department of Justice information and the Bureau of Corrections information, but Simpson said at some point the department would like to add the court system as well.
"The beautiful thing about the VINE system is it allows for a number of different organizations' information to be collected within the system," Simpson said.
Though an extra expense, committee members were in large support of the adoption and implementation of an outsourced Victim Information and Notification Everyday System.
"If we can do all these big projects and all these other things that people tend to say we are wasting money on, then we can put the VINE System in place," Sen. Javan James Sr. said.
Sen. Dwayne DeGraff said what he heard was "disturbing."
"It's just mind-boggling. I think this is something we have to see. It is taking place. Victims are being confronted back in the territory by their perpetrators," DeGraff said. "We should go the extra mile to address this particular issue."
The legislation garnered unanimous support and was advanced to the Rules and Judiciary Committee.
Sens. Dwayne DeGraff, Novelle Francis Jr., Javan James Sr., Franklin Johnson, Steven Payne Sr., and Alma Francis Heyliger were present for the hearing. Sen. Kenneth Gittens was absent.
Editor's Note: This story has been corrected to reflect the proper name of the Women's Coalition of St. Croix.