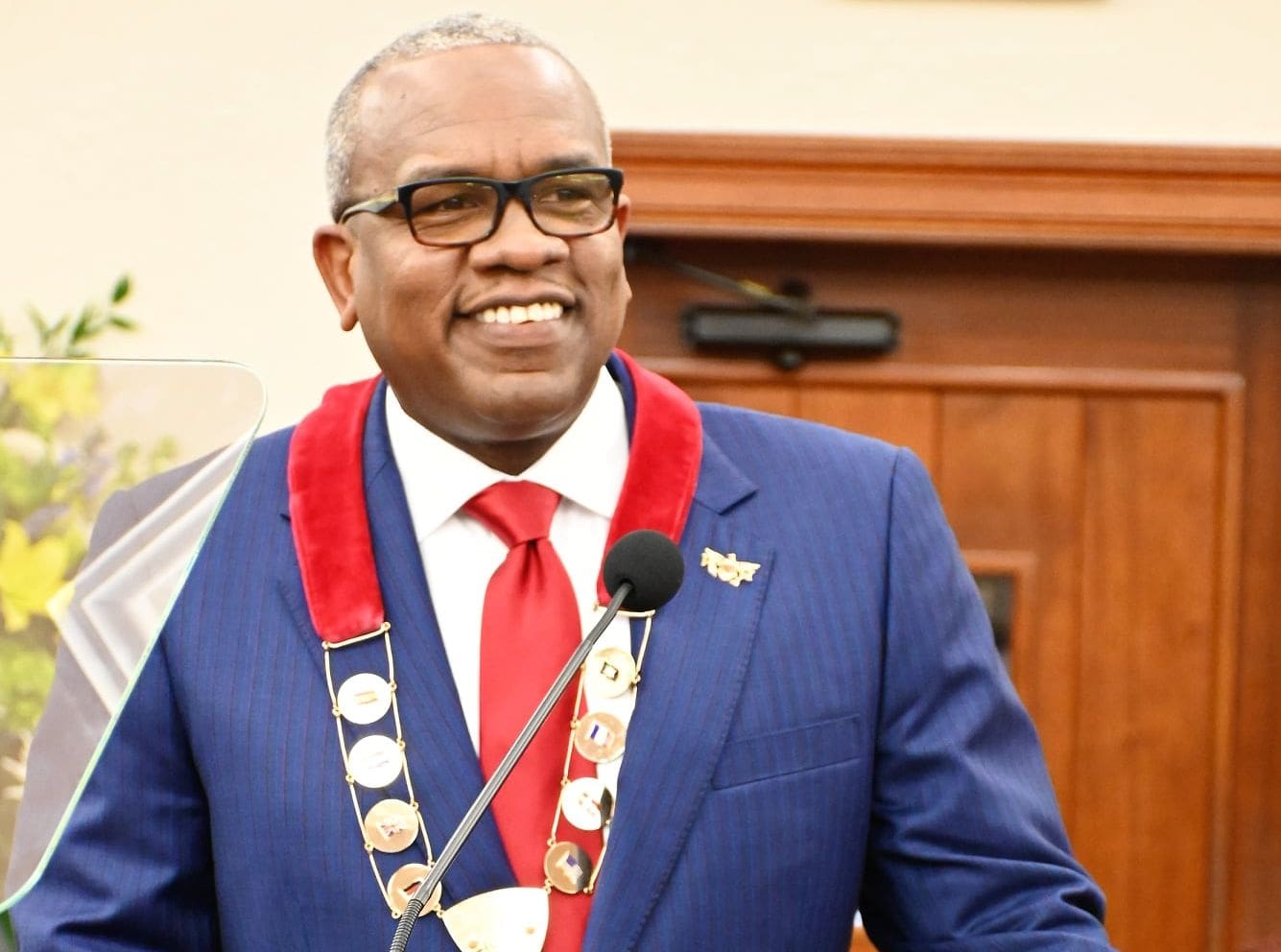 Laying bare his administration's accomplishments over the past three and a half years and setting the stage for the next four, Gov. Albert Bryan Jr. said the territory is not only "surviving," in the aftermath of two hurricanes and an ongoing national pandemic, it "is thriving," and plans are in the works to further deliver: solutions for the ailing Government Employees' Retirement System, a fortified local medical workforce, crimefighting strategies and infrastructure developments to support a competitive economy.
"We have gained greater momentum each year we have been in office," Bryan said in his fourth State of the Territory address before the V.I. Legislature Monday. "We have paid $96 million in income tax refunds. We have repaid the 8 percent payroll cut to the tune of $41.5 million. We have paid $10 million in retroactive wages owed to former public sector employees. We paid over $1 million to correct the pay owed to the National Guardsmen for their service following the 2017 storms. This is a total of almost $150 million in the past due to obligations, all paid from the Treasury of the U.S. Virgin Islands, without borrowing a dime. And that is what has been done only within the last 12 months, despite COVID-19."
The governor also committed Monday to paying down within the current fiscal year at least 15 percent – or approximately $25 million – in retroactive wages owed to government employees since 1990. Working in conjunction with the Division of Personnel, Bryan said annual installments of $25 million will be made until the full debt is repaid.
Despite predictions of an economic downfall in 2020 as the pandemic hit its peak, the distribution of COVID-19 vaccines and implementation of local health protocols put the territory on a "narrow path" to recovery, with almost 95 percent of jobs lost regained, the unemployment rate falling from 13 to 8 percent, overnight tourism booming, and several capital and road projects either coming online or being completed, he added. In addition, the territory has received "sufficient" federal funds to "buttress" the pandemic-related revenue losses and expenditures over the next four years.
"Yes, we have challenges," Bryan said. "But for the first time in a long time, we have the plans in place to address our challenges and, most importantly, the resources to implement those plans."
Government Employees' Retirement System
A bond restructuring and refinancing proposal rejected three times by the Senate is now in its fourth iteration, with the governor describing this latest attempt as a "great opportunity" to refinance the government's debt at historically low-interest rates. The savings are meant to help stabilize the ailing Government Employees' Retirement System, whose unfunded liability has surpassed $2 billion and is, as warned by its actuary, on the verge of collapsing on or before October 2024.
"If we continue the status quo until then, it is projected that employer and employee contributions will cover less than half of the projected benefits to be paid out. At that time, the shortfall will either have to be paid annually from the General Fund, or the pensions of the retirees in the System will be reduced," the governor said.
The core elements of the proposal, which was submitted to the Senate at the end of December, are similar to the first three, using revenues generated by rum cover over receipts as the base of the transaction. The government would refund and restructure the outstanding Matching Fund bonds, resulting in reduced debt service payments and a dedicated stream of funds for GERS to meet its pension needs.
"We know that this issue keeps all of us up at night," Bryan said. "Under the proposed scenario, financial stability would be returned to the GERS without any reductions to the pensions of retirees. Our success in this endeavor will also send a powerful signal to the financial markets that the U.S. Virgin Islands is getting its financial house in order. It does not 'kick the can down the road,' it crushes the can. It solves the GERS crisis for decades."
Federal Funds and Economic Recovery
Vowing that federal funds coming into the territory will be spent correctly, the governor said he will continue to hold agencies' "feet to the fire" in ensuring that homes get built, projects are finished, and economic dollars continue to flow. Giving an expanded fiscal picture during his speech, Bryan said so far:
total tax revenues stayed steady in Fiscal Year 2021 at $839 million (10 percent greater than 2019 and up 30 percent from F.Y. 2018);
over the last three years, annual revenue collections continue to exceed projections, creating budget surpluses;
government indebtedness has been reduced by more than $500 million in the past three years; and
$6 billion in federal dollars have been secured for recovery, with $4.8 billion obligated to specific projects and $2.4 billion paid out to complete "critical work."
"The Office of Disaster Recovery presses forward to get the funds, and more importantly, to spend the funds and spend them correctly," the governor said, adding that the "continuous and steady expenditure" of the disaster recovery funding will continue to sustain the revenue picture in the coming year.
To help, the Department of Property and Procurement has just successfully launched its online procurement system, GVIBUY, through which all government bid solicitations, contracts, purchase orders, and invoicing will be handled. No longer will vendors "be in the dark about the status of invoices when they are expected to be paid," the governor said, adding that Property and Procurement executed 630 contracts totaling $482 million last year, for a 200 percent increase in executed contracts.
"As impressive as this increase is, we are predicting continued growth for the next several years as we expand the influx of hurricane and pandemic recovery funding," Bryan said.
Conversely, the governor spoke candidly about the shortage of affordable housing stock available to residents, in particular, those displaced by Hurricanes Irma and Maria in 2017. Focusing first on efforts made by the V.I. Housing Authority, Bryan said that with funds added through the First-Time Homebuyers program ($4 million for homeownership) along with $70 million through the U.S. Department of Housing and Urban Development and a final $10 million in American Rescue Plan funding through the V.I. Office of Management and Budget, plans are in place to: rehab 248 units at the Walter I.M. Hodge Pavilion on St. Croix; construct a 98-unit senior housing complex in Estate Stony Ground beginning this summer; and use $61 million allocated by the Federal Emergency Management Agency to conduct repairs within the remaining housing communities hard hit by the storms.
Meanwhile, "federal bureaucracy" has stymied the success of the V.I. Housing Finance Authority's efforts, particularly through its EnVIsion Tomorrow program, which Bryan said has "generated a lot of discussion in the political forums" and even more so in the homes of the residents enrolled in the program.
"Our reality is, any program generous enough to grant a homeowner as much as $250,000 of federal tax dollars to invest in their private property with no requirement for payback demands significant checks and balances. However, for those who are patient in tolerating the federal bureaucracy of this program, the reward is tremendous," according to the governor.
Although EnVIsion Tomorrow got off to a now notoriously "piss-poor," slow start, there is reason for optimism for those applicants who are awaiting repairs to their homes," he added.
"In the past year, as we pushed to get this program moving faster, we learned several valuable lessons. We are now confident that the program is moving more efficiently than before. The program is on track to have all eligible homeowners sign their grant awards by June 2022. The Housing Finance Authority is projecting that they will begin construction on at least 200 homes in 2022," Bryan said.
Workforce Development, Education and Health
A key to economic development is also population growth, and Bryan said the results of the 2020 U.S. Census – which showed a general decrease in the territory of 18 percent to 87,146 people – is important to pay attention to. One of the goals of the Economic Development Authority's Vision 2040 Plan is to increase the population by 10 percent, which means 30,000 residents.
"This has major implications for our ability to keep our recovery on track," the governor said. "Spurring population growth is critical to spurring economic development here in the territory. The population has to be large enough to generate the level of commercial activity that our businesses rely on. Simply put, fewer people mean fewer customers."
Developing the local workforce also depends on population growth, he added, noting that the territory is currently in the midst of a labor shortage. A recently published RAND Corp. report suggested that the territory would eventually need an additional 5,520 workers to sustain the hurricane recovery effort and a drop in the population also means a shrinking tax base and revenues needed for the government to provide services.
"Therefore, we must identify strategies and policies that will help reverse this population decline," he said.
With workforce development also comes addressing achievement gaps in education, the governor said. Lauding the Department of Education for its efforts to operate virtually during the pandemic, Bryan also conveyed concerns about the "level of academic proficiency demonstrated by our students in general."
"According to our most recent standardized test results, 22.3 percent of third-graders performed on grade level in reading and 16.9 percent in math," he said. "While this is actually an improvement over our pre-COVID era scores and evidence that the Department's targeted academic interventions are working, it is still well below the level of performance that we aspire for our children. There is still much work to do to get all students reading on grade level."
Bryan spoke about the allocation of $1.5 million to community foundations in each district for math and literacy programs, along with the dedication of a large portion of $138 million in federal American Rescue Plan Act funds for intervention, summer enrichment, after school or extended school-year programs. Resources are also being dedicated to aligning learning initiatives with the "social, emotional, and mental health needs of our students in both our public and private schools," Bryan said.
On the health front, the governor spoke about the need to build and retain a workforce of qualified medical professionals who can not only see the territory through its COVID-19 response efforts but staff hospitals, schools and clinics consistently.
"The key to the future of healthcare in the territory is to retain the qualified Virgin Islanders that currently staff our healthcare facilities and to recruit a whole new generation to the healthcare profession," he said, adding that in consultation with both local hospitals, $16 million has been set aside for a recruitment and retention program for nurses and allied health professionals.
Infrastructure
Among the more important developments mentioned Monday night was a partnership with the V.I. Energy Office to establish a low-interest loan program to fund the installation of solar energy for small residential customers of the V.I. Water and Power Authority.
While outlining the authority's efforts to improve reliability, complete its undergrounding projects and restore the public's trust with the installation of a new leadership team, the governor also said WAPA "has failed to make adequate progress thus far is on the bigger challenge of providing power at a reasonable cost."
"If WAPA is to survive and properly serve this community, it must transform itself into
a renewable energy company and focus more on the distribution of energy than it does on
producing power itself," the governor said. "Increasing the amount of power produced by renewable energy provides a hedge against increasing fossil fuel prices."
Delving into the partnership with the Energy Office, Bryan explained that the government is seeking to develop a revolving loan fund that is large enough to help 1,000 homeowners achieve "energy independence annually." Loans will be repaid through customers' WAPA bills, with no money down, and the governor said the program is designed so that it is not a financial threat to WAPA but still beneficial to its customers. Solar installations will remain connected to the grid and have WAPA as a standby source of power, while interest accrued on the loans will be used to fund more loans.
Meanwhile, federal dollars pledged toward road repairs has also been "frustratingly slow and tedious," Bryan said. Federal Highway funding allocated to the territory has been insufficient for actual repairs required, and while the administration has lobbied Congress and the U.S. Transportation Department for more, only $19 million of the $35 million requested in the federal bipartisan infrastructure bill was approved, he explained.
As the government continues to lobby for more alongside Delegate Stacey Plaskett's office, the governor spoke about the continued construction of local facilities that would bring about growth, including the ongoing construction of the Paul E. Joseph Stadium on St. Croix. Bryan said the addition of amenities not included in the contract – and valued at about $3 million – have been forwarded to the Senate for consideration.
Though movement with vendor VIGL relating to the operating of the territory's horse racetracks has hit a snag on St. Croix as the government works to resolve a longstanding lawsuit over video lottery terminals and associated revenue collections, Bryan said that an agreement allowing for the resumption of renovations at Clinton Phipps Racetrack on St. Thomas was presented to Senate President Donna Frett-Gregory.
Bryan also spoke about movement through Sports, Parks, and Recreation to rehab the territory's parks, including the completion of restoration and repair projects at Emile Griffith Ballpark, Lionel Roberts Stadium, Rudy Krieger in Sion Farm, Reinholdt Jackson in Whim, Alvin McBean Ballpark, Kirwan Terrace Ballpark, and Joseph Aubain Ballpark in Frenchtown. Cricket pitches on both St. Thomas and St. Croix are also being developed.
Crime
Like he did last year, Bryan ended with a focus on the administration's crimefighting efforts, calling for the Senate, among other things, to pass pending legislation instituting a 24-hour declaration for firearms entering the territory, increasing the penalties for failing to report lost or stolen firearms and establishing safe firearm storage requirements.
As he encouraged senators to see the legislation through, the governor spoke about the efforts of the V.I. Police Department in increasing its crimefighting arsenal and announced the hiring of Antonio Emanuel as Director for the Office of Gun Violence Prevention.
"While Mr. Emanuel has a law enforcement background, he was selected for his experience in working with at-risk youth within their communities," Bryan said, emphasizing a focus on prevention. Emanuel, he added, has been tasked with putting in place more strategic community-based intervention policies – in-line with those established by the National Network for Safe Communities – and heading a council made up of community stakeholders that will help inform the initiatives rolled out through the newly established Office of Gun Violence Prevention.
Meanwhile, VIPD is looking to add two more phases to its camera surveillance efforts, which involve the establishment of Real-Time Crime Centers as monitoring bases in each district. Within the two phases, it is anticipated that nearly 500 more cameras will be installed territory-wide, to be complemented by the addition of five drones for aerial support and a new automated fingerprint identification system for comparison both locally and nationally to help link individuals to crimes.