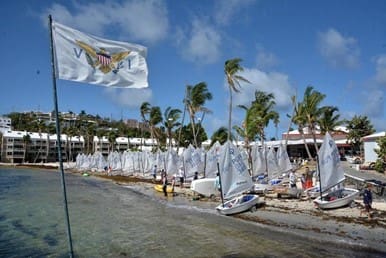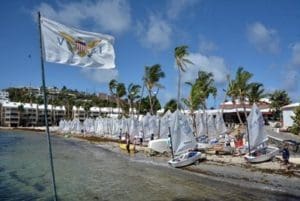 Registration for the International Optimist Regatta, Tote Clinic and Tote Team Race will open at noon (AST), Jan. 17. The 29th annual International Optimist Regatta (IOR) will take place from June 13-19, 2022, at the St. Thomas Yacht Club. More specifically, the TOTE Clinic will take place June 13-15, followed by the TOTE Team Race on June 16, and the IOR from June 17-19.
For nearly three decades, this week-long event has been recognized throughout the Caribbean and the world for providing a great skill-sharpening grounds for top sailors and an excellent entry-level platform for juniors new to the sport. Overall, Caribbean Journal named the U.S. Virgin Islands the Yachting Destination of the Year in its Caribbean Travel Awards 2022.
"The St. Thomas Yacht Club (STYC) invites sailors to register as early as possible for the 2022 IOR, TOTE Clinic and TOTE Team Race. We expect the event to fill up quickly," said Emily Zimmerman, regatta director, and STT Yacht Club commodore.
"Like in 2021, we have worked closely with the Virgin Islands Department of Health and the Virgin Islands Department of Tourism to plan for a safe regatta. We look forward to welcoming sailors, their friends, and families to St. Thomas to race with excellent wind, clear seas, and great competition," she said.
The 2022 IOR can accept only a maximum of 125 sailors. Therefore, register early at: www.regattanetwork.com/event/23549.  The registration fee for the IOR is $300 with late registration after May 15 at a cost of $325. The fee to enter the IOR and TOTE Clinic before May 15 is $700 or $725 after, or $400 for the TOTE Clinic only. A full refund on registration will be available if the IOR, TOTE Clinic, and TOTE Team Race are canceled on or after May 14, 2022, due to COVID-19.
"In keeping in line with TOTE's emphasis for safety, reliability and commitment, it is again honored to sponsor the TOTE Clinic and the TOTE Team Race for the 12th year. It is proud to be associated with the International Optimist Regatta 2022," said Clarence Nibbs, terminal manager USVI, for TOTE Maritime.
Some of the best sailors in the sport are expected to participate in this Caribbean Sailing Association-sanctioned regatta. Sailors can compete in Advanced Red (ages 13-15), Blue (ages 11-12), and White (ages 10 and under) as well as the Beginner Green fleet.
Trophies will be awarded to the top five finishers in the Red, Blue and White classes and top three overall as well as the top place female. Participation awards will be awarded to all Green fleet sailors. Additional awards include the Peter Ives' Perpetual Trophy (superb sailor/individual) and the Chuck Fuller Sportsmanship Perpetual Trophy.
The IOR is sponsored by the U.S. Virgin Islands Department of Tourism, TOTE Maritime and the K3 Company.
 Make Plans Now!
For charter boats, request and confirm online at www.optistuff.com. Or contact McLaughlin Boat Works: 1 (423) 875-0740, 1 (423) 875-4040, or toll-free in the U.S.: 1 (800) 784-6478; Email: sales@optistuff.com.  The deadline to reserve charter boats is May 14, 2022.
For coach boat charters, contact Zimmerman: internationaloptiregatta@gmail.com or stycsailing@gmail.com.
Traveling to St. Thomas is easy. The following airlines fly direct from major U.S. cities: American (Charlotte, Dallas-Fort Worth, Miami, New York, Philadelphia), Delta (Atlanta, New York), Frontier (Miami, Orlando), JetBlue (Boston, Newark, New York), Spirit (Fort Lauderdale, Miami, Orlando), and United (Chicago, Houston, Newark, Washington Dulles). Airlines connecting St. Thomas to the Caribbean include Air Sunshine, Cape Air, Sea Flight and Silver/Seaborne Airlines.
Available accommodations on St. Thomas in the Cowpet Bay area where the regatta takes place include hotels, B&Bs, resorts, villas, condos, VRBO rentals and Airbnb's. For more information, visit www.visitusvi.com and www.usvihta.com
Currently, there is a requirement for every traveler aged five or older to submit a COVID-19 test result through the secure online USVI Travel Screening Portal (usvitravelportal.com). For the latest updates or changes to COVID-19 protocols for travelers to the U.S. Virgin Islands, visit www.usviupdate.com  and www.covid19usvi.com.