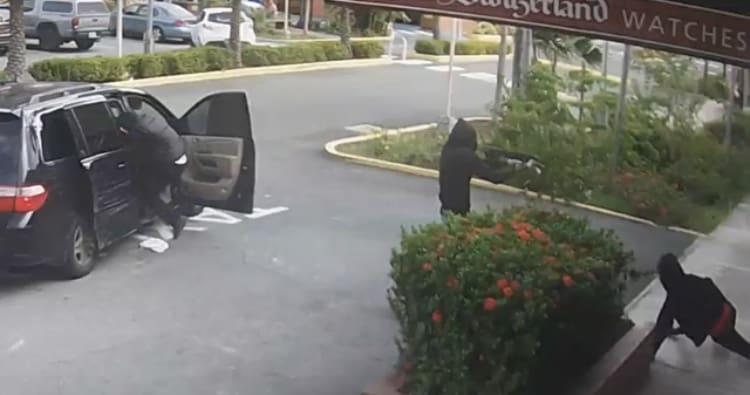 Crime Stoppers USVI is offering $25,000 rewards for tips that lead to the arrest of the suspects in Saturday's attempted heist of a jewelry store at Havensight Mall on St. Thomas.
Police Chief Barrington Thomas Sr. announced the rewards on Monday in an appeal to the community to come forward with information about the crime that left a security guard and a shopper with life-threatening gunshot wounds.
"I am asking our community for assistance in identifying the individuals who committed this act of violence which left two individuals shot and fighting for their lives. Make no mistake, this act of violence is an act of violence against our community. We must take a stand against this type of behavior," said Thomas in the videotaped appeal that was broadcast on Facebook.
"We in the Virgin Islands are a close-knit community. We know each other, and we know about each other. Who are these individuals who drive this vehicle? I am pleading with our community. If anyone has any idea who these individuals are, please help us. Help us help each other," said Thomas.
"We, the Virgin Islands Police Department, know the majority of our community desire an environment that is safe, but we cannot do it alone. These violent criminals can be identified with your help. Crime Stoppers and other members of this community are offering $25,000 per suspect for any information leading to the apprehension or arrest of these perpetrators of this violent crime," said Thomas.
Calls to Crime Stoppers USVI are completely anonymous and cannot be traced. They may be reached at 1-800-222-TIPS (8477) or visit www.crimestoppersvi.org or www.p3tips.com.
The attempted robbery occurred just before 11 a.m. Saturday, as a black minivan pulled up in front of Glitters jewelry store and three men jumped out and ran inside, surveillance video showed. One man can be seen holding what appears to be an assault rifle, and police say shots were exchanged with the security guard – an off-duty VIPD officer – as the robbery unfolded.
The guard was shot in the stomach, and a customer in the chest before the robbers fled in the van, which was later recovered about three-quarters of a mile away, according to police. It had been reported stolen in November, Thomas said.
The victims were reported in stable condition on Monday at Schneider Regional Medical Center on St. Thomas.
The mall was filled with customers when the crime occurred, including passengers from the Crystal Serenity cruise ship, which was docked for the day at the West Indian Company pier.
According to witnesses, while they were in the store, one of the suspects jumped over the counter and removed several pieces of jewelry before fleeing in the van at a high rate of speed.
Two men who have been deemed "persons of interest" in the case were arrested later in the day when police intercepted a vehicle on First Avenue in Estate Thomas about 3 p.m. and found an automatic assault rifle and handgun ammunition, Thomas said. Kevon Barclette and Shemar Coward are charged with illegal possession of a firearm.
Saturday's crime is just the latest in a string of incidents in the Havensight area. About 10:30 p.m. Saturday, a man reported being robbed of his jewelry as he walked with two women and was approached by a man in a red hoodie. The two men got into a tussle before another man in a black hoodie appeared with a handgun, the victim told police. They took his jewelry and fled in a gray sedan.
VIPD Public Information Officer Toby Derima said Monday that police are investigating whether the morning incident and the Saturday night robbery are related.
On Oct. 3, two men were shot and killed as gunfire erupted at the Vitraco Mall just north of Havensight. Police found one man, later identified by family as Marc J. Thomas, 31, lying dead in the parking lot with multiple gunshot wounds after 911 dispatchers received a call of shots fired about 9:13 p.m., Derima said at the time.
A second unidentified man was found with multiple gunshot wounds and transported to Schneider Regional Medical Center, where he died of his injuries, said Derima.
On the night of Sept. 17, a man was found unresponsive in the street next to Al Cohen's Plaza on Havensight hill and later died, while another man had a gunshot wound to the shoulder.
"There were numerous shots fired, and we received calls from a number of citizens and patrons of the businesses in the area," Police Commissioner designee Ray Martinez said at the time. "Witnesses also indicated there was a dark-colored vehicle that sped from the scene, so, at this point in time, our detectives are working on making that identification."
On July 23, three men reported being robbed at gunpoint around 11:30 p.m. at Havensight Mall when several armed men exited a vehicle, demanded they empty their pockets, and then fled the scene, police reported at the time.
Anyone with information about any of these crimes is urged to call 911 or the Criminal Investigation Bureau at 340-774-2211, ext. 5610. Call Crime Stoppers USVI at 1-800-222-TIPS (8477) or visit www.crimestoppersvi.org or www.p3tips.com.