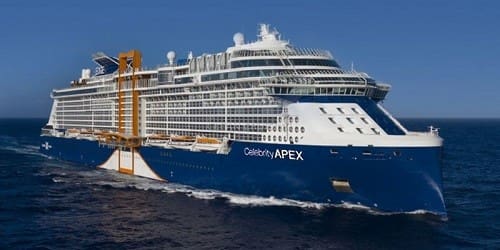 The Celebrity Apex will make its inaugural call to St. Thomas on Sunday, Nov. 7, Virgin Islands Port Authority Executive Director Carlton Dowe announced in a news release.
The Apex will berth at the Austin "Babe" Monsanto Marine Terminal in Crown Bay at 8 a.m. Port Authority and Tourism Department officials will host a dock-side welcome at 10:30 a.m. to greet the ship's  captain and crew, according to the news release. The ship will be in port until 6 p.m. 
The Celebrity Apex is an Edge-class cruise ship operated by Celebrity Cruises, a  subsidiary of Royal Caribbean Cruises Ltd. It was built in France and is the second vessel in the  company's Edge class of ships, following the delivery of her sister ship, Celebrity Edge, in 2018. 
The ship has a capacity of 3,405 passengers and 1,320 crew. However, due to COVID-19 sailing restrictions, the ship will arrive at approximately half of its capacity, the news release stated. All Celebrity brand cruise ships have 100 percent of their crew vaccinated and about 97 percent of their passengers are vaccinated, according to the news release.
Dowe added that based on the relationship VIPA has established with Royal Caribbean, the territory can expect to see more ships on both St. Thomas and St. Croix.  
Learn more about VIPA at www.viport.com, and follow them on Facebook or Twitter.
Editor's Note: This story has been change to reflect that the welcome ceremony will be held at 10:30 a.m., not 9 a.m. as previously reported.