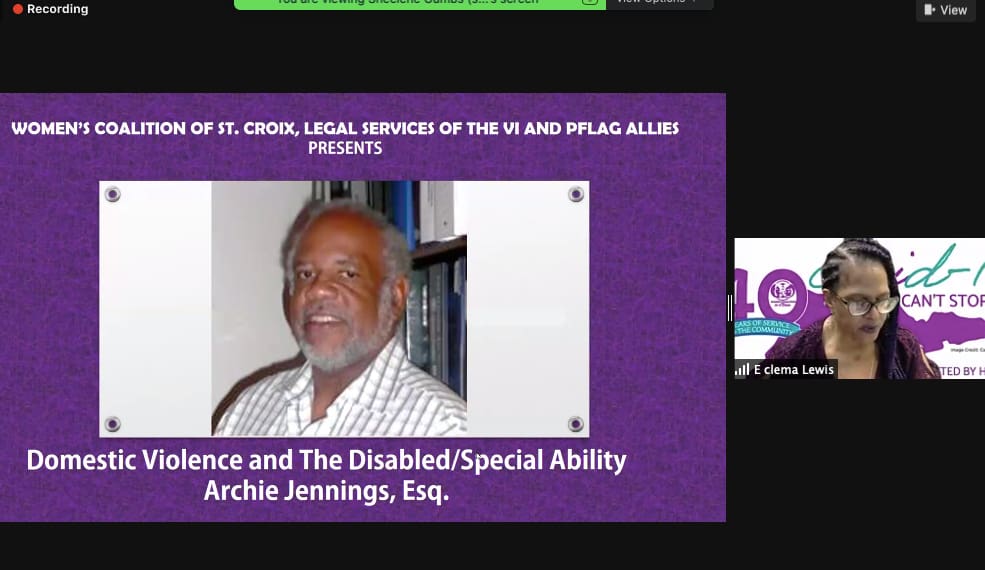 People with disabilities, immigrants, the elderly and members of the LGBTQIA+ communities are the most likely targets for domestic violence, experts on Wednesday told a Zoom meeting hosted by the Women's Coalition of St. Croix in recognition of Domestic Violence Awareness Month.
"Tactics used to isolate or otherwise cause harm can target a survivor's age, mental capacity, sexual orientation, a disability or their gender identity," Clema Lewis, WCSC's executive director, said in a news release.
Experts talked about how to help those being abused, legal rights of immigrants, mental health issues, how to protect senior citizens and the LGBTQIA+ community and answered questions at the end of the two-hour forum.
Carnell Troutman, of the Health Department's Mental Health Division and formerly with the Men's Coalition, talked about mental health and mental illness. He said the way a mind deals with emotions indicates mental health. People with good mental health have a sense of contentment, zest for life, and the ability to laugh and have fun, he said.
"What is mental illness? Mental illnesses are special conditions that negatively affect how a person thinks, feels and behaves. Examples include anxiety, depression, bipolar disorder, schizophrenia," he said.
People who don't sleep well, feel hopeless or helpless most of the time and have concentration problems that deal with work or home life, "might need a little help and attention."
Domestic violence is a pattern, he said and may be present in adolescents and dating relationships.
"Not only are the primary victims affected. But so are the children who witnessed this abuse or who themselves are abused," he said adding that more than half of the boys will become battered and half of the girls will become victims.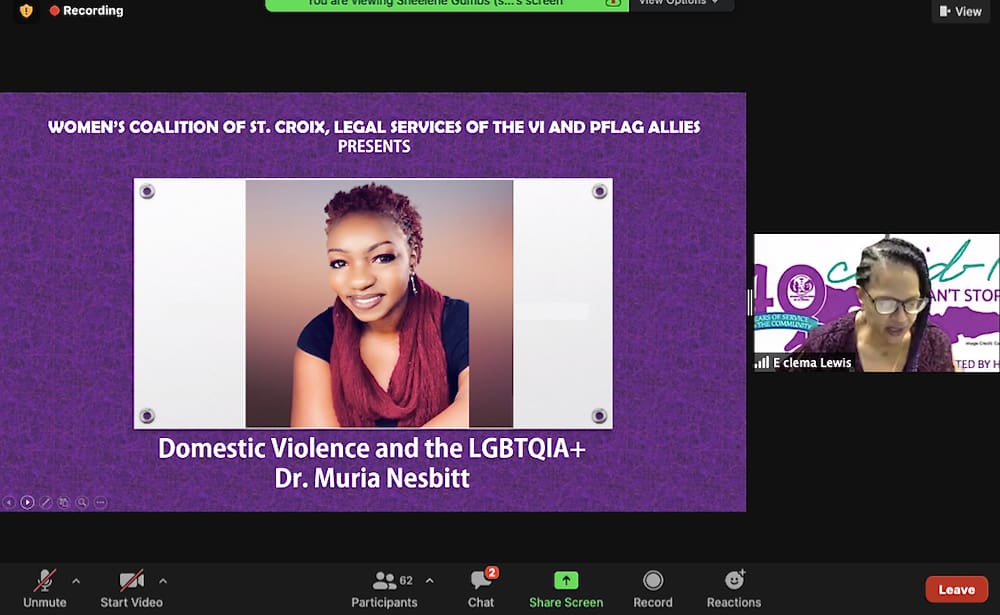 Guidance counselor and school psychologist Patsy Guthrie said the elderly can be abused in a number of ways – sexually, physically, emotionally and financially. The harm is usually committed by family and spouses and the victim is usually female, she said. It is important to understand religious, cultural, financial and generational aspects when encountering elder abuse.
"Always show compassion and show that you care," she recommended.
Archie Jennings, the director of advocacy at the Disability Rights Center of the Virgin Islands, talked about his agency's services for the elderly, developmentally disabled and mentally ill patients. Legal Services is an advocacy and protection agency that can help establish a power of attorney, guardianship or shared guardianship when necessary. Counselors will visit clients in their homes and even help secure alternative housing if needed.
"All services are client-directed. They are client-centered so nobody falls through the cracks," he said.
People who identify as LGBTQIA+ are frequently targeted for abuse. It is underreported compared to heterosexual attacks, according to Le'Muria Nisbett, a family and victims' advocate.
According to the Centers for Disease Control, in a study of males in same-sex relationships, only 26 percent called the police after experiencing near-lethal violence. The CDC also found that transgender victims are more likely to experience intimate partner violence in public than those who do not identify as transgender.
The abuse ranges from verbal and implied abuse when people are afraid their sexual preferences will be disclosed to family, friends and co-workers, to bodily harm and rape. Nisbett said people need to stand up for people in the community and speak up when they are being mistreated or spoken to in a derogatory manner.
"Stand up and say something, say that that's not right. Don't allow discrimination to just happen around you," she said.
Not only service providers and hospitals but also police departments need training, workshops and resources to interact properly with this section of the community, she said.
Attorney Krissta Kirschenheitler is an experienced immigration lawyer and also works for Legal Services of the Virgin Islands. She pointed out that immigrants and people whose first language isn't English are often targets for abuse and often do not report it. They fear being removed from the country, separated from their families or being imprisoned.
"So these are people that may be abused, and they don't have the proper legal status, green card or citizenship. They are in a very vulnerable situation because that's often used against them. Their immigration status is a way to abuse them, the way to keep them in this abusive situation," she said.
Sometimes people stay in abusive relationships because they are not familiar with U.S. immigration law. She pointed out that the Civil Rights Act of 1964 prohibits discrimination on the basis of national origin and federal law entitles them to translation and supportive services.
Kirschenheitler said many services are free and people should contact Legal Services or a lawyer if they have been violated and don't have proper documentation.
Attorney Holly Fulkerson, Violence Against Women Act project director, talked about the anti-abuse laws and legal remedies for special populations to stop abuse, including temporary restraining orders.
As many as 65 people tuned in to the virtual meeting about domestic violence in special populations including staff from the V.I. Health department, Disability Rights Center of the VI, the Family Resource Center, the Juan F. Luis Hospital and the public.
Contact information can be found on wcstx.org.
Editor's note: Some names and titles have been corrected.