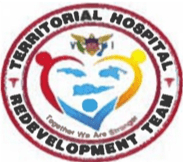 TERRITORIAL HOSPITAL REDEVELOPMENT TEAM
Request for Proposal: RFP–2021-111 (P)
Pursuant to Title 19, Subsection 245 (a) of the Virgin Islands Code, the Government Hospitals and Health Facilities Corporation, hereinafter referred to as GHHFC, The Territorial Hospital Redevelopment Team (THRT) is requesting proposals from qualified and licensed firms for the Geotechnical Services for the Gov. Juan F. Luis Hospital & Medical Center in the U.S. Virgin Islands, St. Croix District
Proposals will be received by The Territorial Hospital Redevelopment Team Division of Procurement (address):
Electronic Submission ebids.proposalsTHRT@gmail.com
Proposals will be accepted by way of electronic submission no later than 2:00 p.m.
Atlantic Standard Time: Thursday, October 28, 2021. 
Documents may be obtained from the Gov. Juan F. Luis Hospital & Medical Center at www.jflusvi.org or information, please contact Mrs. Rochelle Lewis, Director of Property and Procurement, at rlewis@jflusvi.org.
Darryl A. Smalls
Executive Director of Facilities and Capital Development