An hour before the sun rose on Sept. 2, Sydne Didier slipped into the water from the National Park boat ramp in Cruz Bay. Twelve hours and 47 minutes later, she returned to that spot, having just swum 23 miles around St. John without stopping.
Didier is not the first person to do this, but she is the second, and the first female. In 2016, Jeff Miller, a fisheries biologist with the National Park Service, completed the first nonstop circumnavigation of St. John and still holds the record of 12 hours and 19 minutes.
Didier heard that Miller was circumnavigating St. John, and that inspired her to plan a swim around Culebra, a small island east of Puerto Rico. In 2017, just weeks before Hurricane Irma hit, Didier became the first (and so far the only) person to swim around the island, a distance of about 20 miles.
When Miller completed his trans-STJ swim five years ago, a crowd of local well-wishers was at the boat ramp shouting greetings to him. But Didier's swim last month was something of a stealth operation. In the Virgin Islands, only Miller and Didier's support team were aware of the swim, and only Jude Woodcock, Miller's wife, was waiting on shore to congratulate her.
But Didier wasn't expecting any glory.
"There's not much of it in marathon swimming," she said cheerfully. "My husband and I always joke about sponsors waiting on the beach with a big check."
How does someone who lives in Amherst, Massachusetts, more than a hundred miles from the ocean, train for a 23-mile open water swim?
"I've been swimming with a masters team for about 20 years," said Didier, who is now 50. "We use local lakes. The one I use the most is about two miles around, so I go around and around and around. It's very meditative."
When she gets a chance, Didier takes a vacation in a warm water destination and participates in local races. She's swum St. Croix's Coral Reef Swim Race to Buck Island about ten times since 2003, which is how she met Miller. Although she said she probably won't participate in the next one, scheduled for Nov. 7, she speaks of the five-mile swim with great fondness. "It's about a community of swimmers coming together," she said.
Didier is passionate about her profession which is teaching and coaching swimming. She works with a wide range of clients, from adult triathletes to absolute novices. She feels a particular calling to work with underserved populations, especially those who have been denied access to swimming pools because of racial segregation.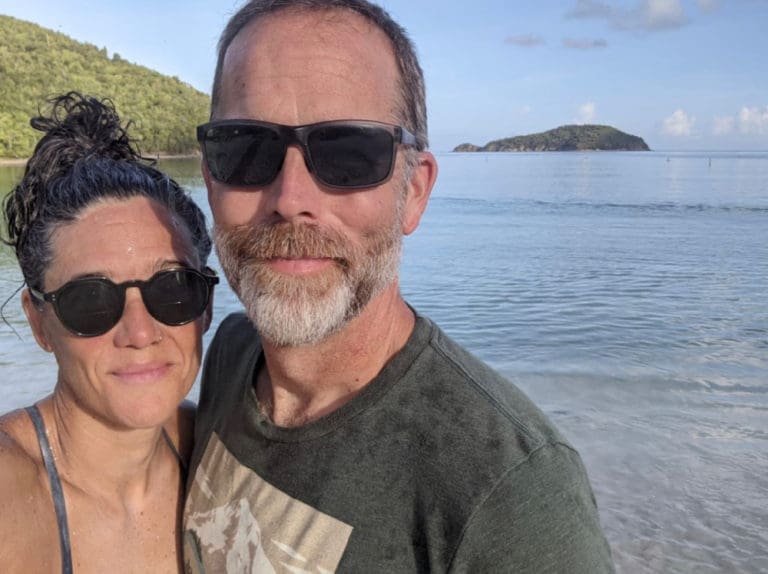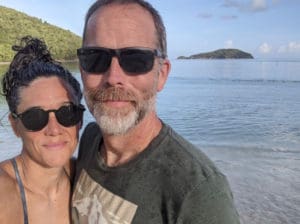 "There's an organization that's called Diversity in Aquatics, that addresses inequality of access to swimming pools. There's a whole history of segregation at swimming pools, and a mythology that black folks don't swim," Didier said.
"Traditionally, black people have been shut out of pools, so generations upon generations haven't learned to swim, and there's trauma surrounding water," she continued. "I've worked with so many people who have said, 'I'm the first in my family to learn to swim,' or, 'I need to swim so that I can teach my child.'"
Located in western Massachusetts, Amherst is a major college town and Didier often works with international students. She also teaches swimming to refugees who have settled nearby from places with no opportunities to swim. Didier said she's also taught swimming to people from the Caribbean who have told her they were brought up to think that swimming was something only tourists did.
"I can't keep up with the demand for swimming instruction," she said. Too often, she says, " I feel like I'm in the business of disappointing people." But she does her best to train others while she keeps up her own regimen, which includes swimming in a lap pool at home in warm weather, running with her puppy, and skiing in the winter.
For her swim around St. John, Didier came in July to scope out the waters and collaborate with Miller. She decided to replicate what he did.
"Jeff was an incredible resource of knowledge and data," she said.
He helped her find Hank Slodden, who agreed to captain the support boat, while Didier's husband, John Urschel, and Tanya Rapinchuk, a friend, kept watch and guided her from a nearby kayak.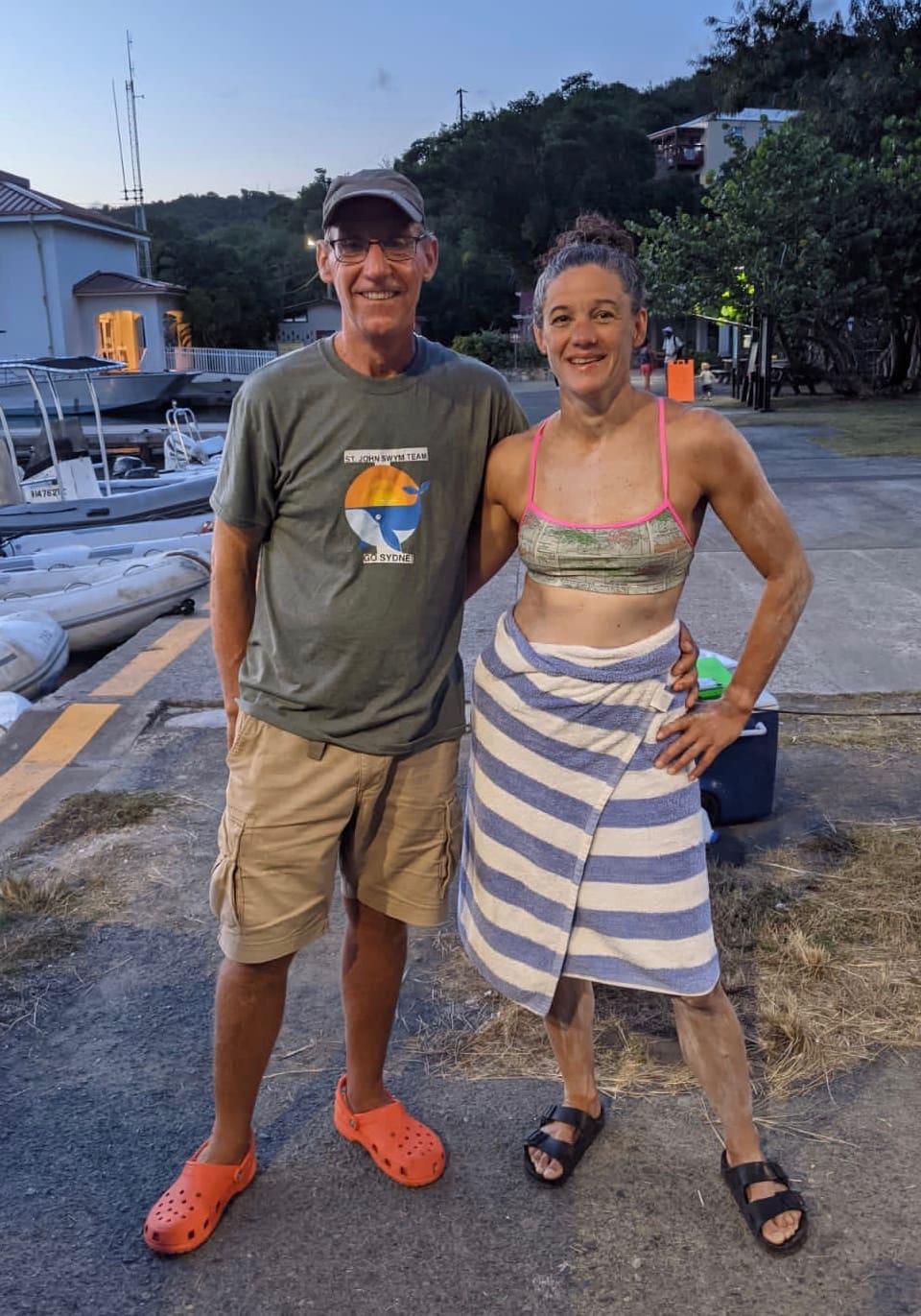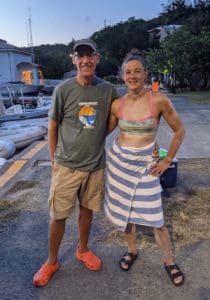 Didier tucked glow light sticks into her swim cap and bikini so that they could keep an eye on her as she headed up the south shore of St. John at 5:14 a.m. "I like swimming in the dark. There's something about being in the water, in all the quiet," she said.
She kept up her cadence until she had completed about eight miles. "I was rounding Ram Head and hit white caps. I thought, 'Whose stupid idea was this? I'm not having fun!'"
When she spotted Tortola and knew she'd eventually be heading downwind along the north side of St. John, she perked up.
Miller said he thought she faced stronger winds and tougher conditions than he faced when he did his swim.
"She had sargassum to dive through; it was tangled in her hair and around her neck," he said.
He was also amazed that her team managed the swim without a GPS, navigating point to point instead.
Fortunately, Miller was in the support boat and could help point the best way to go.
"It's fun to give back to somebody who has a goal and a dream," he said. "She's extremely strong – she's like a motor. She's put in a lot of miles, and she was very prepared."
When Didier finished her swim, she went to the Tap Room in Mongoose Junction and ate an Impossible Burger and "the best root beer I ever tasted in my life." Then it was back to her rental in Coral Bay, and back to Amherst where she's planning her next challenge – a course where participants alternate between running cross-country and swimming to the next piece of land.
She's planning to participate in a race like this in November in Texas, and she can't help imagining what an event like that would be like in the territory, with trail runs and swims from one beach to another.
"Maybe we could do one like that down on St. John," she said hopefully.