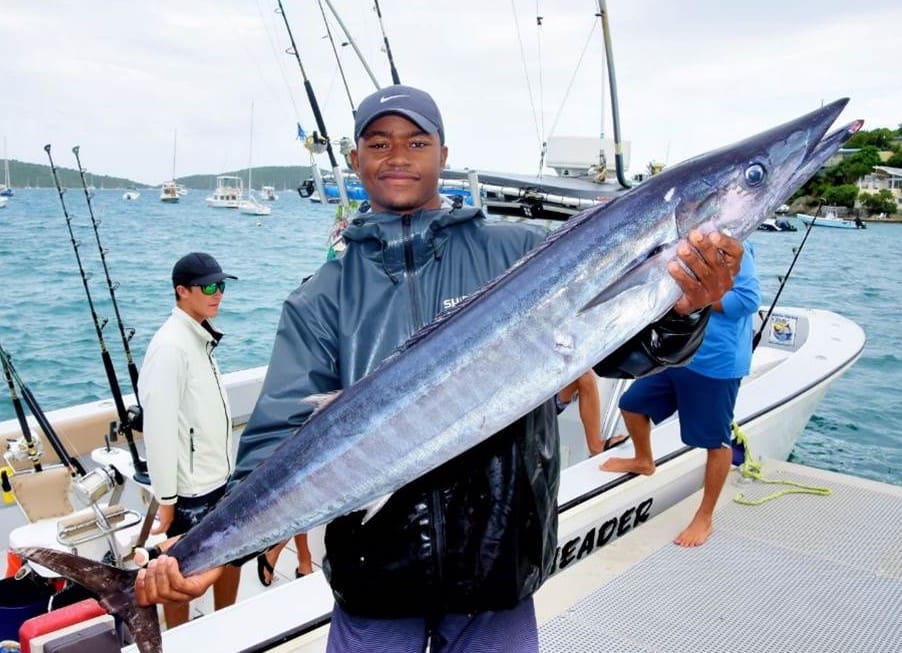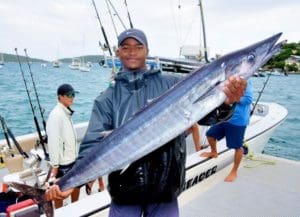 Catch whopper wahoo and win prizes. The Budget Rent A Car annual Wahoo Windup Tournament, hosted by the Virgin Islands Game Fishing Club (VIGFC) and in memory of Michael Sheen, will take place on Oct. 17 at the St. Thomas Yacht Club. Fishing is in U.S. Virgin Islands waters only. There's discounted early registration, socially-distanced weigh-in and prize-giving.
Sheen, who passed away in July, was a 50-plus year member of the St. Thomas community, past president of the Virgin Islands Game Fishing Club's Board of Directors several times and a true champion of the club.
The tournament's Top Prize is $10,000 for the catch of a single wahoo over 75-pounds.
It's not impossible.
Three anglers in tournament history have reeled in a whopper wahoo. In 2003, Mike Kuszewski, fishing aboard Capt. Jim Estraca's St. Thomas-based charter boat, Black Pearl, landed a 94.1-pound wahoo. Then, in 2012, Clive Mahabir aboard St. John-based charter boat, Mixed Bag, with Capt. Rob Richards at the helm, caught a 91.3-pounder. Five years later in 2017, Adrianne Baird Butler, boated a 76.3-pound wahoo from aboard Capt. Colin Butler's St. Thomas-based charter boat, Silver Fox.
No whopper wahoo, no worries. Prizes will be awarded to anglers catching the three largest wahoo by weight as well as the Top Female Angler and Top Junior Angler. The Best Boat award is determined by the total weight of wahoo caught.
"We're happy to have Budget Rent A Car as our sponsor and to have received permission to hold the tournament again at the St. Thomas Yacht Club, where we will have our COVID-19 protocols in place like the weigh-station at the end of the dock, weighing one boat's catch at a time, and socially-distanced awards," said Karl Gartner, co-director with Kevin Haddox. "The wahoo bite usually comes on strong in October. So, we're looking forward to a good tournament and some excellent fishing."
Register for the Budget Rent A Car Wahoo Windup online at https://vigfc.com. Early bird registration is $250 per boat until Oct. 11 and goes up to $350 between Oct. 12 and 16. The entry fee includes four rods. Extra rods are $50 each, with no limit on extra rods.
The Captain's Meeting will be held at 6:30 p.m., Oct 15, at the Virgin Islands Game Fishing Club in Red Hook.
On Oct. 17, lines-in will be at 6:30 a.m. All boats must be in at the St. Thomas Yacht Club by 4 p.m. for their fish to qualify. An awards ceremony will take place at 5 p.m.
The Virgin Islands Game Fishing Club appreciates the support of long-time sponsor Budget Rent A Car, and of IGY's American Yacht Harbor.
For more information, call 775-9144, email: usvigfc@gmail.com, or visit https://vigfc.com