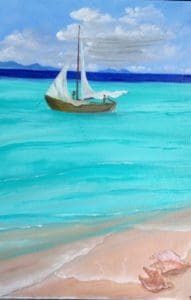 Crucian artist and author Judith Lordi's new exhibit is a visual testament to her years of growing up on St. Croix, and her return to "the beauty and the colors that are nowhere else but on this island." Lordi will showcase her oil paintings and published works at Cane Roots Art Gallery on Company Street in downtown Christiansted Friday. "The Colors of My Life" exhibit opening at 5 p.m. to 7 p.m. will practice Covid-19 restrictions.
Lordi's paintings and books will be available for purchase during the exhibit, which closes October 14.
"I never had time to paint, or had taken the time," Lordi said. "I have been many things in the course of a long life: a shop clerk, a wife and mother, a thoroughbred market breeder, a bookkeeper, a chicken and pig farmer, a riding instructor, a writer, and now, a painter," she said.
Lordi painted a small painting for one of her writer's circle friends and he encouraged her to show her work to Cane Roots Art Gallery owner Sonia Deane. After seeing her work, Deane invited Lordi to do a show.
"During the onslaught and subsequent isolation of the pandemic, I returned to painting.
This hobby has become a major activity and friends and family encouraged me to exhibit my paintings." Lordi has a full body of work filling the walls of the Christiansted gallery.
"Being lucky enough to be born on a tropical island – it is almost mandatory to appreciate the vibrant colors of nature," Lordi said.
Judith Armstrong Bear Lordi was born on St. Croix in the U.S. Virgin Islands during the war years, she said. The Armstrongs have been doctors and merchants on St. Croix since 1741. Lordi's father was the Harbormaster and Chief of Police and later a U.S. Marshall. Her mother came to St Croix to teach in 1932, when the public school was located across from the Navy Yard on Old Hospital St.
Lordi's parents built the Buccaneer Hotel when she was six. She and her brother and sister all had jobs there. When her siblings were teenagers, they painted and cleaned and did the daily accounting. Lordi got to bring the horses up with the pasture man, and she would drive the horse and cart up and down to the beach and sell sundries at the front desk, she said.
"My uncles brought cattle into the bullpen, below what became the French Wing when we moved out to live at the hotel. This was done so that my mother could manage the hotel, which she did for 20 years," Lordi said.
When Lordi was five, she was given a large, but patient black horse by her favorite uncle, she said. "The cook's granddaughter and I rode him double all over the hills around the house."
"As a small child, I drew pictures of my beloved animal friends. Even my happiest uses of color were unsatisfactory to me because my cats, dogs and horses were misshapen. Still, I scribbled and doodled, and I took art at school," Lordi said. She attended St. Mary's Catholic School in Christiansted for two years and moved from St Croix at age seven to the stateside boarding school that her sister attended.
"Fast forward 20 years to my being a divorced mother with four teenagers and a chicken, sheep and pig farm. Stress demanded a hobby," Lordi said. She dragged out her inks and watercolors and tried her hand at it again. "I could draw fish and flowers, but not my beautiful horses and children," she said.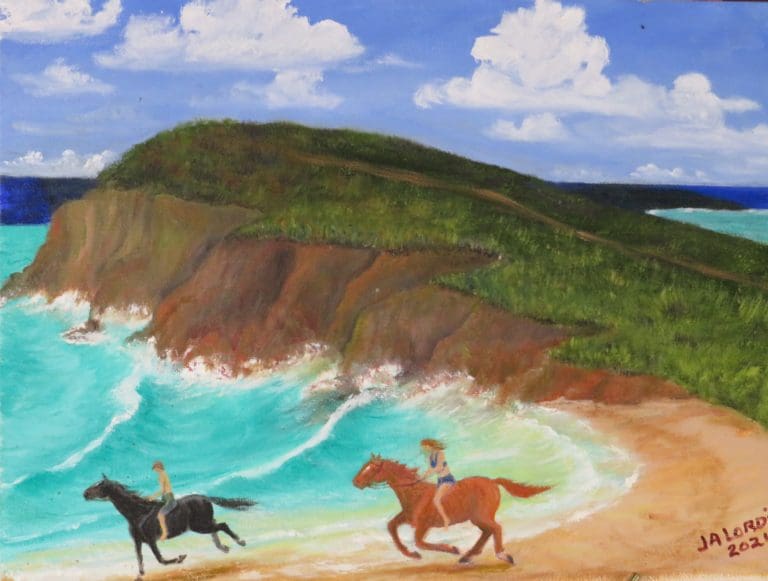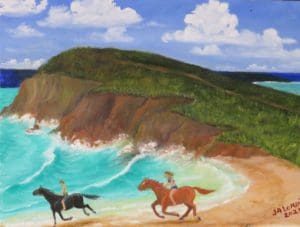 Later, Lordi settled on a small horse farm in Ocala, Florida with her teenage children and two stepchildren from her second marriage. Only the live oaks were green in the Florida winters and the skies were leaden with clouds and pollution much of the time. "In desperation for color, I pulled out my paints, but I still couldn't draw my beautiful horses and foals capering around the farm," she said.
Within a few years, the nest was empty, and she and her second husband returned to St. Croix. "I started painting sugar mills and sold some at Many Hands. I preferred the works of Leo Carty, Toni Lance, Betsey Campen and Maria Henle, so we bought art; I didn't produce it."
Lordi began writing again, publishing her first book, "Death Rides Bareback," in 2013. "The Jade Keepsake" came out in 2014. She wrote "Deep Water" in 2016 and has republished it as "Sunken Treachery" in 2020 under her nom de plume, Tinker Marne. Two books in her "Towers of the Red Drake" series came out in 2019, and she has a sequel and another mystery in the works, Lordi said.
"Then the frightening pandemic struck us all. Slowly, in the enforced isolation of the last 18 months, I have spent the time controlling my drawing. My hobby has become a joy and Mrs. Deane has now afforded me a showcase to share these scenes distilled from my most beloved memories."
For more information:
email to thearider@ridersreading.com
@ Marne Tinker
Undercover Books & Gifts/Facebook or 340-719-1567
www.canerootsartgallery.com or 340-718-4729