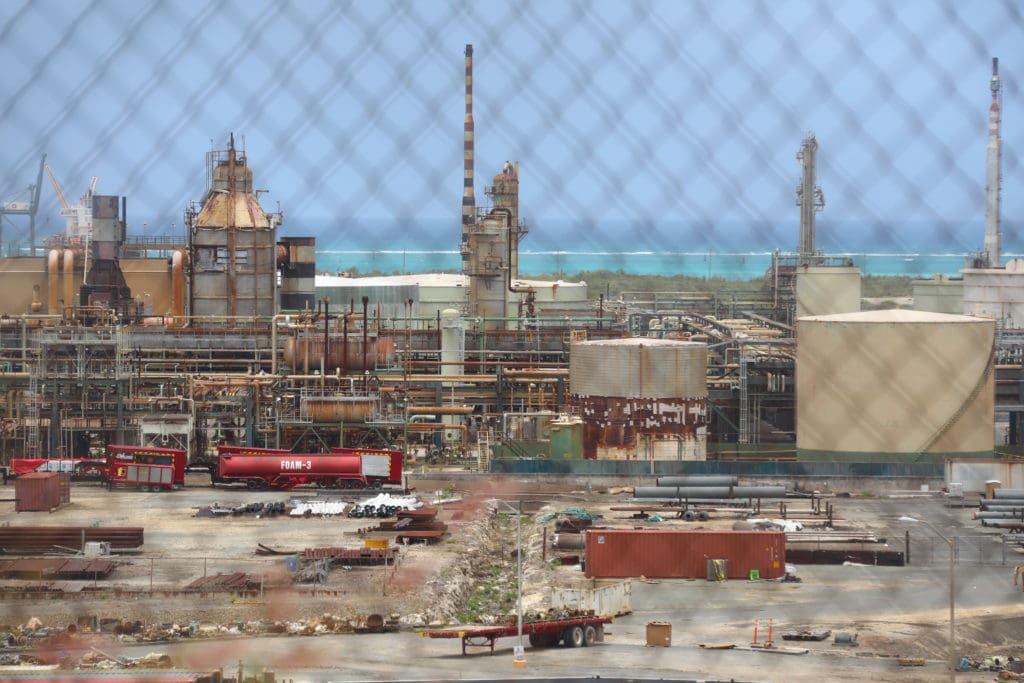 Limetree Bay Refinery proposed new deadlines for the bidding and sale of its bankrupt oil refining operations on Friday that will be heard and likely approved in the Bankruptcy Court of the Southern District of Texas on Wednesday, Sept. 15.
Under the current schedule, Limetree was to have identified a stalking horse, or low-end bidder, by Friday, and close a sale by Nov. 8. The extension of more than a month allows prospective purchasers additional time to tour the physical plant on St. Croix, Limetree lead bankruptcy counsel Elizabeth Green said. 
The company reported in August that it had sent almost 20 non-disclosure agreements to possible buyers. While Green couldn't discuss specifics of who they are, her motion suggests that Limetree, if given more time, could cultivate one who could set a bottom price point for the assets to prevent others from under-bidding the purchase price.
"The paramount goal of any proposed sale of property of a debtor is to maximize the value received by the estate," Green wrote in her motion. "While the Debtors have received significant interest in the acquisition of the Assets, discussions with interested parties remain ongoing. Accordingly, the Debtors believe, in their sound business judgment, that additional time would substantially benefit the estates and creditors by providing an opportunity to continue such discussions and, ultimately, negotiate the most advantageous proposal available to serve as a stalking horse bid for the sale."
As a debtor in possession, Limetree is operating on a short financial leash with a cash loan keeping it afloat until it can realize a sale that would allow its creditors to be paid. It filed for Chapter 11 protection in July after a short-lived attempt to revive the circa 1960s St. Croix refinery, previously owned by Hovensa. The company owes over $1.2 billion to secured creditors, according to recent court documents.
The proposed new schedule would not require other changes to the DIP order, Green wrote.
If approved on Wednesday, Limetree's sale milestones will change as follows:
Current Date/Deadline

Proposed Date/Deadline

Bid Summary Deadline

September 7, 2021

October 15, 2021

Stalking Horse Designation Deadline

September 10, 2021

October 18, 2021

Deadline to file Stalking Horse Notice and Notice of Potential Assumption and Assignment of

Executory Contracts

September 13, 2021

October 21, 2021

Bid Deadline and Credit Bid Designation Deadline

September

p.m. CT

17, 2021, at 5:00

October 25, 2021, at 5:00 p.m. CT

Deadline to object to Stalking Horse Notice

September 17, 2021

October 25, 2021

Deadline to provide notice of Auction location

September

a.m. CT

20, 2021, at 10:00

October 27, 2021, at 10:00 a.m. CT

Auction Date

September

a.m. CT

22, 2021, at 10:00

October 29, 2021, at 10:00 a.m. CT

Deadline to file the Designation of Winning Bid

September 24, 2021

October 31, 2021

Deadline to object to the Sale

October 4, 2021, at 5:00 p.m. CT

November 10, 2021, at 5:00 p.m. CT

Deadline to reply to objection(s) to the Sale

October 8, 2021, at 5:00 p.m. CT

November 14, 2021, at 5:00 p.m. CT

Contract Assumption Objection Deadline

October 8, 2021, at 12:00 p.m. CT

November 14,

p.m. CT

2021,

at 12:00

Deadline to file Amended Designation of Winning Bid to add Additional Purchased

Contracts

October 12, 2021

November 18, 2021

Sale Hearing (subject to Court

availability)

October 14, 2021

November 20, 2021

Expected entry of Sale Order

October 15, 2021

November 21, 2021

Deadline to file Amended Designation of Winning Bid to remove previously identified

Executory Contracts

October 31, 2021

December 2, 2021

Deadline for Winning Bidder to close sale transaction

November 1, 2021, at 5:00 p.m. CT

December 3, 2021, at 5:00 p.m. CT

Deadline for Back-up Bidder to close sale transaction (if applicable)

November 8, 2021, at 5:00 p.m. CT

December 10, 2021, at 5:00 p.m. CT