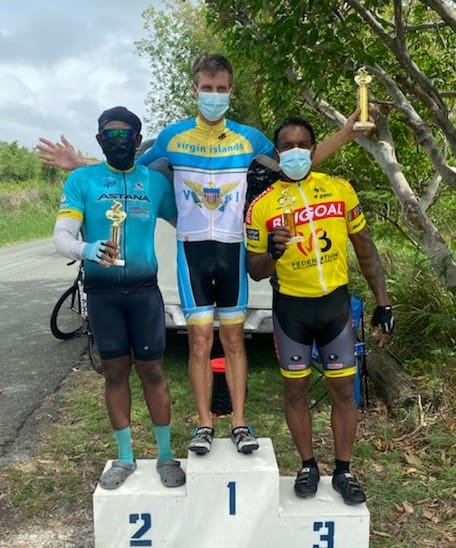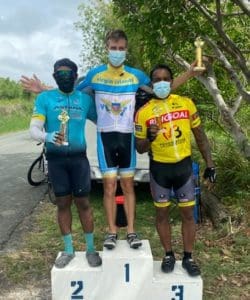 The Virgin Islands Cycling Federation (VICF) held its championship road race this past Sunday, an event which concluded the competitive season.  Due to precautions related to the COVID outbreak, the VICF was only able to hold eleven events in 2021, which is 50% fewer than its annual average. Nineteen cyclists in five different categories competed for the title of champion.
The Elite riders were the first to head out onto the challenging course.  They rode the "Suzie Q" course twice, which started at Cafe Kaleidoscope, headed southeast to go around the entire east end, continued on the north to head over the Christiansted bypass, took a left at Cool Out Bar, then back to Cafe Kaleidoscope to complete a full 50 miles.
On the first lap, the group rode together until they reached the bypass, where David Morales was dropped from the group.  He abandoned the race when he completed the first lap.  The remaining cyclists worked together until they reached the bypass on the second lap, where Stephen Swanton started to add some distance on the remaining two cyclists, Joey Swanson and Glenn Massiah. Swanton's first place was confirmed then, leaving Joey and Hula in second and third, respectively. The winning time was 2:39:26, nearly 2 minutes ahead of the second and third place cyclists.
In the Expert field, Narian Gentius and Cumber Greaux wasted no time at the start and kept the pace high throughout their 40-mile race. Ralph Bartlett gave chase but was unable to hang with the leaders. Gentius pulled a little harder in the final stretch and finished in first place in 2:14:07, with Greaux in a solid silver position in 2:14:12. Robin Seila stayed steady and finished in third place in 2:20:33.
Although the Sport riders, the Masters riders and the Women were on the start line together, the Sport division had to complete two laps of the 15-mile course, while the Masters and Women had to complete one. Because he was only riding one lap, Masters rider Chris Dorsey kept the pace high from the start and the Sport riders responded.  Dorsey won the Masters division in 51:10; Yves Abraham was second in 56:50.
In the 30-mile Sport race, it came down to a sprint finish where Luke Defour edged out Ted Prosper, with James Meyers in a solid third place.  Defour's winning time was 1:46:22, just one second ahead of Prosper.  In the small Women's field, Laverne Fredericksen finished ahead of Jan Powell to claim first place.
For more information on cycling in the Virgin Islands, contact 643-6420 or send an email to vicfsecretary@gmail.com.