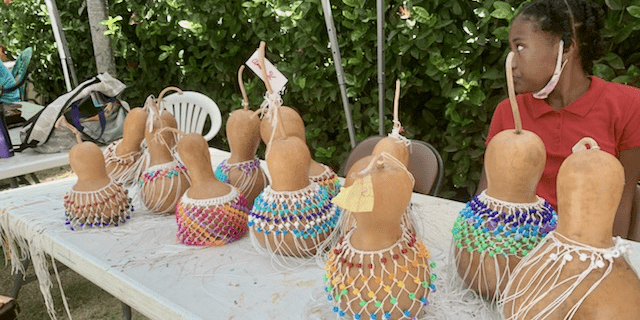 The Caribbean Museum Center for the Arts hosted a summer theater and music camp for 15 local youths, ages 10 to 16.
Students met four days a week, eight hours a day, for four weeks, not just learning how to play their instruments, but how to make them.
Sayeeda Carter, a drama and English teacher, taught the morning sessions of the "Summer Act Out Theater and Social Justice Camp."
"We discussed and unpacked quotes from various leaders and social justice warriors and reflected on each message and how it relates to our community," Carter said. Her assistant was teacher/artist Maria Stiles.
Teacher and musician Elizabeth Robb taught the camp's musical component, instructing students in the afternoon. The group learned the complex skill of creating musical instruments from gourds. They were trained to play polyrhythms on the chekeres – a percussive instrument from Africa consisting of a dried gourd with seeds woven into a net covering the gourd – and were coached with lyrics to accompany themselves on drums.
The specific form of chekere campers learned to make is called axatse and is from the Ghanian culture. The middle-sized bottleneck gourd was cleaned and varnished at the onset, Robb said.
"Students learned patience and persistence in their quest to create instruments," she said.
The average camper required 16 to 20 hours to complete their chekeres, she said.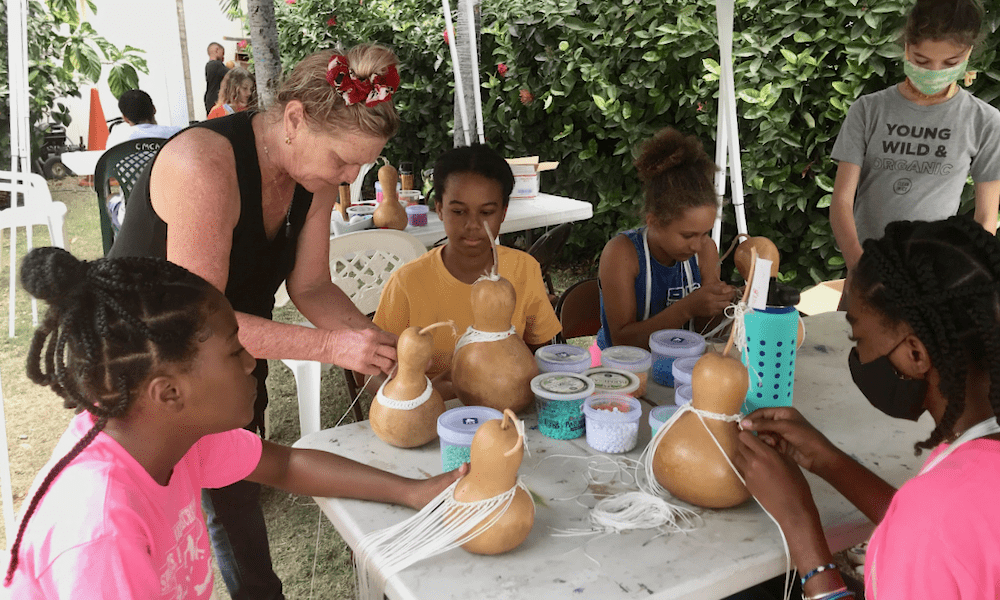 Campers also learned that practical math was essential in figuring out how large a netting to make and how to execute designs. They also learned how to combine colors to create patterns with the beads, Robb said.
Several students finished early and helped other campers complete their instruments, which Robb dubbed, "Cooperative Chekere Creating."
Robb's assistant counselor, Sam Cole, is also her drum student this year in the CMCarts drumming class.
Traditional Ghanaian rhythms were taught on the jembe, the junjun bass drum, the gankougi cast iron bells and the axatse.
Robb's former teacher, C.K. Ladzekpo, still teaches at the University of California at Berkeley. He is from a family of master drummers from the Southern Volta region of Ghana. His people are the Ewe, who are fishermen, businessmen and musicians, Robb said. The campers learned Ghanaian music from Robb during their month at the museum camp.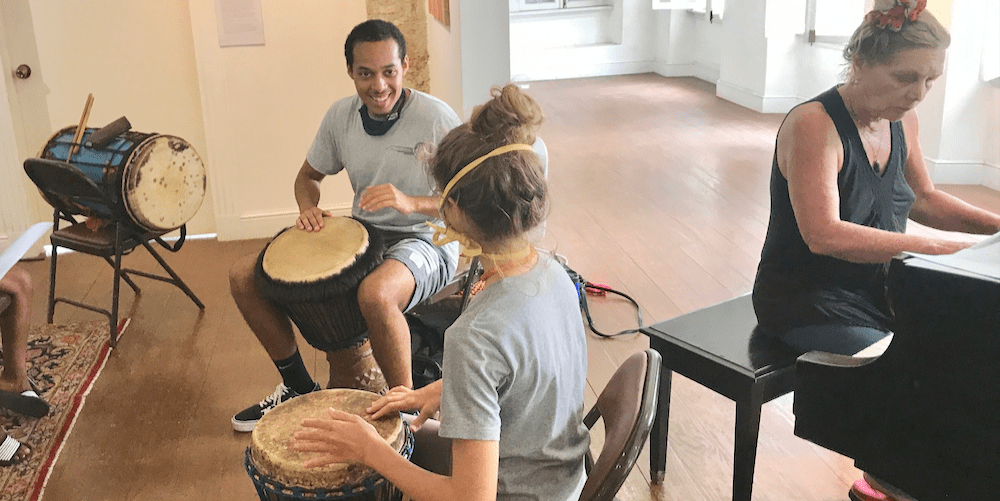 "Students at camp quickly learned the basic rhythm and eagerly challenged themselves to learn increasingly complex parts of music," Robb said. "The different rhythmic parts are played on different drums, creating a layering of multiple polyrhythms sounding in harmony with each other, creating an overall mesmerizing whole."
According to Robb, not only did students embrace their own personal challenge to master as many drum parts as they could, they learned and understood that the rhythms and performance depend on learning how to cooperate and depend on each other as a group.
The music campers performed at CMCarts opening of Chalana Brown's photographic exhibit, "Claiming Spaces: The African Story of the Sugar Mill," with students performing from Carter's "Summer Act Out Theater and Social Justice Camp."
Robb's campers learned a chant, "The Little Shekere" (an alternative spelling of chekere) from the musical group, Sweet Honey in the Rock, which they chanted while accompanying themselves with the axatses they made. They also learned a Caribbean folk song about children working called, "Shake the Papaya Down."
"The kids got so into it they made up their own dances and costumes for the song," Robb said.
The group also accompanied the song with drums and axatses. The final song, "Sweet Honey in the Rock," is a spiritual song from John's Island, South Carolina.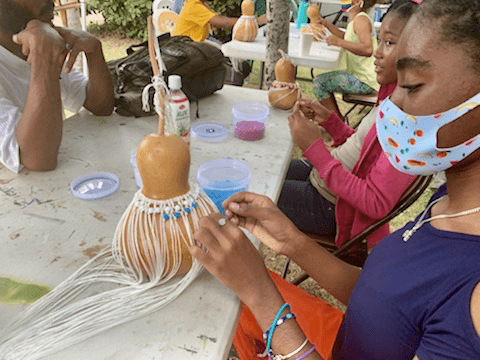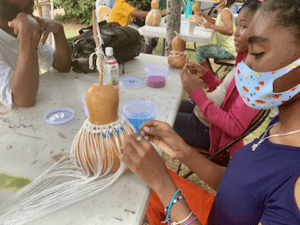 "The campers embraced the determined, purposeful words of 'Sweet Honey in the Rock' during the days at camp and sang it while they were eating lunch, making their gourds or waiting for their parents' pickup, while accepting the need for us to realize there's enough for all God's children in this world."
"I can't remember being more proud of the work a group of young students has produced. They were an absolute delight to teach. The parents and community members were impressed by their stunning performance as they engaged the audience to sing along with them," Robb said.
Robb holds a bachelor's degree in music from San Francisco State University with a concentration in African music from the University of California at Berkeley. She studied with Ghanaian master drummer Ladzekpo.
Robb's formal music studies began on piano at age six. She studied oboe in seventh grade and continued on saxophone, piano, percussion and voice throughout college.
Qualified in many areas of music studies, her focus has been on ethnomusicology; she wrote a master's level thesis on African polyrhythm.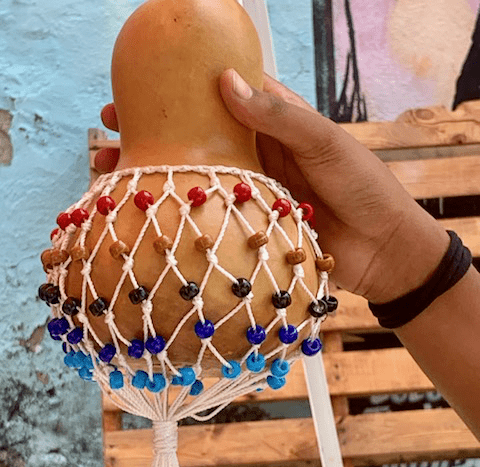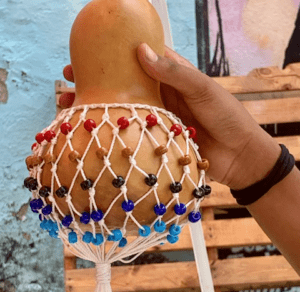 Robb's musical background has taken her to many parts of the nation teaching, directing, coordinating, speaking and performing. She has been a classroom music teacher for over 25 years, beginning in San Francisco, California, and later at St. Croix Country Day School and Alexander Henderson Elementary School on St. Croix.
She has had as many as 40 private students in voice, saxophone, piano and drums, with those students delighting audiences for many years. Robb's holiday and spring recitals inspire those who attend at the Whim Greathouse, Beachside Cafe at Sandcastles and the Caribbean Museum Center for the Arts.
Robb directed two performance groups, Asche Akoma, the women's African drum ensemble, who provided a unique environment to understand the basics of poly-rhythm. Traditional drumming techniques and rhythms from Ghana formed the platform for their rhythmic explorations.
She also directed the Ay Ay Baroque Recorder Trio, performing Celtic and Baroque recorder music with Celtic drums.
Currently, Robb teaches a community African drum ensemble for adults and children and she has included a preschool class for little drummers.
CMCarts will host Robb's three chekere workshops this fall. Robb can be contacted by email at earz.vi@gmail.com.