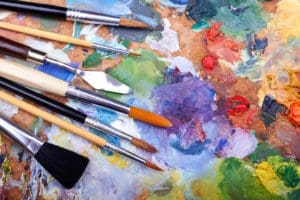 Diane Hampton, V.I. Breast Cancer Project founder and art therapy coordinator, is calling on breast cancer survivors, caregivers and friends to attend the next two sessions of the Creative Therapeutic Expression Workshops for Breast Cancer Survivors. This series of workshops, which will continue throughout July, offers a variety of creative art projects including silk fabric dying, collage art, face mask making, painting and yoga, and will provide a safe space, in-person and virtual, for participants to share personal stories about survival or caregiving.
From 11 a.m. to noon, on Saturday, July 10, the project will host collage art with Elisa McKay. Popular among V.I. residents and visitors, McKay's  distinct African-Caribbean collages that interpret themes of family, community and celebration. The class will be presented at St. Croix's Caribbean Museum Center for the Arts and on Zoom. Attendees will make collages on paper, board, canvas or other surfaces using a variety of materials and objects to create their personal experiences during their cancer journey.
St. Croix Cancer Specialists has donated art materials to the breast cancer survivors who registered to attend from across the territory. Other registrants will pay a one-time fee of $20 to cover the art supplies for all workshops in the series. Complimentary lunch on Saturday will be provided by Smoke STX.
Also scheduled for Saturday from 1-2 p.m. on Saturday is "About Face: Honoring Ourselves, Creating Our Mask & Crown," a virtual session with Washington, D.C. mixed-media collagist Jenne Glover.  According to Glover, masks, created across cultures, can be functional and also transformative when used in rituals, ceremonies, festivals and plays. Free art materials for that class will also be supplied to breast cancer survivors.
Details and registration information are on the project website at https://tinyurl.com/4bvf24bf
According to Hampton, the project's mission is also to raise funds to ensure the therapy sessions are a sustainable program. "We are excited that we have some outstanding artist-instructors who have selected one piece of their original artwork for a silent auction, which is our next fundraiser during National Breast Cancer Awareness Month on Friday, October 8th [at] 1-4 p.m. at the Caribbean Museum."
Other workshop sponsors include 340 Real Estate STJ, Restaurant Six Nine, and The Strand Square Pavilion Space. Family members and friends of breast cancer survivors who value the project have also donated.
For more information, contact Diane Hampton at vibreastcancerproject@gmail.com or 227-3879. To donate, click on the St. Croix Foundation Center link on the project's registration website and enter the amount and "VI Breast Cancer Project" in the special instructions section.
The V.I. Creative Therapeutic Expression Workshops for Breast Cancer Survivors is funded by the V.I. Council on the Arts and the National Endowment for the Arts.