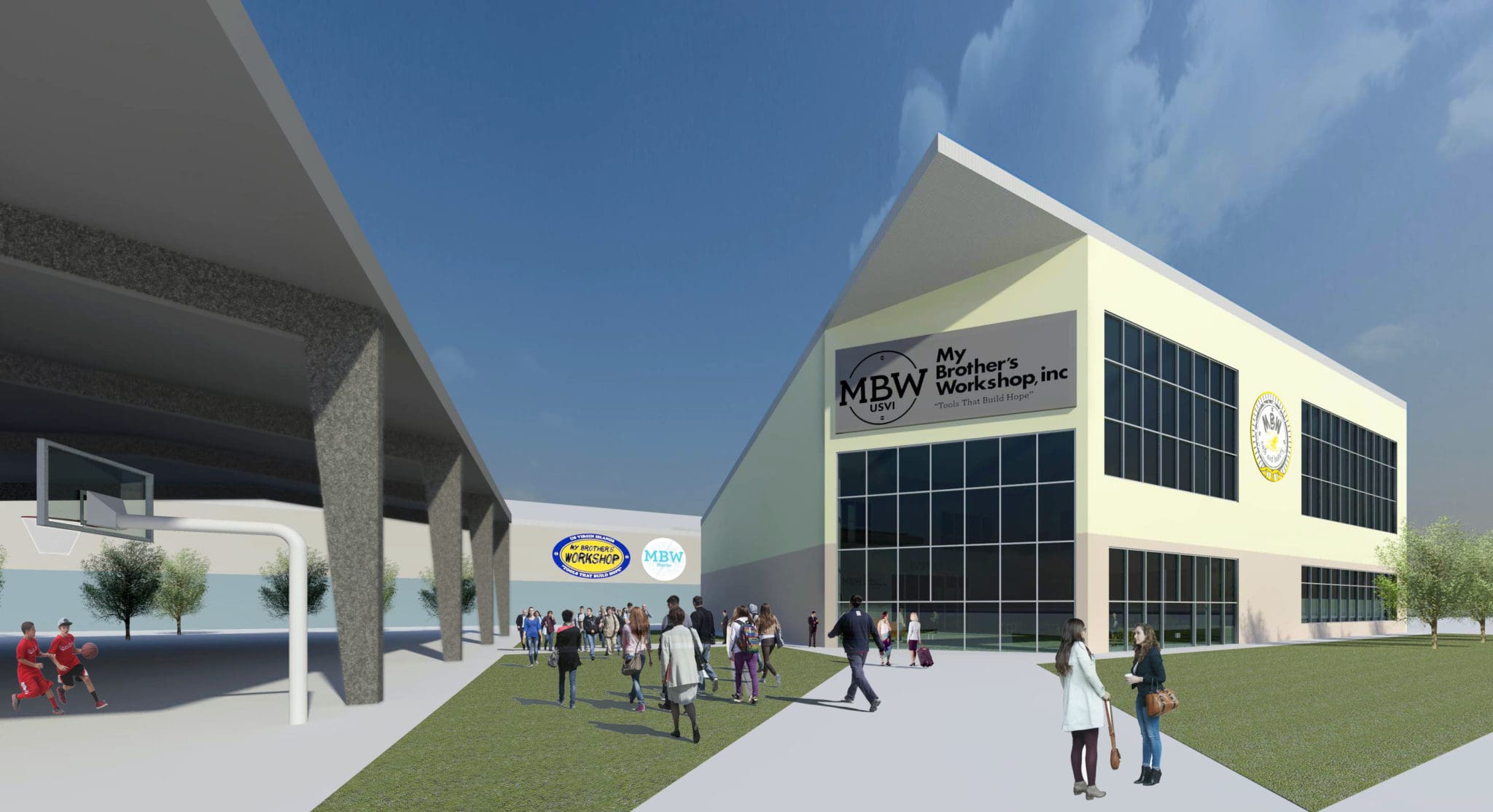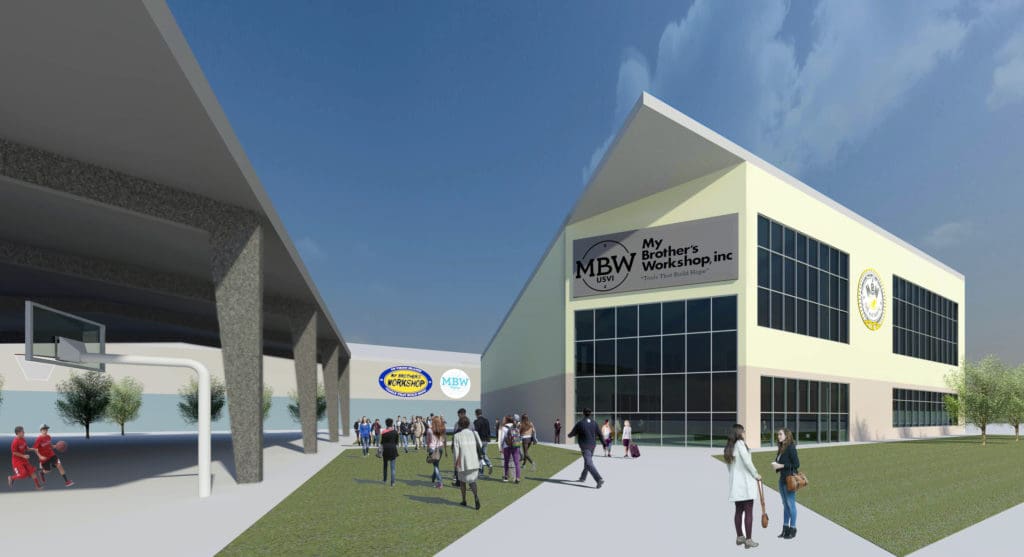 My Brother's Workshop recently announced plans to build their new campus, consisting of 30,000 square feet in total, which will be located mid-island on Donoe Bypass and serve clients from St. Thomas and St. John with the capacity to see over 1,000 students.
They would like to highlight the following investors for being a part of the first $1 million raised to help make this project possible. "These incredible supporters helped launch our MBW Main Campus project by investing in the future of our youth," said Jenny Hawkes, MBW executive director. "Without their generosity, we would not be where we are today." Listed are the first donors for the project and their involvement with the MBW organization.
Anonymous Angel Donor – $500,000 
This Angel Donor has contributed more than $650,000 over the last seven years and was the first investor in the MBW Cafe and Bakery and is committed to helping the youth of the Virgin Islands in vocational training and education. This donor also has contributed to the educational program that has seen 52 trainees graduate with their high school diplomas through an online program that is incorporated into the training program at MBW. In addition to the support of education and culinary training, this donor was instrumental in the support of the MBW Marine program that opened in 2018 that allows young people to experience training in repairs and maintenance of marine vessels through skill learning of fiber glassing, carpentry, welding, and wood shaping.
Bonnie and Ty Troutman – $200,000 
Bonnie and Ty Troutman are MBW supporters that saw the impact of MBW immediately after the hurricanes. With continued support over the past four years and a desire to volunteer, Ty also joined the MBW board and now serves as the president.
Robert and Maureen Sievers Family Charitable Gift Fund – $100,000 
After seeing the response of MBW after two natural disasters and a pandemic, the Sievers donated to MBW's Hurricane and Covid responses, and now to the main campus. MBW served the community after both by serving meals for vulnerable individuals and repairing homes after Irma and Maria.
Anonymous – $100,000 
This anonymous donor was inspired to make a large charitable donation after the death of George Floyd, and is committed to the mission of MBW and the new campus, which will provide faith and hope through mentoring, counselling, education, on-the-job training and job placement.
Anne and Andy Hemmert – $50,000 
Longtime MBW supporters Anne (MBW Board treasurer) and Andy Hemmert see the value in this community project and are proud Advocacy Sponsors.
Columba Energy – $25,000 
After supporting MBW's Covid response, Colomba Energy has donated to the Main Campus to help impact more lives in the USVI. Colomba Energy is very excited to be a part of this endeavor that will provide positive pathways for young people.
Anonymous – $25,000 
This is a first-time donation to MBW but after touring the current locations of MBW, decided they wanted to be a part of Building Hope by contributing to the MBW Main Campus.
"On behalf of MBW, a huge thank you to these first donors who have propelled this project," said Hawkes. "We look forward to the groundbreaking where all MBW can celebrate with the 'first million' donors."
MBW's Main Campus has a three- to four-year timeline and will comprise three structures  totaling 30,000 square feet, eventually allowing for more than 1,000 people per year to receive vocational training, mentoring, mental health counseling, tutoring, online high school diplomas, job placement services, anger management, parenting classes, and access to art, music, and sports.
The current MBW St. Thomas footprint spans three locations and is about 15,000 square feet. By doubling the space, MBW will have the ability to become energy efficient with solar panels, offer more effective training, provide mental health resources (including family counseling and individual counseling), classrooms for high school diplomas and continuing education, youth development, special needs training, free services to the USVI community, resiliency and sustainability programs and increased disaster response capacity.
The project will be completed in phases, beginning with Phase 1 – the construction of the Stephenson Family Welcome Center (banquet space, cafe, industrial kitchen, classrooms, offices). This building will house the following programs: culinary arts, catering services, customer service training, online high school, anger management, offices and welcome center, classrooms, and individual counseling. New programs include retail experience, family counseling and parenting classes/child care services. To date $1 million, which is 25 percent of the goal for Phase 1, has been raised by the MBW $1 million sponsors: Angel Donor, Ty and Bonnie Troutman, Robert and Maureen Sievers Family Charitable Gift Fund, Anne and Andy Hemmert, Columba Energy and Anonymous Donor.
All donations made to the capital campaign at this time will go towards Phase 1. With the announcement of the $1 million match by the Stephenson Family, MBW will be able to begin construction on their Main Campus.
The following phases will include construction of the new MBW Workshop and MBW Community Center. The project is expected to take three to four years to complete.
MBW has had a long-lasting impact on the members of our community through disaster response and workforce development. The increase in space will allow for MBW to respond quickly (and on a larger scale) to disasters as it did after the devastation of hurricanes Irma and Maria and through the hardships of Covid-19 while keeping local youth engaged in its program. With the additional programs, MBW will have the ability to work with older populations in workforce development for individuals needing to change career paths after life-altering events and also be able to work with clients who have special needs or disabilities to help obtain employment.
To donate to the MBW Campus Project, visit the Building Hope website. For more information on the project and program or to learn about sponsorship opportunities, contact MBW Communications Director Chrystie Payne at cpayne@mybrothersworkshop.org.