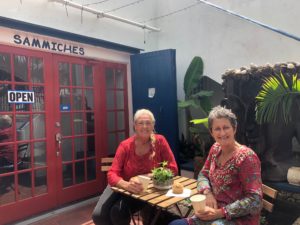 Those who live, work or spend vacation time in downtown Charlotte Amalie have a brand new spot to check out when seeking breakfast, lunch, baked goods or snacks. The place to look for is called Sammiches.
With a playful bow to casual pronunciation, Sammiches is located halfway up the public stairs connecting Garden Street and Government Hill — just above Get Charmed jewelry store.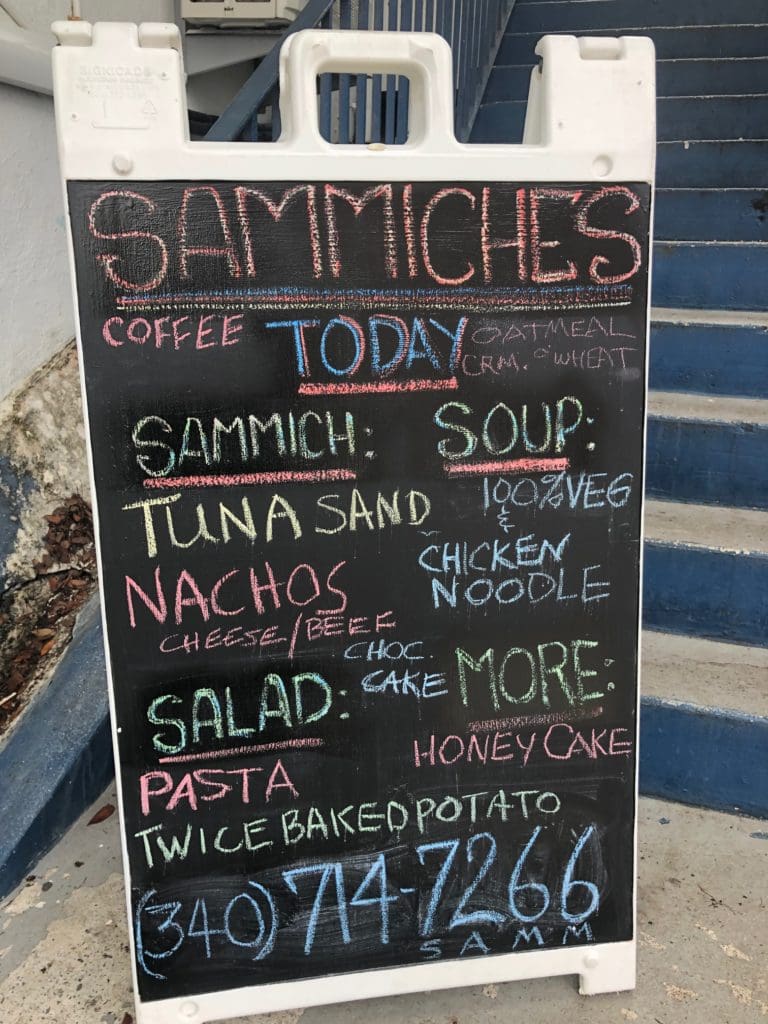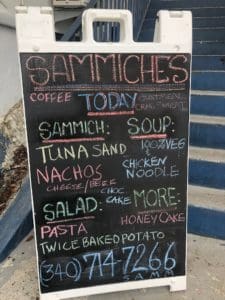 Early each weekday morning, a classic blackboard sign is positioned at the base of the steps to promote house-made soups of the day, sandwich specials, desserts, and more.
Even before patrons enter through bright red doors, an outdoor patio area sets the scene with bistro tables, lush plants, and a Buddha water fountain.
They step inside and see whimsical eye-catching displays while being greeted by proprietor Susan Hunter or one of her upbeat team members.
Originally from southern Indiana, Hunter has been an active member of the St. Thomas community since 1972.
At her amusingly named gathering spot, fresh local fruits and juices are available. Several menu items fall into the comfort food category including oatmeal and cream of wheat as well as the breakfast burrito and western scramble.
Lunch offerings vary. Chicken noodle soup, pumpkin bisque, and vegetarian or beef chili are among the favorites.
Sandwich choices include tuna salad or classic BLT. For fans of Thanksgiving flavors, Sammiches suggests the turkey, cran 'n mash.
Contingent on market-fresh availability, salads include mandarin chicken and classic chef's salad. Depending on the day of the week, the vegetarian or non-vegetarian lunch specials are either quiche, stir-fry, tacos, spaghetti or nachos.
For side dishes, choose potato salad, coleslaw, and several other options.
"I've been told we have the absolute best mac 'n cheese on island," Hunter said with a smile.
Another classic creation at Sammiches is the St. Thomas Popsicle. A house-made concoction, it's a throwback to days when local vendors prepared frozen treats from fresh local fruits and juices.
Sammiches also carries brand name packaged snacks including chips, popcorn and candy.
Touches of old-school charm include a classic community bulletin board and kitschy mannequin displaying a hand-written quote-of-the-day chosen from a file of colorful index cards.
Hunter created and designed the fascinating facility from start to finish in less than two months, but she graciously refers to Sammiches as, "A Three Fun Moms production."
Specifically, she credits her two longtime friends, Megan Anderson and Suzy Petersen, for adding their energy and input to the project.
"When I saw this empty space, I knew it had potential. The three of us brainstormed about what to do with it," Hunter said.
According to Hunter, the three ladies discussed numerous concepts. Ultimately, Hunter settled on a friendly eatery and snack shop with outdoor seating and an air-conditioned lounge.
With pride in her voice, Hunter said, "My dear friend Suzy Petersen is a veteran sailor who has circumnavigated the globe multiple times." She added, "Suzy also bakes the best cookies and we have them right here."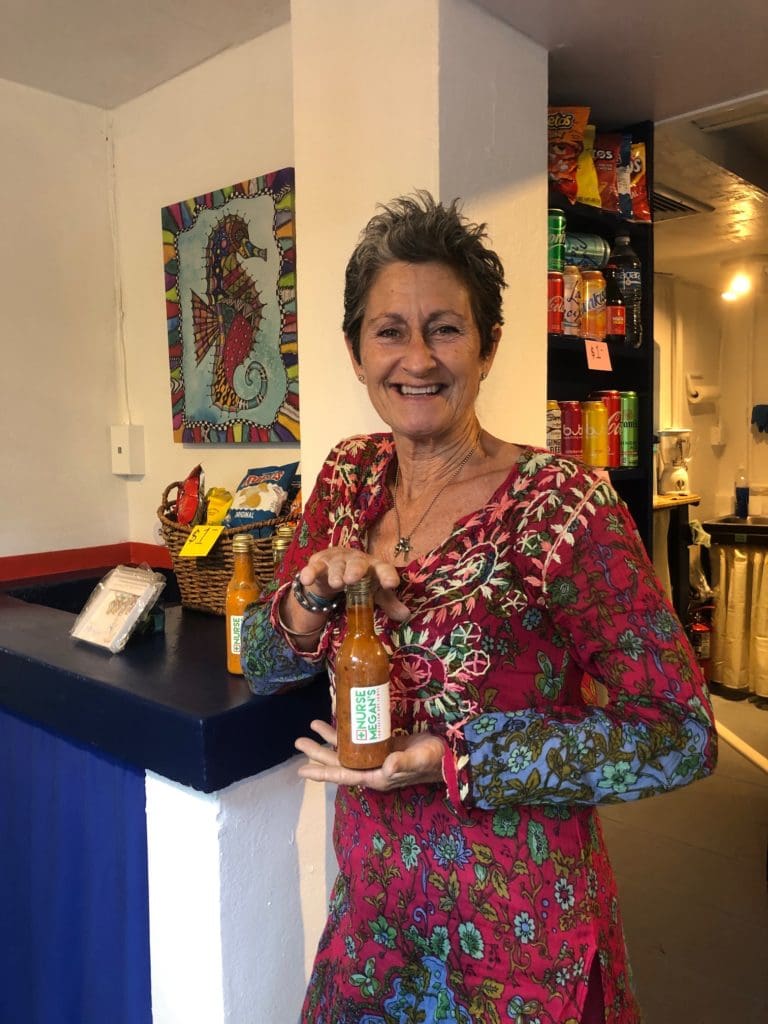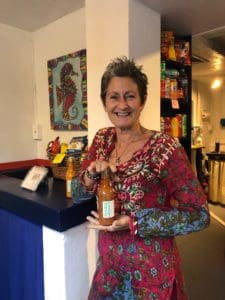 The third member of the trio, Megan Anderson, R.N., graduated from the University of the Virgin Islands. She worked in the emergency room at Schneider Regional Medical Center and currently is employed as a school nurse. Anderson also is the creator of Nurse Megan's Hot Sauce, a staple at Sammiches.
"All three of us raised our kids on St. Thomas," Hunter said.
A self-described 'townie,' Hunter said, "I love the fact that Sammiches is part of a very diverse 'restaurant row' of businesses."
Hunter lives nearby on Bunker Hill. Her passion for the revitalization of commercial and residential downtown properties is palpable, hands-on, and she comes to the table with a wealth of building and design expertise.
"I am one of only a few licensed female building contractors on the island," she said.
Early in her career, she served as senior visual merchandise designer for the J.C. Penney Company. Decades later, she continues to reinvent the use of space to achieve both optimal efficiency and visual appeal.
Hunter lends her talents to numerous worthwhile endeavors – from local theater and the arts to retail renovations and design projects.
Also a celebrated local playwright, her two original scripts "Catch and Keep" and "Goin' to Come Back," were produced and directed at Pistarckle Theater in 2017 and 2018, respectively.
Referencing her brand new eatery, Hunter said, "In addition to Megan and Suzy, I am very grateful to Steve Marshall and Michael Creque who pitched in to help me open Sammiches."
Hunter also gave kudos to Sunil Mohanani. "Sunil is such a supportive landlord. He's the absolute best," she said.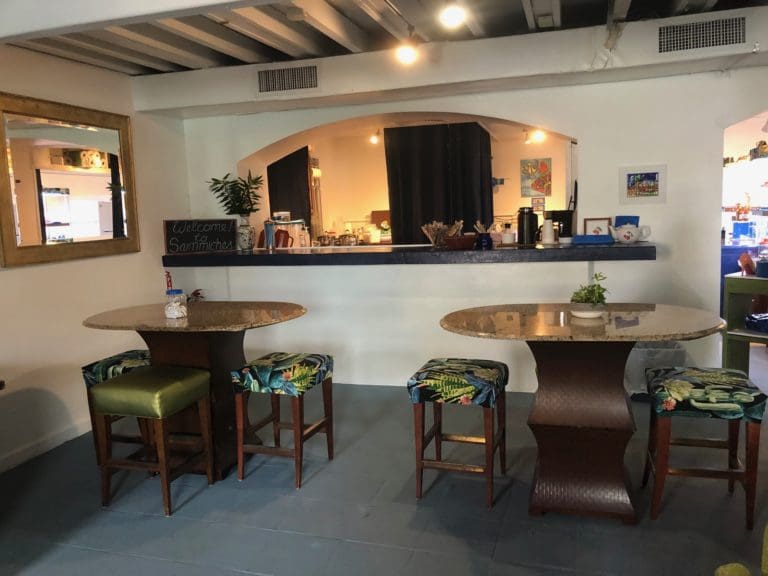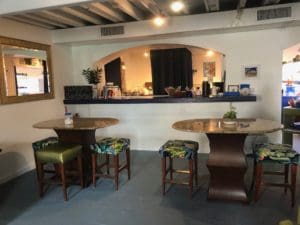 Sammiches is interconnected with a community meeting area as well as CCIT Services, an internet provider and IT company. Free WiFi is available to all patrons.
On a personal note to the St. Thomas community, both Hunter and Anderson expressed support to all those giving and receiving COVID-19 vaccinations.
"We want to see everyone enjoying good health and our freshly made food," said Hunter.
By the way, Sammiches really does believe in "a free lunch." Place your business card in the weekly drawing for a complimentary meal. You could be the winner. What fun!
Sammiches is open Monday through Friday from 7 a.m. to 2 p.m.
For additional information or to place an order, call 340-714-7266.