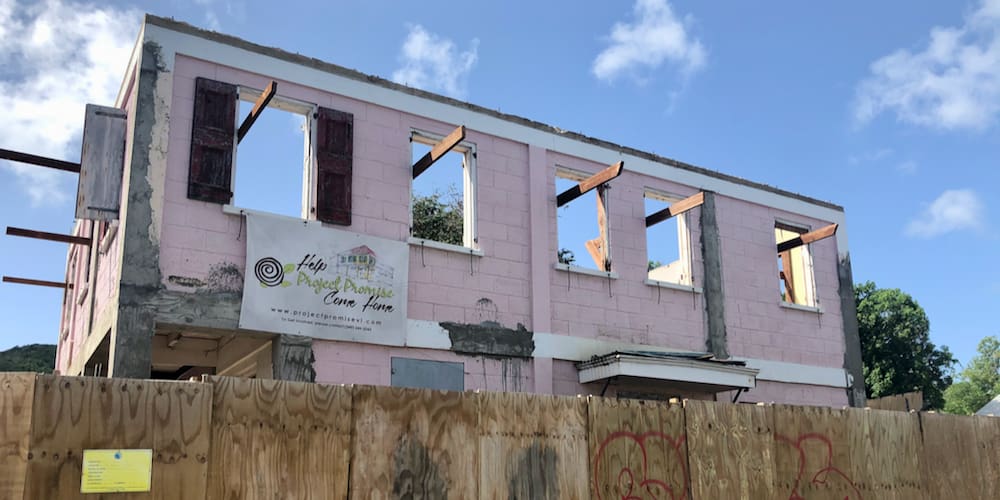 Project Promise must raise $25,000 in a short time to raise the roof and move forward with the final reconstruction of its new home in Christiansted.
In 2014, just four months before she launched Project Promise, Resa O'Reilly bought a house on King Cross and Queen Streets that had been abandoned for 30 years. As she learned the story of the property, her future became clear to her.
"I was laid off, and just had my son, but told myself, 'This is what you're going to be doing,'" she told the Source. "I emptied my pockets."
The property had been put up for auction and after waiting a year, the owner, a relative, told her he was not going to pay the back taxes to redeem the property. O'Reilly came up with the money needed to purchase the two-story dilapidated, corner house. She learned a bit about its history – that it had served as a bed and breakfast in the 1950's, but little else.
A short time later, O'Reilly conceptualized the Project Promise program and put it in motion. After contacting all of the public schools, Lew Muckle Elementary offered to let the program reside on the school grounds.
The chosen students – Caterpillars – then in fifth grade, are now in 11th grade and have participated in the after-school program for at-risk youth all these years. They meet every day with staff through high school and into college. Five days a week, the students learn how to live healthier lives and make good decisions. There is tutoring available because the students must maintain good grades. They learn about Virgin Islands history, culture and natural resources. They also learn conflict resolution, work to discover their vocations and, in the end, integrate into society.
They also learn about community service. Several summers featured them crossing America to do good deeds in various locations. They have raised the funds needed, monetary and in-kind, for their projects.
O'Reilly's building in Christiansted will become the new home for Project Promise. The project will use the building rent free, O'Reilly said. The new home will allow Caterpillars to meet daily, and other activities to take place on the weekends. A new class of fourth-grade Caterpillars will be selected in the coming months.
But first, the building needs work. Project Promise faces its greatest fundraiser yet. As usual, O'Reilly has garnered community support for this project as well as funds from a nationally recognized non-profit organization.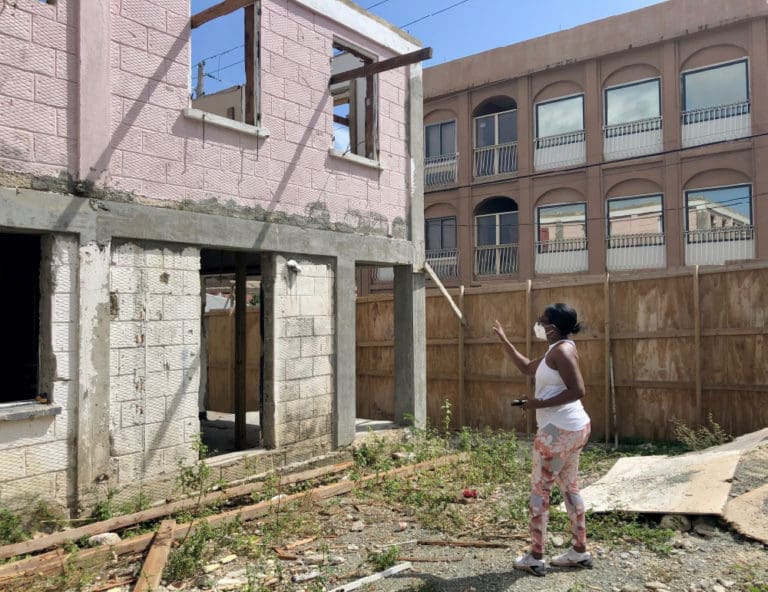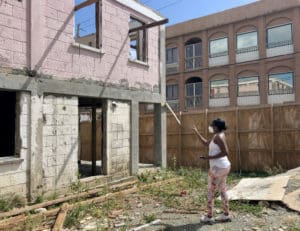 Once rebuilt, the building will contain a community center, classrooms, a computer lab, office space, a multipurpose room, a kitchen and laundry center.
Donations, so far, have included $22,000 in building materials from Home Depot and roof rafters that have been contributed by St. Croix Trading Company. The general contractor, Anthony MacLorrain, has donated his services and plans were drawn free of charge. Historic Preservation has already approved the yellow board building with a red roof, white trim and green shutters.
"I feel like the house is smiling," O'Reilly said.
The June 11 deadline is to take advantage of funding from the Humanitarian Experience for Youth, based in Utah. They have offered $25,000 and volunteers for seven weeks to help rebuild the second floor. The volunteers are scheduled to be on St. Croix between June 21 and August 6.
But first, the roof must be replaced so the building is safe for the work crews.
O'Reilly hopes the construction will be 75 percent complete when they leave. Then they will need to raise the money to finish the job.
Global Giving is collecting funds for the Project Promise Building Rehab Project.
More information about the program can be found here.
"If you're unable to donate at this time, there many other ways you can support us. You can advocate for us by sharing our Building Rehab Project with a family member or friend. Even a quick mention on your social media would mean the world to us," O'Reilly said in the fundraising appeal.