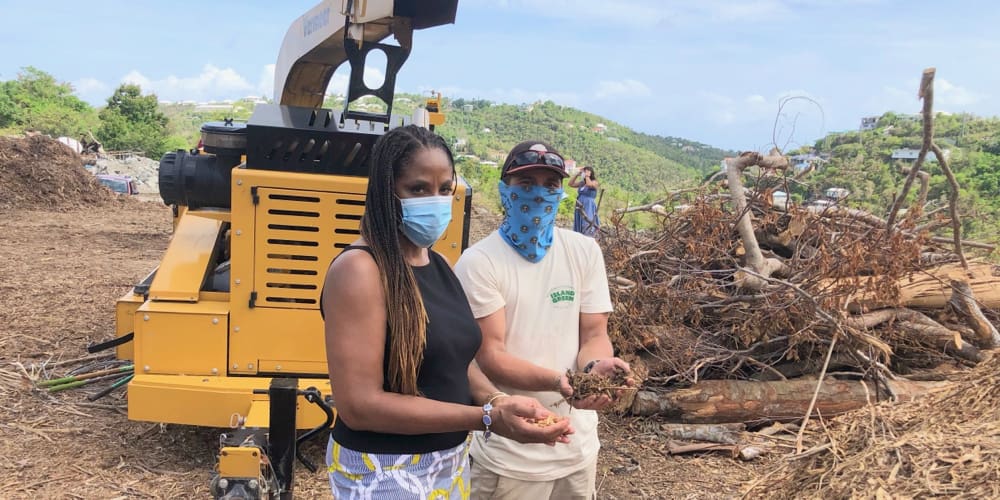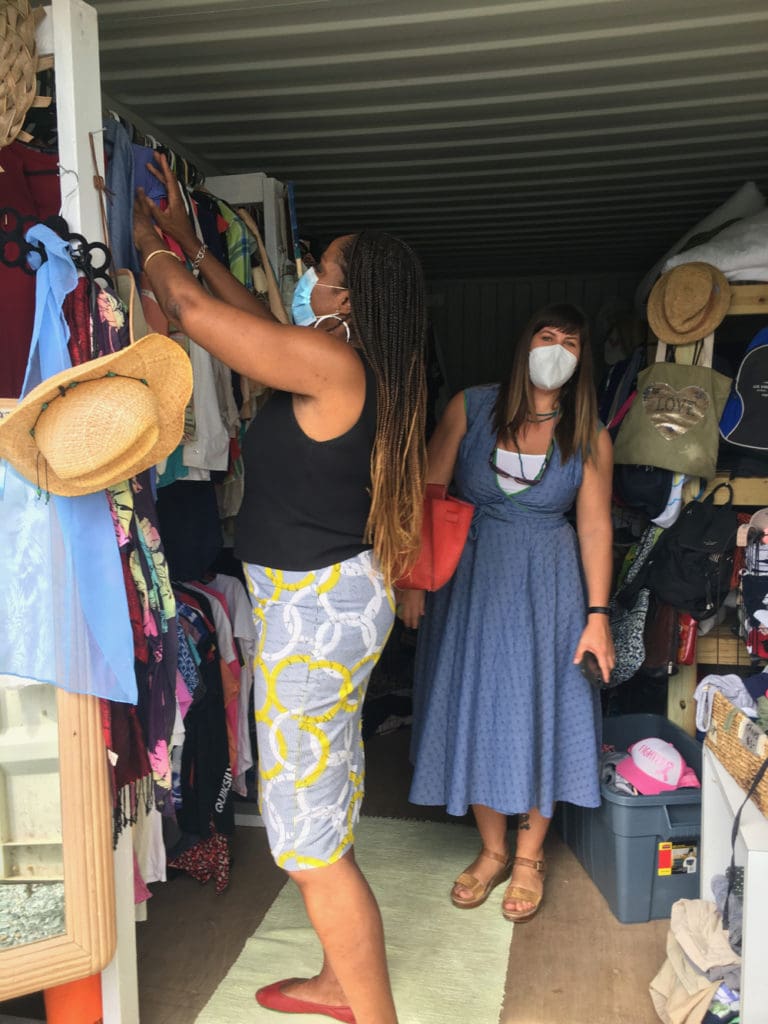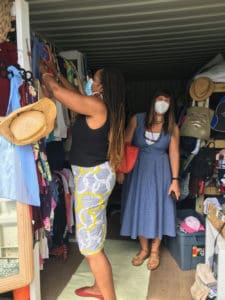 V.I. Delegate to Congress Stacey Plaskett was on St. John Tuesday to get a hands-on tour of environmental projects spearheaded by Island Green Living Association to minimize the amount of waste that winds up in the territory's landfills.
Since January, the organization has made more than $80,000 of improvements to its sustainable living site adjacent to the Susannaberg Transfer Station; volunteers have installed fencing and a drainage system to safely channel rainwater flowing from Centerline Road down through Guinea Gut to Great Cruz Bay.
At the ReSource Depot, IGLA's thrift shop for recycled clothing, housewares and building materials, Plaskett browsed the women's clothing container and spotted a pair of shorts she thought would suit one of her accompanying staff members.
Plaskett then chatted with Scott Woods, a supporter of Island Green Living and the CEO and founder of Sustainable Generation, a company that provides technology for converting organic waste into compost. Keeping organic waste out of the landfill not only frees up space in the landfill but eliminates methane emissions and cuts down on global warming, Woods said.
Through a series of public workshops, Island Green Living has been encouraging residents to compost their organic household waste products and is now experimenting with scaling up the program to produce compost that can return valuable nutrients to the soil.
Organic material accounts for at least 30 percent of the content of the territory's landfill, said Ariel Stolz of the Caribbean Green Technology Center at an online webinar earlier this month.
"Food waste is really – not just in the Virgin Islands but all around the U.S. – one of the biggest issues that we have for the residential waste streams."
In partnership with the Virgin Islands Waste Management, Island Green has also launched a pilot program to chip vegetative debris and turn it into mulch that can be used to help the soil retain its moisture and nutrients. The program, designated a Clinton Global Initiative Commitment to Action, was funded through a $100,000 grant from the Community Foundation of the Virgin Islands.
Kelly Lawson McKinney, executive director of Island Green, said contractors and residents deliver 30 cubic yards of vegetative waste daily to the Susannaberg Transfer Station, including weekends. That chipped material is now being tested by a local landscaping company and appears to be of high value, she said.
Island Green Living began its recycling efforts in 2015, picking up where other community groups left off by setting up collection points for aluminum cans throughout the island.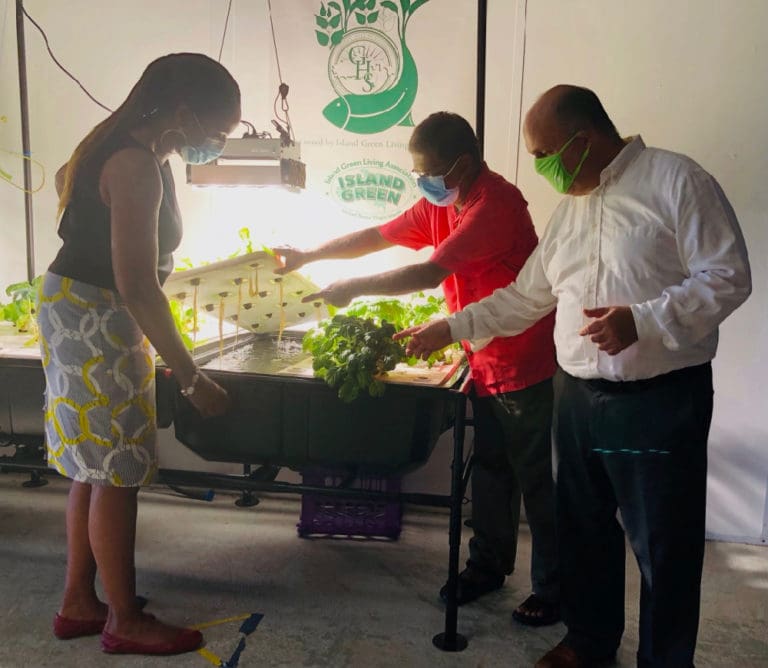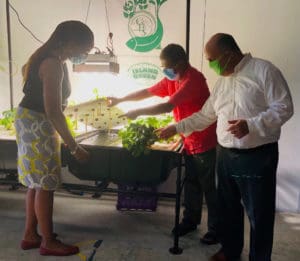 Plaskett got a hands-on lesson in crushing cans from Anthony Novelli, operations manager at IGLA.
More than 800,000 aluminum cans have been crushed on St. John and sent to Puerto Rico for recycling. When Plaskett asked if the operation was profitable, IGLA board member Rob Crane said it wasn't because of the small scale of the operation, but recycling aluminum can be profitable if it were done as a territorywide program.
St. John Administrator Shikima Jones-Sprauve, who was on hand for Plaskett's tour, was pleased to show off her office's contribution to cleaning up St. John. Working in collaboration with the Coral Bay Community Council, the Department of Public Works has rounded up more than 180 abandoned vehicles so far this year.
"They will be detoxed, crushed and shipped off-island," she said.
Earlier in the day, Plaskett got a tour of the Gifft Hill School's new aquaponics program, an agricultural system that combines hydroponics – growing plants without soil – and aquaculture – raising fish. IGLA funded the project.
She sampled their crop of arugula, cucumber and tomatoes and spoke to students there who are learning how to grow healthy food and gain culinary arts skills.
Harith Wickrema, president of IGLA, thanked community partners and said he hoped the success of the projects could lead to adopting similar programs territorywide.