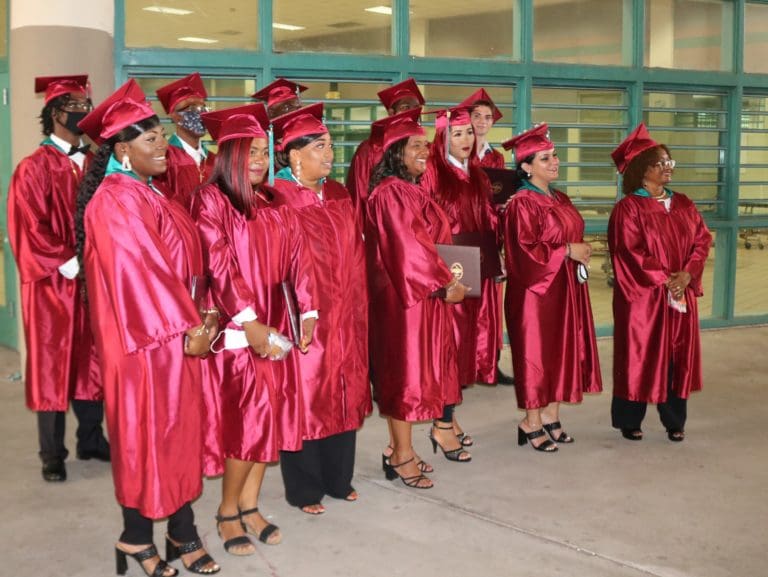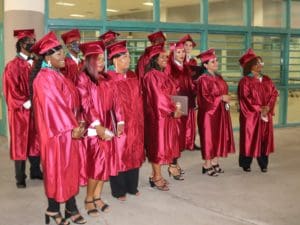 The St. Croix Career and Technical Education Center (CTEC) successfully hosted the territory's first hybrid graduation ceremony on Monday, May 17, with 140 students receiving certificates in various career pathways.
The ceremony was one of several hybrid graduations — with some elements prerecorded and others conducted in-person — that Virgin Islands Department of Education schools will host this week. At CTEC, graduates and their guests participated in a brief ceremony, which featured students receiving their certifications and being greeted by dignitaries as they walked across a stage erected on the campus lawn.
Guests not in attendance received a link to view the prerecorded portion of the ceremony. A video of the complete event will be made available to the public at a later date.
The St. Croix Adult Education Program also hosted a ceremony for 16 graduates at the St. Croix Educational Complex High School auditorium later in the day. Graduates were lauded for their perseverance and encouraged by Governor Bryan to keep learning and pursuing their dreams.
The class has a distinction of having perfect attendance. Jeanne Thomas was valedictorian and Mario William was salutatorian.
Hybrid graduations are planned for the territory's four public high schools, and they will be streamed live on the Department of Education's Facebook Page and air on Viya Channel 27.
St. Croix Central High School – May 18 at 10 a.m.
St. Croix Educational Complex High School – May 19 at 10 a.m.
Ivanna Eudora Kean High School – May 20 at 1 p.m.
Charlotte Amalie High School – May 21 at 1 p.m.
Promotional exercises for the territory's K-6, PreK-8, and junior high schools will be held virtually.