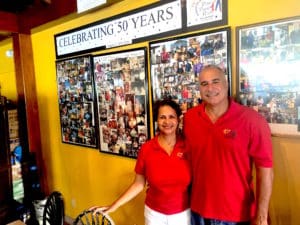 A dish with humble beginnings, rooted in the resourcefulness of the enslaved ancestors of Virgin Islanders, has received star billing in the food pages of the New York Times.
"In the Virgin Islands, Fungi Tells a Story," features Julius Jackson, a former Olympic boxer turned chef and educator, and Michael and Judy Watson of the Petite Pump Room on St. Thomas, where fungi is a staple side dish on the menu.
Essentially a creamy combination of cooked yellow cornmeal, okra slices and butter, the dish dates to 18th-century colonial rule, when slave owners were required by law to provide rations of cornflour or cassava, as well as salt pork, to their enslaved workers, according to the article.
To help stretch their meager allotment of these staple foods, the workers grew provisions on land hidden from slave owners, which likely is when okra was added to the dish, the New York Times writes, citing author and professor Neville A.T. Hall's 1992 book, "Slave Society in the Danish West Indies."
"Most native Virgin Islanders fondly remember fungi as a part of their childhoods, and as a key element of fish and fungi, a common meal," Michael Watson told the New York Times. As the oldest restaurant on St. Thomas, the Petite Pump Room celebrated its 50th anniversary on Aug. 1, 2020, with a devout local clientele who know they will always find traditional dishes such as fungi, kallaloo, fried snapper with creole sauce and pigtail souse on the menu.
Jackson, the chef and manager at My Brother's Workshop Café & Bakery in downtown St. Thomas, features a simplified version of fungi – which traditionally requires a time-consuming amount of whipping or turning – in his cookbook, "My Modern Caribbean Kitchen." The book was a labor of love to capture family recipes, handed down as oral tradition before they were lost – recipes with names like Jackson Clan Red Pea Soup, My Mama's Banana Fritters and Granny's Potato Stuffing.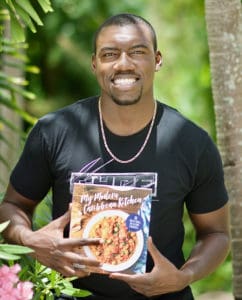 Jackson hopes to entice younger people to embrace the dish that they typically associate with their parents and grandparents, he told the New York Times.
The aim of both the Watsons and Jackson is to keep the territory's food culture alive – the Watsons by featuring such dishes on their Petite Pump Room menu, and Jackson by educating young cooks about the West African roots of the foods their families have been cooking for generations.
"There's so much history in our food that tells our story, and I can actually show them that," Jackson told the New York Times.