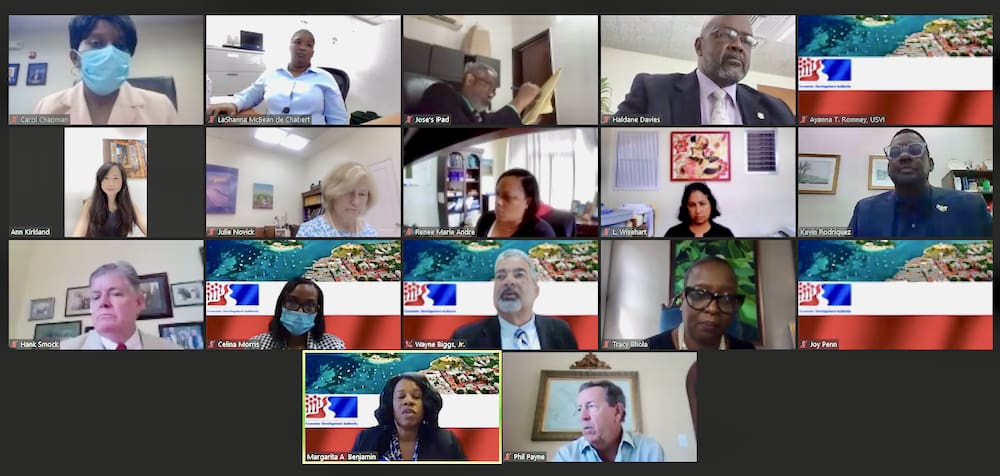 Design company Lotus Holdings LLC is seeking Economic Development Commission benefits that will "engage in international distribution of locally designed U.S. Virgin Islands infused resort wear," attorney Marjorie Roberts told the V.I. Economic Development Authority.
The authority is a semi-autonomous government organization responsible for the promotion and enhancement of economic development in the U.S. Virgin Islands through granting benefits to fledgling companies that promise to employ specific numbers of residents and contribute to the community.
Lotus filed an application on March 15 with the V.I. Economic Development Commission for tax incentive benefits. Roberts, who is representing Lotus Holdings, said the company is applying for benefits as a financial services business providing family office services, investment management services and the international distribution of products designed in the U.S. Virgin Islands.
Lotus Holdings will engage in a wide range of investment and asset management services. Clients of Lotus Holdings LLC will be located outside of the Virgin Islands, according to Roberts.
"Its vision is to combine two areas of expertise and passion of its owner Ann Kirkland, investment being the first, and the creation of a fashion design business in the Virgin Islands being the second," Roberts said.
Lotus Holdings has established two wholly-owned, disregarded subsidiaries, Lotus Family Office, Inc. and Danadis Fashion House, LLC (the "Fashion House). (According to the IRS, a disregarded entity refers to a business entity with one owner that is not recognized for tax purposes as an entity separate from its owner. Both the Lotus subsidiaries will be taxed under the owner, rather than as separate businesses.)
Born and raised in Taiwan, Ann Kirkland attended the Tamkang University Department of International Business. She got an internship where she learned about the fundamentals of how the stock market worked. Later she went on to California where she majored in fashion at the Otis College of Art and Design. After graduating, she attended a trade show that gave her the opportunity to design for large manufacturers. She did so until 2009 and then took a break to start a family.
In 2014, she relocated with her family to the U.S. Virgin Islands.
"I know that this island has a lot of stories that can be told," Kirkland said. "The business I want to build is an investment management and fashion design to launch our own product in the U.S. Virgin Islands."
Much of the value will be in the design and the product will be distributed from Vietnam.
"Using technology, the company will promote their product here," Kirkland said.
In its EDC application, Lotus said it will invest a minimum of $100,000 in the benefited business and will be located on the island of St. Thomas. If approved, Lotus Holdings LLC will employ five full-time employees within one year of the date that its certificate is signed by the EDC chairman or within one year of commencement of benefits, whichever is later. It also can hire additional staff within five years of the date the certificate is signed. Kirkland will be the CEO, but not counted as one of the five employees. The company is already registered with the U.S. Virgin Islands Department of Labor and has already identified a few potential employees.
Other benefits will include health insurance for full-time employees, life insurance, 401K retirement plan, paid time off, personal time, paid holidays and sick leave. The company also will contribute $40,000 toward charitable causes in the Virgin Islands.
Responding to board member Phil Payne, who commented on a picture of a dress she had designed and asked, "What other type of things will you be designing?" Kirkland responded, "I want to design. It will represent the U.S. Virgin Islands and for the type of climate. I think we can create our own beach market to attract buyers. Our comfortable styles are kind of a new 'chic.' You will want to wear to work or on vacation. This is our label, our trademark when we establish our brand recognition, we will gradually do more products besides clothing."
Kirkland compared her line with "Tommy Bahama," a popular brand of clothing that reflects the island lifestyle.
Although the sale of the product locally is not covered as an EDC benefit Payne also recommended marketing in the U.S. Virgin Islands.
"So that U.S. Virgin Islanders can have it, wear it and be out in places," Payne said. "There are jewelry designers that design bracelets, and they are seen all over the world and people ask them where they come from. Very good an idea that your community is wearing the clothes."