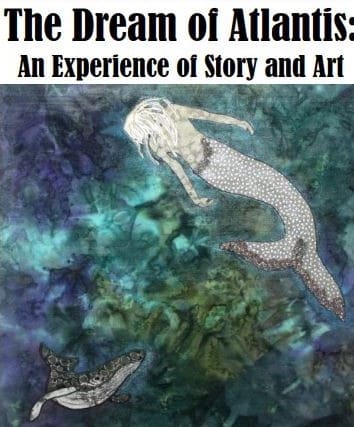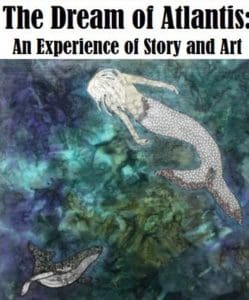 The mythical tale of Atlantis is the source of inspiration for a new art installation titled "The Dream of Atlantis" on exhibit at Cafe Christine. The artist dreaming up Atlantis is Jamila Hammad, who uses fabric collage as the basis for her art quilts and mixed media wood panels.
"There is a good reason why the myth of Atlantis continues to live," said Hammad. "I believe Atlantis speaks to us of a greatness that we had as a people, and that perhaps we could achieve again."
Hammad wrote a short story called "The Dream of Atlantis" that explores the wonders of this ancient civilization. "The story includes mermaids and whales, suns and moons and crystals, and it
gave me many wonderful ideas for my art, so I decided to create something different, an experience of story and art," she said.
The installation at Cafe Christine features the story and the accompanying art pieces, which include art quilts, mixed media panels and hanging fish mobiles. A book of the story and art is also available.
"Come for lunch, and stay for a very magical and colorful experience," said Lisa Coates, owner of the café.
"The Dream of Atlantis" will be on exhibit during April and May at Cafe Christine. Located in the Apothecary Courtyard in Christiansted, 6 Company Street, this bistro/art gallery is open for lunch from 11:30 a.m. to 2:30 p.m., Tuesday through Friday. Reservations are recommended: 713-1500.