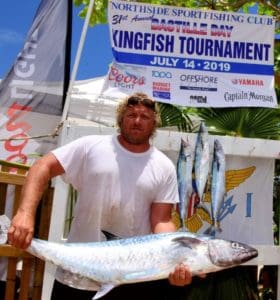 Members of the Northside Sportfishing Club, the organizers of the Annual Bastille Day Kingfish Tournament, regret to announce the cancellation of the 2021 event due to health and safety recommendations in response to the COVID-19 pandemic. However, the Club is pleased to announce that after speaking with the owners of Hull Bay Hideaway, the tournament's long-time venue, the next Bastille Day Kingfish Tournament will take place there on July 10, 2022.
"While we can't be together physically for Bastille Day this year, we are encouraging everyone in the community to responsibly celebrate by taking their friends and family fishing to continue the tradition. Specifically, on Sunday, July 11, we are inviting our anglers and supporters from the past, present and future to put on an old tournament shirt, snap a photo of themselves and their crew fishing, post it on Facebook and tag the Northside Sportfishing Club so we can all enjoy," said Catherine Bryan, one of the organizers.
The Club is cognizant of the hardships this pandemic has, is and will continue to cause to the global and local communities. Therefore, the Club plans to continue both its long-standing scholarship program and community donations this year. High school seniors have been especially impacted by the pandemic and the Club hopes scholarship awards can both celebrate the deserving students and provide them with financial aid.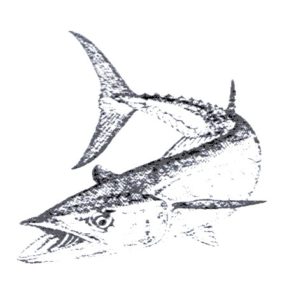 Scholarship application information will be published on the Club's Facebook page in early June. The Annual Bastille Day Kingfish Tournament benefits the Joseph Sibilly Elementary School, St. Thomas Rescue, Civil Air Patrol and Nana Baby Children's Home. As well as a day of fishing and fun for the whole family, the Northside Sport Fishing Club via the tournament has donated over $200,000 to community organizations since the event's inception.
First organized by the Club in 1987, the most recent tournament in 2019 attracted 168 anglers, including 30 junior anglers aboard 55 boats. Also, in 2019, St. Thomas' Matthew Bryan reeled in the largest kingfish, a 43.45-pounder, aboard the 36-foot Feel Good I.
In 2012, online travel advisor, Hotwire.com, named St. Thomas – particularly the Annual Bastille Day Kingfish Tournament – as one of the Top 10 destinations in the world to celebrate Bastille Day. In 2019, National Geographic magazine highlighted the Virgin Islands tournament in its article, "9 Bastille Day bashes that celebrate French culture."
For more information, call 340-998-0854, or check the Club out on Facebook @Northside Sportfishing Club.