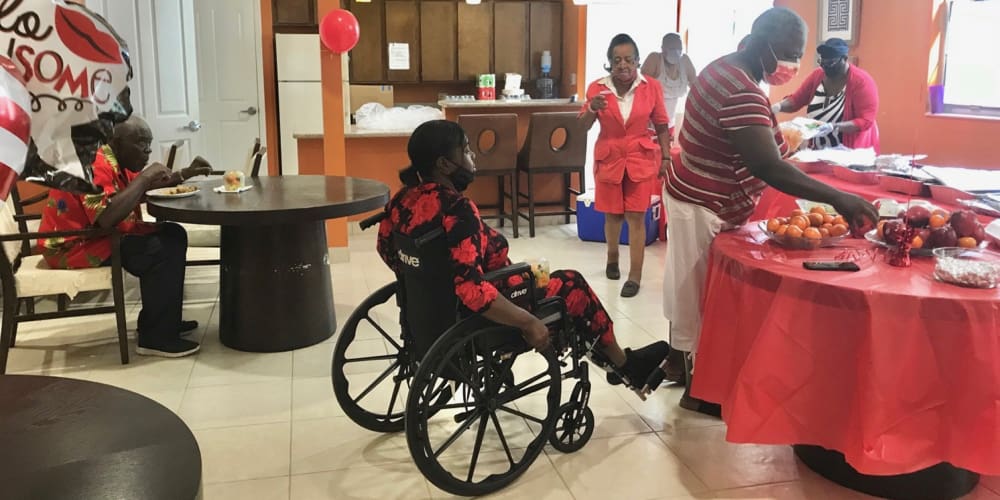 Louis E. Brown Villa senior residents felt the love of local businesses and volunteers at the Valentine's Day "Love Your Neighbor Luncheon" Sunday afternoon.
Senior Villa Community Outreach Coordinator Diane Hampton developed the idea for the luncheon that brought together 40 senior residents in a masked, socially distanced afternoon of neighborly camaraderie and fun. And she organized it from afar.
Sunday was their day off, but employees of the Chicken Shack cooked trays of rotisserie chicken, seasoned rice and beans and johnny cakes. Rafael Llanos and Beverly Smith of the Frederiksted Twin City Lions Club delivered the fare to the luncheon venue.
The Market STX donated Valentine cakes, fresh fruit and a variety of beverages. Seaside Deli baked a tray of decorative Valentine heart sugar cookies with pink and red coloring and fresh fruit cups of melons, grapes and pineapples.
Hampton is no newbie at organizing and advocating for members of the St. Croix community. She has brought attention to the plight of breast cancer patients who have benefitted through the years from local businesses, such as Sunday's sponsors as a result of her advocacy.
Recently diagnosed with cancer, Hampton is being treated at Johns Hopkins in Maryland. Her absence from her neighbors at the Brown Villas reinforced the idea that "it's important to support my home base, the people I usually see every day, my neighbors."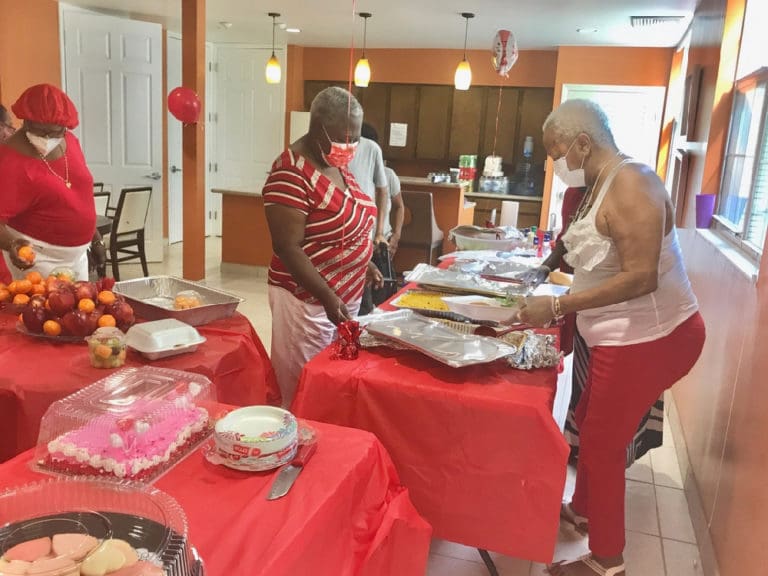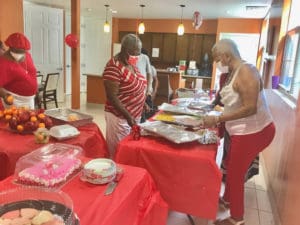 Hampton said, "In order for me to have and keep a vision, I have a new word … I am the 'CAN' in cancer."
Realizing she could not sit around and do nothing. Hampton said she began to make calls and round up sponsors and volunteers, and she knew that she could make it work even from a distance – more than 1,600 miles away. Although she was not physically at the luncheon, Hampton was calling and texting and staying in touch during the afternoon ensuring that all was going well.
"The residents at Louis E. Brown think of themselves as family. We live in close proximity to each other in a high-rise building just a step away from our neighbors," Hampton said. "We look forward to our daily morning greetings in the hallways. Sometimes we forget our dentures or partials, but it really doesn't matter, because it's the smile we welcome and often the hugs. Since the COVID-19 pandemic, we miss the hugs."
Villa volunteers Charlotte Tranberg and Monica Jackman echoed Hampton's reference to family. The two agreed that "getting this luncheon together is all about giving love to family." Yvonne Warner was the third member of the volunteer team and they all praised themselves for doing the "heavy work."
Resident Nathalie Matthew gave the blessing for the meal and later she said, "I love this. I love what they did for us."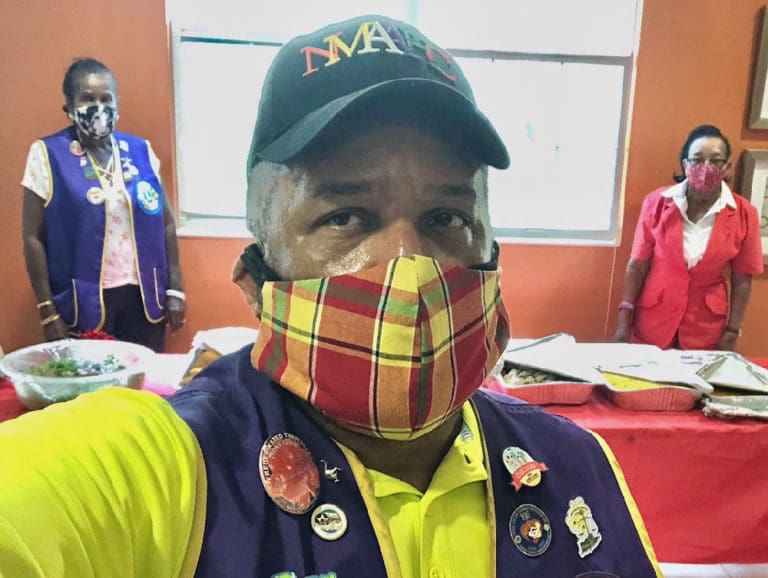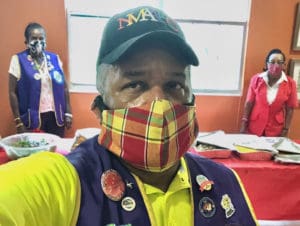 Some of the residents at Louis E. Brown have physical disabilities relating to mobility, some are cancer patients, there are those who have long-standing health conditions, others need extra assistance, which must be addressed, and there is an overall need for support for the seniors in this community.
COVID-19 has not touched anyone in the Louis E. Brown community, Hampton said.
The ReUse Emporium on St. Thomas is a nonprofit organization that sent over a donation of 45 masks for the Louis E. Brown residents at the request of Hampton.
"They were our first masks at the beginning of the pandemic," Hampton said.
The Cancer Support VI organization on St. Thomas provides financial support to cancer patients. After setting up an arrangement with My Brother's Workshop on St. Croix, several chefs in Christiansted offered to help and expanded their program and fed cancer patients in Hampton's building and those seniors enrolled in Meals on Wheels, Hampton said.
Hampton thanked volunteers Sonia Deane, Harriet Williams, Renee Blakey and Oscar Williams who were instrumental in the delivery and setup of items crucial to the smooth running of the luncheon, and the organizations and the businesses who supported the Louis E. Brown community.
St. Croix Long-Term Recovery Group, My Brother's Workshop, Mario's Virgin Crystal and the Frederiksted Twin City Lions Club actively support the Louis E. Brown Senior Villas.