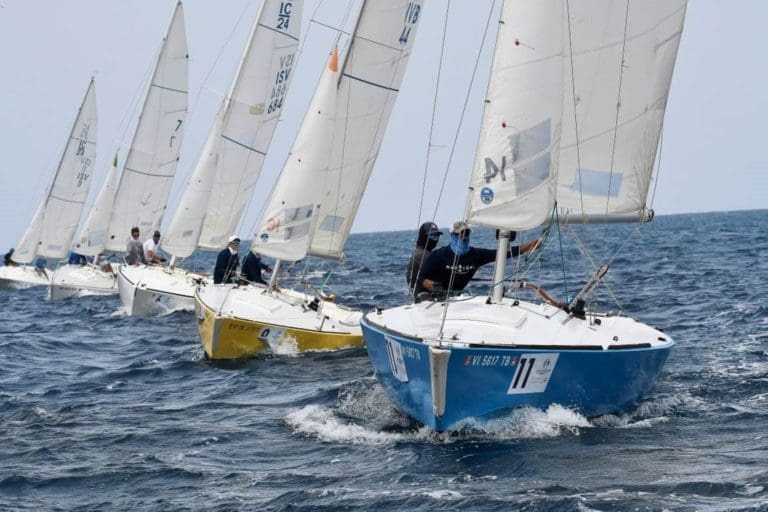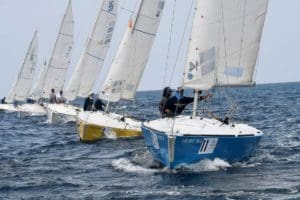 The starting horn is set to sound on the 2021 St. Thomas International Regatta March 26-28, launching three days of keen competition in one of the world's top yacht racing destinations. Board members of the host St. Thomas Yacht Club and STIR organizers have worked diligently and with strong support from the U.S. Virgin Islands Department of Tourism and the Department of Health to plan a best of both worlds event. That is highly competitive yacht racing with COVID-19 protocols in place on land and sea to protect the health and safety of sailors and island residents alike.
The warm-up distance-style Round the Rocks Race on March 25 adds another great way for sailors to socially distance at sea. Register for both at www.stthomasinternationalregatta.com
"It is our pleasure to welcome participants attending this year's St. Thomas International Regatta. I commend the St. Thomas Yacht Club for ensuring that COVID-19 protocols are in place so competitors and spectators can safely enjoy the action both on and off our waters. We encourage everyone to comply with the territory's safety measures as they navigate our islands, experience our beautiful waters, rich history and culture, and the warmth of our people," said Joseph Boschulte, USVI's commissioner of tourism.
COVID-Safe Top of Mind
Sound COVID-19 protocols implemented by the USVI Government have kept infection rates low. Key among these is that every traveler, age 5 and older, entering the territory by air or sea, is required to use the USVI Travel Screening Portal and submit a COVID-19 test result before travel, https://usvitravelportal.com/. On arrival, social distancing is the rule. And, in most businesses, 'No Mask, No Service' is in force.
At STIR, social distancing, mask-wearing and hand sanitization stations are among COVID-19 protocols. On the water, crews in boats, such as the one-design IC24, are limited to three this year, and bigger boat classes will remain in social bubbles throughout the regatta. Onshore, there will be staggered class finishes, especially on the final day with two awards ceremonies planned.
Beverage stations will be set up in different locations on the STYC property to prevent exceeding the currently mandated COVID capacity. Plus, sailors will be encouraged to spread out and sample the many St. Thomas restaurants rather than crowding at the Club in the evenings. The local business community has long supported STIR and organizers want to again reciprocate in these challenging times.
Who's Racing
Nearly 30 yachts were registered for STIR 2021 at the beginning of February, with several more expected to enter. Classes include CSA (Caribbean Sailing Association) Racing, CSA Non-Spinnaker, One-Design IC24, One-Design Hobie Wave, and PHRF. The PHRF class, which does not require a CSA handicap to enter, is ideal for the many cruising boats now in V.I. waters.
The big boat CSA Racing Class entries include Fox, a Botin 52 owned by the USA's Victor Wild, who is a member of the New York Yacht Club; Liquid, the perpetual podium placing J/122 raced by Antigua's Pamala Baldwin; and Blitz, St. Thomian Peter Corr's highly competitive King 40.
"Sailing in the Virgin Islands is magical. The weather is beautiful, the trade winds are very good and strong, the water is warm, and the people are amazing. Having no Caribbean racing last year, we were all looking forward to a great season in 2021. Racing with the Caribbean rules and numbers determines the boats in each class and the races are very close. That says a lot about the competition," said Corr.
Likely the largest class in STIR 2021 will be the One-Design IC24s with nearly 20 entries. Chicago, Illinois' Joe Hummel, his wife and friends will charter an IC from the St. Thomas Sailing Center to race.
"My wife and I are avid sailors and sail our C&C 115 on Lake Michigan. In the off-season, we try to get out sailing and typically visit St. Pete in February and the Caribbean in March. Four of us will be racing, and since the crew is limited to three this year, we'll be rotating one off each day. Given the two feet of snow and freezing temperatures at home, you can imagine how much we're looking forward to sailing and enjoying USVI and in particular STYC."
The single-handed Hobie Wave class offers fun for weekend and family sailors. St. Thomas's father and son, Mark and Julian van den Driessche, are both sailing Waves.
"I'm looking forward to sailing in St. Thomas's usual 12 to 15 knots of breeze. My 19-year-old son will be in the fleet, and I am hoping that there will be a little intra-family competition on the course," said Mark, the senior van den Driessche.
"What I love about Hobies is that they're the gateway to sailing. People who have no experience in sailing can learn easily. It was one of the only boats I had sailed in 2020 and 2021 so far. I don't think I could've got through 2020 If it wasn't for Hobie racing, the Thursday night race series and the people who participated in it," said Julian.
There are several types of race boats available to charter for STIR 2021. These include IC24s and Hobie Waves from the STSC. The UK's LV Yachting Ltd. is chartering its Pata Negra (Marc Lombard 46), Sailplane 3 (Mat 12), Phan (GP42), Addictive Sailing (a TS5 catamaran) and Escapado (Beneteau First 40.7) for STIR 2021. Perennial podium placer El Ocaso (J/122) is available from Caribbean Yacht Racing. OnDeck, based in Antigua, is chartering its Spirit of Juno (Farr 65) by the individual crew spot and Ortac (Beneteau First 40.7) for whole boat race charters. Plus, J-aguar (J/120) can be chartered by the whole boat or individual crew spots from St. Lucia-based Caribbean Races.
Getting Here is Easy
Traveling to St. Thomas is easy! The following airlines fly direct from major U.S. cities: American (Charlotte, Miami, Chicago, Dallas, New York, Philadelphia), Delta (Atlanta, Minneapolis-St. Paul, New York), Frontier (Orlando), JetBlue (Boston, San Juan), Spirit (Fort Lauderdale), Sun Country (Minneapolis-St. Paul) and United (Houston, Chicago, Newark, Washington Dulles). Airlines connecting St. Thomas to the Caribbean include Air Sunshine, Cape Air and Silver/Seaborne Airlines.
Available accommodations on St. Thomas in the Cowpet Bay area where the regatta takes place include hotels, B&Bs, resorts, villas, condos, VRBO rentals and Airbnb's. For more information, visit: www.visitusvi.com or www.usvihta.com
Strong Sponsor Support
The STYC and STIR organizers thank the USVI Department of Tourism; Michelob Ultra, Stoli, Bacardi, and Milagro distributed by West Indies Company; as well as several other sponsors that organizers look forward to announcing shortly.
How to Enter
For more information, call 690-3681, email dave@stthomassailingcenter.com.
For more information, visit www.stthomasinternationalregatta.com
For the Notice of Race and to register, visit www.yachtscoring.com/emenu.cfm?eID=14270.  STIR is also on Facebook.