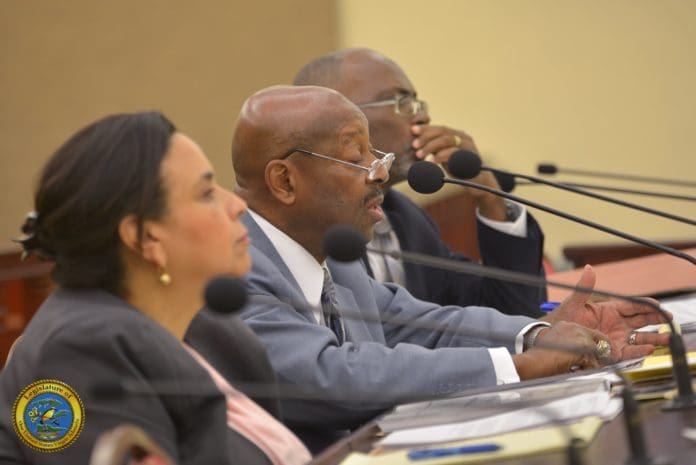 As the Government Employees' Retirement System moves closer to insolvency, two key players – Austin Nibbs, administrator, and Wilbur Callender, chairman of the board of trustees – have announced departures from their positions.
Nibbs wrote to Callender on Dec. 18, "Please accept this letter as a formal notice of my retirement from the Government Employees' Retirement System of the Virgin Islands effective June 30, 2021."
The letter became public at the trustees' board meeting on Thursday, at which Callender said in his report, "This is the last meeting at which I will preside as chairman. It has been six years that I have had the honor to do so."
Nibbs has served as GERS administrator since October 2007. He told the trustees on Thursday, "I have no regrets. I did the best I could."
Trustee Andre Dorsey asked since Nibbs' position is such a critical one, whether he would consider staying on until the board finds a replacement.
But trustee Stephen Cohen said that since Nibbs just had surgery he didn't think it good for the board to "pressure" him to remain any longer.
Nibbs said he wrote to board members about a year ago indicating he was planning to retire soon and a "plan for succession" should be discussed. He said he received no response. No board member could recall receiving such a notification. Callender said, "We didn't know anything until we got the letter."
In Callender's report to the board, he took some shots at senators who he said refused to take the critical steps necessary to save the system. The board of trustees does not have the authority to change the annuities received by retirees; only the Legislature does. The board recommended cutting annuities at the beginning of 2021 by 42 percent so that much larger annuity cuts will not have to be made in 2024 or sooner.
First, Callender addressed the Senate as a whole. He said, "I will never forget Feb. 20, 2020, the day certain members of the Legislature attempted to discredit the board by questioning me regarding operational matters. That information, if needed, could have been obtained initially by requesting it from the administrator. They eventually did so; however, there has been no significant action taken by the body to improve the financial state of the GERS."
"Winning what appears to be a mere popularity contest does not make one knowledgeable in all areas once one is sworn into office," Callender said. "Instead of requesting greater expertise of board members, you should set minimum educational requirements for one to be eligible to run for the Legislature, and do not make the requirements low or average. Hire someone to teach some of the Legislators basic grammar — such as subject/verb agreement so that students listening to your deliberations will not develop similar bad habits."
He then offered proposals for Senate reform. "Cancel all retirement benefits for legislators; in fact, it would be ideal to rescind the law that made the position of senator a full-time job. You should all receive a small stipend for your limited service and seek full-time employment elsewhere. There is no profession called senator."
Most of Callender's passion was reserved for what he saw as the senators' failure to help GERS survive. He said, "Following the most recent swearing-in of senators, several of them highlighted the fact that that was the fourth time that they had been elected to that office. They should all be ashamed because they have done very little to avert the rapid slide of the GERS toward insolvency."
The number of retirees receiving annuity payments as of Jan. 15, according to Nibbs, was 8,675. The gross retiree payroll for pay date Jan. 15 was $10,725,610.74. The number of retirees added to payroll since Oct. 1 was 64; the number deleted was 88.
Trustee Carol Callwood left the board of trustees last month, and Cohen plans to leave the board in March. Callender said in his report, "Being a trustee on this board is no child's play. I am sorry that I could not have accomplished more."
On the GERS website, Nibbs wrote, "Our goal is to extend the life of the GERS and to continue paying annuities for generations to come."