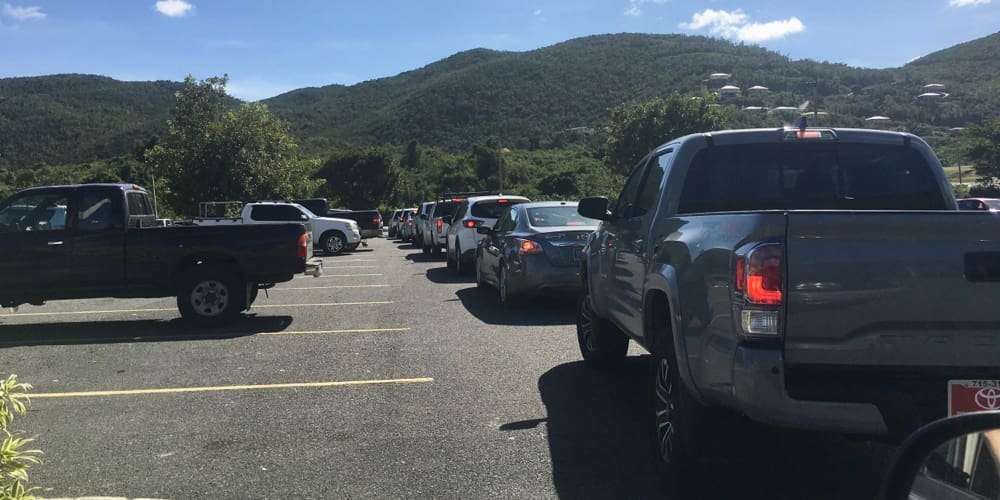 A ping from my phone alerted me to a text at 10:22 a.m. on Friday: The Health Department was providing free COVID-19 testing from 1 to 3 p.m. at the Home Depot parking lot on St. Thomas.
I emailed Jahnesta Ritter, the Health Department's press contact. "I was wondering – is the free COVID testing at Home Depot on St. Thomas today only for those with symptoms or can anybody show up?" I asked.
"It is available to anyone," she replied.
To be clear, I had no reason to think I have COVID-19. I have had no symptoms other than a sudden plague of headaches and a nasty strep throat back in March, when little was known about the virus and the capacity for testing meant it was limited to only the most obvious cases. Isolate as if you have it, and let me know if you feel any worse, Dr. Carolyn Jones had advised me via remote appointment.
I've been isolating like a champ ever since. Per the U.S. Virgin Islands Health Department and Centers for Disease Control and Prevention guidelines, I've limited contact with anyone outside of my "bubble," canceled leisure travel plans and mask up and social distance when I do venture out. In short, I have followed all the recommendations that we could not fathom would be a part of our everyday existence in what feels like 10 years ago in COVID time.
Still, there are reasons we all should take advantage of free testing for this pernicious virus, I thought to myself as I weighed whether I should make the trip to Home Depot on a Friday afternoon that was otherwise perfect for a leisurely walk at Magens Bay.
As I told Ritter in a subsequent email, "I don't at all suspect I'm infected, but would hate to be one of those asymptomatic people, and it just seems a good thing to do." In a year when health officials, on top of fighting a deadly pandemic, have had to battle a steady stream of misinformation and lies from a White House hellbent on protecting the fragile ego of its main occupant at seemingly any cost – including 367,458 American lives and counting at this writing – it feels more important than ever to support science.
"Effective testing programs allow governments and health authorities to understand how prevalent the disease is and how it is evolving," said Dr. Tedros Adhanom Ghebreyesus, director-general of the World Health Organization, back in March. "Tracking positive test results helps authorities make evidence-based decisions to try to slow the spread of the disease."
"We have a simple message for all countries: test, test, test," said Ghebreyesus.
It seems that U.S. Virgin Islanders agree, based on the hundreds who turned out for testing on Friday on St. Thomas. Arriving about 1:30 p.m., I was stunned to see a line of cars already stretching along the road from Cost-U-Less and snaking through three lanes of the Home Depot parking lot, directed by a Health Department worker who probably logged a few miles on foot, crisscrossing the hot pavement to keep order.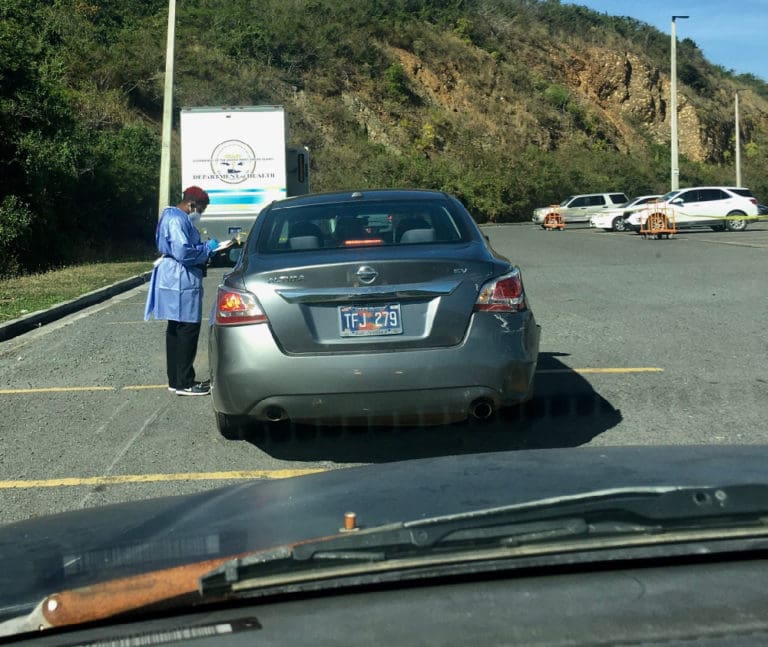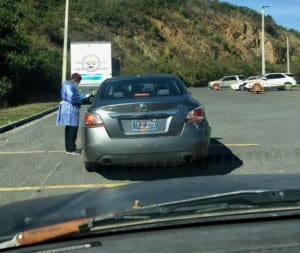 According to Territorial Epidemiologist Dr. Esther Ellis, just under 200 people turned out for Friday's pop-up clinic, mirroring the 100 to 300 the Health Department has seen at previous events, including on St. Croix. Usually, about 2 to 4 percent test positive, and about 75 percent of these have mild symptoms, she said.
"It's free, and an easy opportunity for people to get tested. It's a mix of people just getting tested to make sure they are negative and people with mild symptoms that want to double-check," said Ellis in an email Friday evening. "We've always heard great feedback from people utilizing the pop-ups with how quick and easy it was. DOH wants to make sure there are no barriers at all to testing and pop-ups also get people that don't have access to phones or internet to schedule appointments."
As I waited in line in my ancient Suzuki Grand Vitara that I pray will last another year, I had time to ponder a few things. Would my car overheat or break down as we inched our way through the parking lot? Would the deep nasal swab that is the COVID-19 test hurt? Does anything compare to this experience?
My mind wandered back, way back, to my time as a young reporter at a daily newspaper in Canada, where I was born and raised. It was the early 1980s and a new, little-understood virus was beginning to garner attention and create yeoman's work for journalists and health care workers alike as they struggled to understand this mysterious disease and separate fact from fiction.
Then, as now – with its anti-maskers and "Wuhan" and "China" virus xenophobia – misinformation and ignorance were rife. A diagnosis of AIDS was not just a death sentence, it also all but guaranteed social exile for its victims who in the early, puzzling days of the virus's spread were largely identified by the four H's: Hemophiliacs, Homosexuals, Heroin users and Haitians.
Then, as now, the way out of the pandemic was through science and testing. Taking safety precautions and knowing your status were, and remain, the keys to preventing infection in the first place.
My attention snapped back to the task ahead as the car in front of me pulled up to the first of three Health Department tents lined up at the western end of the parking lot. After an hour of idling, my turn had arrived. A nurse surveyed my driver's license, confirmed my name and birth date and recorded my contact information. The pertinent details were written on a packet containing the testing swab, which she tucked under my windshield wiper for double-checking at the next tent.
I was waved on to the final stop: the test. Honestly, it was over before I had time to brace for it. As my editor, Bill Kossler, said, "It's not that big a deal. It's a little like getting water up your nose swimming or having to sneeze for a second."
The Health Department workers said they would phone me that evening if I was positive, otherwise, I would hear from them within three days.
I am happy to report, Friday night passed without a call.