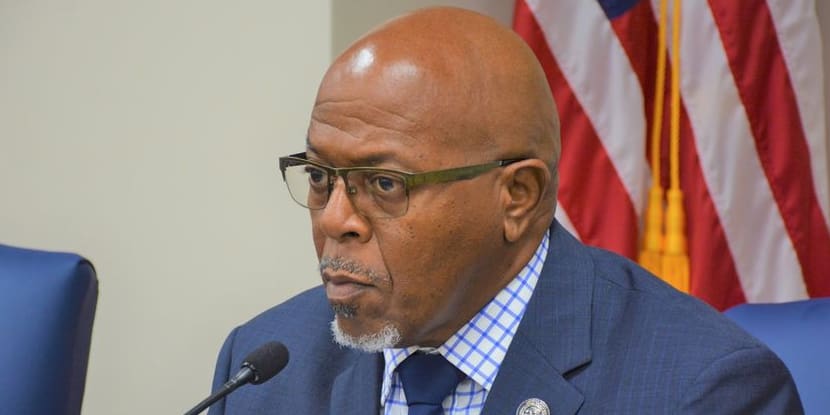 The V.I. Senate on Wednesday approved a measure that, if signed by Gov. Albert Bryan Jr., would create an office to prevent gun violence, according to Sen. Myron Jackson, one of the bill's primary sponsors.
At least 45 homicides have occurred in the Virgin Islands since January, Jackson pointed out in a news release after the vote. He said the territory has one of the highest homicide rates in the world, ranked fourth according to the World Population Review's per capita homicide rate, right behind El Salvador, Honduras and Venezuela.
Bill No. 33-0126, if signed into law, will use $250,000 from the General Fund for the 2021 fiscal year to create a dedicated office that brings together government agencies, nonprofits and community advocates to provide a comprehensive approach and wrap-around services targeted to addressing acts of violence committed with firearms.
"The passage of the bill is the right course of action for a territory in a crisis of gun violence, homicides and a path of destruction of the social fabric of our Virgin Islands society," according to Jackson. "I thank all of the stakeholders for their unceasing support, invaluable contributions and diligence. May this effort take root and bear fruit."
Twelve senators voted in favor of the bill on Wednesday. A breakdown of the roll call was not available Wednesday night.
Supporters have turned out for a lengthy series of legislative hearings, stakeholder meetings, virtual town halls and a community candlelight vigil on the grounds of the Capitol Building attended by legislators, faith-based leaders and community organizers. Several of the events were organized in collaboration with the University of the Virgin Islands' Center for the Study of Spirituality and Professionalism, Rev. Gilford Monrose of the 67th Precinct Clergy Council and filmmaker Peter Bailey of NiteCap Media.
"As a Virgin Islander, I've personally suffered enough of my peers' lives destroyed by gun violence," Bailey said. "This is our groundbreaking step in uniting our community to end this self-inflicted genocide once and for all."
Wendy Coram, director of the UVI Center for the Study of Spirituality and Professionalism, agreed, hailing the bill's advancement as "certainly a step forward to making the Virgin Islands a safer community."
For Monrose, who conducts similar efforts in New York, the relief of clearing this milestone was met with the realization of "still more to go," he said.
The vision is to create an office with a dedicated staff tasked with implementing a multilayered approach to reduce and prevent gun violence in the Virgin Islands, Jackson said.